Regional Price Overview
Get the latest insights on price movement and trend analysis of Vitamin E in different regions across the world (Asia, Europe, North America, Latin America, and the Middle East & Africa).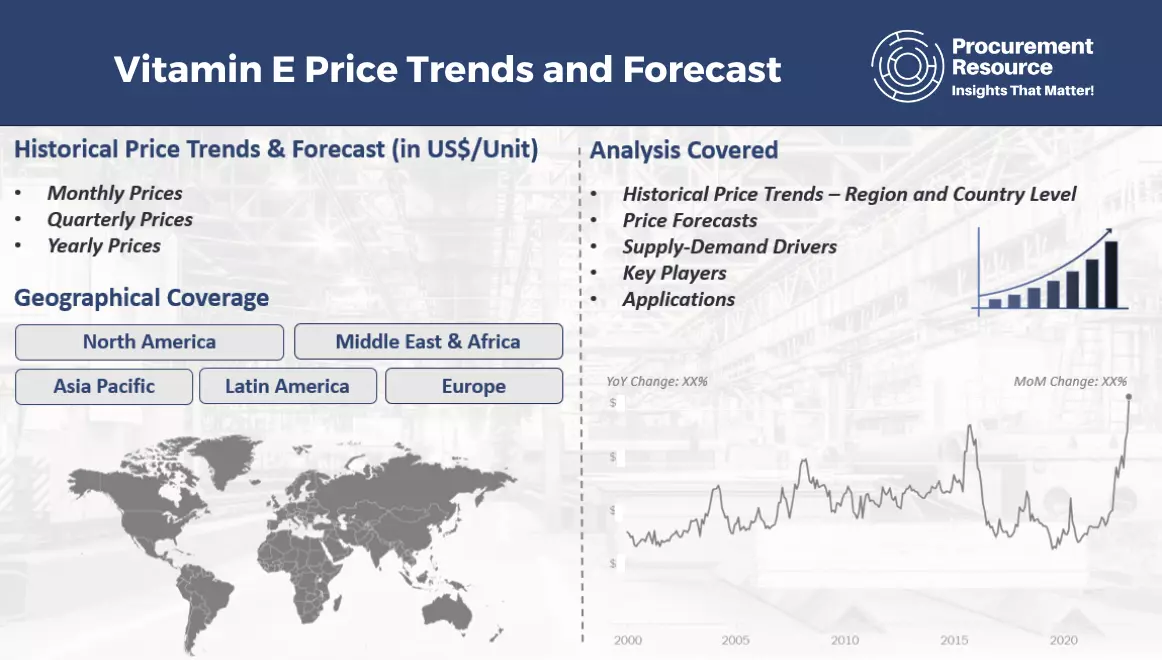 Vitamin E Price Trend for the First Half of 2023
Asia
Vitamin E, also known as alpha-tocopherol, is a liposoluble vitamin that prevents cellular oxidation and, thus, is a strong antioxidant. This antioxidant property is also used for various cosmetic purposes, as Vitamin E is known to protect the skin barrier as well. Various oils like sunflower and safflower naturally contain Vitamin E in them, and this is extracted through steam distillation processes for commercial production.
As the manufacturing industries were trying to revive in the post-lockdown Chinese market, the first quarter was rather positive for Vitamin E. With a steady growth in demands from food, cosmetics, personal care, pharma, nutraceuticals, etc., sectors, the price trends showed marginal improvements in the first three months.
However, with consistent production, the inventories started filling up soon. The downstream demands didn't grow with the same momentum, and the gap between supply and demand dynamics widened.
This led to a gradual fall in Vitamin E prices in the second quarter. Even though the fluctuations were short ranged, the market shifted momentum.
Europe
Following the Asian market trends, the European Vitamin E market started on a positive note in the first quarter, while the market trends reversed in the second quarter. These variations in price patterns were primarily attributed to the import dependence of European pharma sectors and also the lack of upstream cost support.
North America
Replicating the global trends, the American market experienced mixed price trends for Vitamin E. A positive outlook in the first three months was owed to favorable demands from consuming sectors, while oversupplied inventory stocks facilitated the downfall in the second quarter.
Analyst Insight
According to Procurement Resource, given the current inventory situation, the Vitamin E price trends are likely to continue similar wavering patterns in the coming months.
Procurement Resource provides latest prices of Vitamin E. Each price database is tied to a user-friendly graphing tool dating back to 2014, which provides a range of functionalities: configuration of price series over user defined time period; comparison of product movements across countries; customisation of price currencies and unit; extraction of price data as excel files to be used offline.