Regional Price Overview
Get the latest insights on price movement and trend analysis of Vitamin E50 in different regions across the world (Asia, Europe, North America, Latin America, and the Middle East & Africa).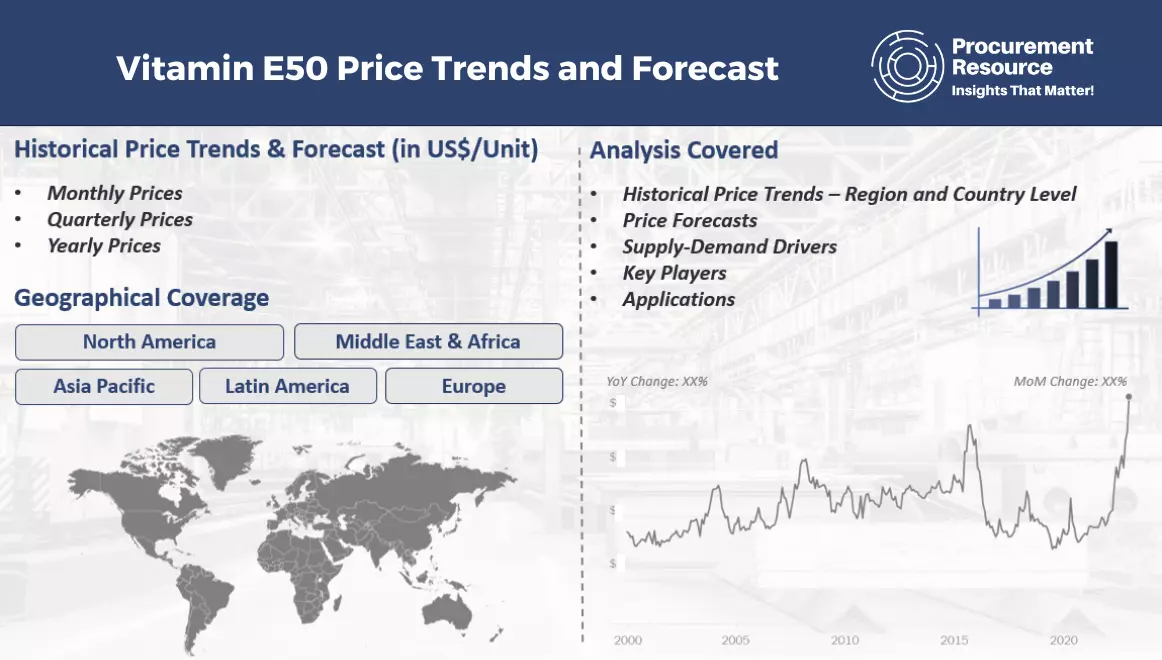 Vitamin E50 Price Trend for the First Half of 2023
Asia
In the Asia Pacific region, the price trend of vitamin E50 had a firm start in the first quarter of 2023. After a long stretch of Lunar holidays and COVID-related restrictions, the production activities speeded up, and with the rise in demand from the nutraceuticals and pharmaceuticals sectors, the prices of vitamin E50 increased in the first quarter.
The second quarter, on the other hand, suffered from the weak performance of the downstream industries, a lower number of consumer inquiries, and constriction in the production activities that led to the downfall of the prices of vitamin E50.
Europe
The first quarter of 2023 proved to be fruitful for the prices of vitamin E50 as the demand climbed several levels along with the shipments from the domestic and international markets. This trend was overturned in the second quarter as the high availability of stocks and rising unemployment negatively affected the market activities of vitamin E50. The economy, however, showcased a positive trend, but it was not enough, as many traders had to reduce their profit margins to curb the rising level of inventories.
North America
As observed in Europe and Asia, the market trend of vitamin E50 in North America maintained a positive trajectory in the first quarter of 2023. The support from the increasing number of sales of pharmaceutical and nutraceuticals industries, along with a stable number of inquiries from other downstream sectors, also supported the rise in the prices of vitamin E50.
The trend reversed in the second quarter under high pressure from spikes in the level of inflation, falling cost of energy, and an influx of excess quantities of vitamin E50. The consumers also adopted a back foot approach during this quarter, further pushing the price trend of vitamin E50 in the negative zone.
Analyst Insight
According to Procurement Resource, the price trend of Vitamin E50 will likely follow a southwards trajectory as the demand from the downstream industries seems negligible amid the plunging condition of the global economy.
Procurement Resource provides latest prices of Vitamin E50. Each price database is tied to a user-friendly graphing tool dating back to 2014, which provides a range of functionalities: configuration of price series over user defined time period; comparison of product movements across countries; customisation of price currencies and unit; extraction of price data as excel files to be used offline.