Regional Price Overview
Get the latest insights on price movement and trends analysis of Wheat in different regions across the world (Asia, Europe, North America, Latin America, and the Middle East & Africa).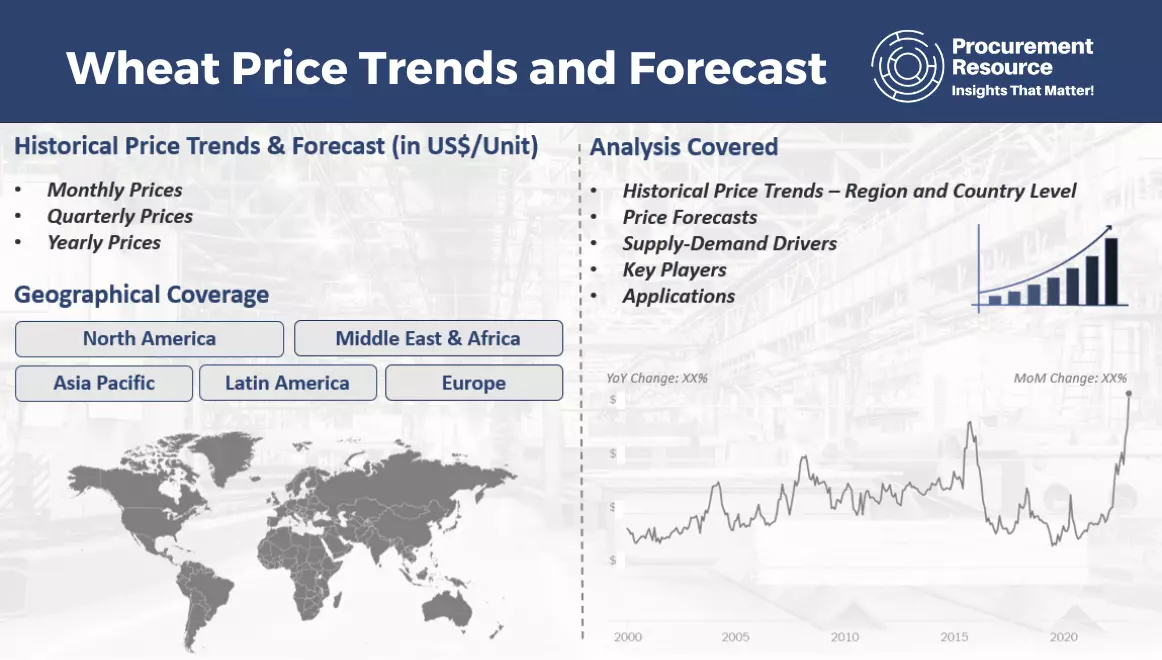 Wheat Price Trends for the First Half of 2023
Asia
The Chinese wheat market experienced a fall of about 15% as the average spot prices fell from around 458 USD/MT in January'23 to around 389 USD/MT in June'23. This price pattern is majorly attributed to the normalization efforts in global trade dynamics. Easing freight and energy situations substantially cut down the upstream costs.
The availability of Black Sea grains in the international market because of the UN-curated deal also compensated for the yield lost in the climatic mishaps. The post-COVID market recovery in China has been slow, but the food sector has rather paced since food is a preferred necessity. Thus, a healthy demand dynamic boosted the wheat market fundamentals.
Europe
The European wheat market experienced fluctuations throughout the said period. After having a firm start at the beginning because of the high inflationary pressure, the price trendss changed momentum by the end of the first quarter as the Ukrainian shipments started arriving. The improvement in upstream situations also supported the downward trends. These patterns continued well in the second quarter as the general market sentiment was observed to be muted.
South America
Following the European wheat price trendss, the South American wheat market also witnessed a short-ranged depreciation throughout the discussed period. With around 12% depreciation, the Wheat spot prices fell from about 327 USD/MT in January'23 to around 285 USD/MT in June'23. Overall, dull market trendss were observed.
Analyst Insight
According to Procurement Resource, with the current gloomy wheat market situation, the prices are likely to waver similarly in the coming months as well.
Wheat Price Trends for the Second Half of 2022
Asia
Asian wheat prices fluctuated throughout the said period. After reaching a record high, the wheat prices wavered within a narrow range in the third and fourth quarters. The primary influence on the Wheat market was restricted supplies.
The war between Russia and Ukraine was the biggest factor affecting the wheat supplies alongside the adverse and unseasonal weather changes, which hindered the crop cycle and were detrimental to wheat yield. Indian wheat market is known to fulfill a big part of global grain requirements. However, by Q3, the Government of India restricted wheat exports to sustain normalcy in the domestic market.
Europe
The European wheat market experienced a downward wavering price trends in the second half of the year 2022. Even amidst the war, Ukrainian wheat harvests had very good numbers, and initially, the supplies were only being consumed domestically, but the black sea agreement in July'22 opened the doors for offshore trading. These steps further promoted the wheat trade fundamentals. So, the prices fluctuated in a moderate range.
North America
In the North American wheat market, the adverse weather conditions anchored the price trendss. The curtailed supplies were not able to fulfill domestic demands, and the price trendss inclined for the majority of the discussed period.
Analyst Insight
According to Procurement Resource, given the wide gap in supply and demand dynamics, similar fluctuations are anticipated in the global wheat market going forward in the coming months.
For the Second Quarter of 2022
Asia
The General Administration of Customs reported that China's imports of wheat fell to 700,000 tonnes in April 2022, a 22.4 percent year-over-year decline. According to information from the National Food and Strategic Reserves Administration, China increased the national minimum purchase price of wheat to 115 RMB/50 kg, an increase of 2 RMB over the previous year.
When India, which had greatly expanded shipments in Q2 2022, helping to make up for lost exports from Ukraine, imposed an embargo on wheat exports in May, prices soared even further in the global market.
Europe
Due to the Indian government's statements about curbs on grain exports, wheat prices in Europe reached another historical high in Q2 2022. At the launch of Euronext, the price per tonne increased to 435 EUR, breaking the previous high of 422 EUR set at an auction in May 2022.
North America
In Q2 2022, wheat prices remained below recent highs despite a global scarcity that was made worse by the conflict between Ukraine and Russia and the drought in western America. The necessity for careful price and risk management was heightened by the large increase in input costs.The USDA's prediected high season's average farm price of 10.75 USD/bushel.
Latin America
The pace of wheat trades in Brazil picked substantially in the first week of May, but the second week saw a decline in activity as a result of the government's announcement of the upcoming auctions. On April 14, prices paid to producers in Brazil reached a maximum of 25.80 BRL, or 12.98 USD/60 kg bag. The Brazilian government has set a minimum price of 26.30 BRL, or 13.23 USD/bag.
For the First Quarter of 2022
Asia
In March 2022, domestic wheat prices increased. It was at an all-time high and varied a little. The average price on March 1 was 2920 RMB/MT, and on March 31, it was 3194 RMB/MT, a 9.38% rise over the previous month. Domestic trade entities were positive, hesitant to sell and hold up prices in the future as a result of the high spike in international wheat prices owing to the Russia-Ukraine war.
In addition, the domestic wheat market had fewer high-quality and circulating grain sources following March. Flour makers raised the purchase price of wheat several times to ensure output, and the manufacturers increased the price and replenished the warehouse numerous times.
However, Indian merchants agreed to export half a million tonnes of wheat in early March, and dealers are anticipated to sign more contracts to take advantage of record-high global prices, boosting shipments from the world's number 2 wheat producer. Fears of supply disruptions from the Black Sea region, which accounts for 30% of world wheat exports, have risen as a result of Russia's invasion of Ukraine.
Europe
As Russia invaded Ukraine in March, wheat prices blew its previous record high in European trading, casting doubt on the future of exports from two of the world's largest suppliers of the essential commodity. Wheat hit a new high of 344 EUR/MT (384 USD), eclipsing the previous high of 313.5 EUR set late last year.
Agricultural commodities are typically less volatile than equities or oil, but they have recently experienced remarkable surges and declines as a result of Russia's impending invasion of Ukraine. With Russia as the world's leading exporter and Ukraine as the fourth, the stakes are especially high for wheat.
North America
Wheat prices have risen as a result of Russia's invasion on Ukraine, compounding already high food prices. Prices were already high prior to this event, owing to relatively constrained supplies in key exporting countries. They are rising even faster as the war raises serious doubts about Russia's and Ukraine's ability to continue exporting. Importers are anticipated to restrict demand by deferring at least some purchases due to historically high and fluctuating global wheat prices.
It's also likely that some importers will turn to US wheat if other exporters are unable to meet demand. However, given the current huge price premium for US wheat over other main competitors, a big shift to US wheat is unlikely in the near term. Due to these factors, US exports have been reduced by 10 million bushels to 800 million bushels this month, the lowest level since 2015/16.
For the Fourth Quarter of 2021
Asia
Indian wheat prices rose to 305 USD/MT on FOB basis in October, up from 260 USD/MT three months ago, thanks to a jump in exports. Since the introduction of COVID, freight costs have skyrocketed, making it hard for exporters to meet their demands. Sea freight costs have increased, yet the number of vessels available has reduced, resulting in erratic cargo schedules.
Despite the increasing market demand for agricultural produce, logistics delays continued to be a problem.
Europe
The price in Ukraine had soared to 320 EUR/MT in late 2021. Weather conditions were favourable in most parts of Europe, allowing winter grain crops to get a head start. According to Cocereal, the European grain trade organization, the total wheat production in EU stood at 128.9 MMT in 2021.
North America
The market price in the US was recorded at 285 USD/MT in the final quarter. The availability of goods in the United States was also reflected in the quotes. On the back of chronic drought and a bleak harvest outlook, Canadian quotations had risen to over 40 USD/MT.
Latin America
The price in Brazil was 290 USD/MT in the fourth quarter. The price in Argentina remained robust, reaching a high of 0.25 USD/kg in November 2021. Between December and March, Brazil sold nearly 2.5 MMT of wheat, an exceptional number driven by a historically excellent harvest in 2021, with demand pushed further by the conflict between main suppliers Russia and Ukraine. This is encouraging local plantation in Brazil, and it is expected that the production will double in the coming years. Currently, Brazil imports 50% of the commodity from Argentina.
For First, Second and Third Quarters of 2021
Asia
India's exports increased 887% year on year to 3.07 MMT in the first eight months of 2021, owing to strong demand from Bangladesh, Sri Lanka, Indonesia, Nepal, and the United Arab Emirates. This is because when Asian purchasers buy from India rather than Russia or Ukraine, they save $10 to $15 on freight.
The market price of the commodity for the first three quarters of the year was 268 USD/MT in January, 276 USD/MT in June, and 271 USD/MT in September.
Wheat output in Russia, the world's top producer, was cut by 12.5 MMT to 72.5 MMT due to an anticipated lesser winter harvest due to frost in February and March, according to USDA.
Europe
Italy, the world's leading pasta-producing country, struggled to achieve its pasta-production requirements in MY2021-22. Belarus, another wheat-exporting country, had set a six-month moratorium on exports due to a lower yield in 2021. Despite the fact that the UK crop was significantly larger than in 2020, wheat prices were high due to strong household consumption and global stressors, with cited September prices for produced wheat standing at 229 GBP/MT, up 21.50 GBP/MT from the same month in 2020 (+10%).
North America
The price in the US was 201 USD/MT in January, which rose to 285 USD/MT in September. Drought in the Prairie provinces reduced wheat production by 7.5 MMT in July, bringing it to a 10-year low of 24 MMT.
The country is the world's largest producer of durum wheat, which is used to manufacture pasta. Due to the same drought and excessive dryness witnessed in July-August, the production had dropped 1.3 MMT from the previous forecast to 46.2 MMT. United States is a significant producer of durum wheat.
Latin America
Wheat farmgate prices in Brazil increased by 15.28% year on year. The price started at 0.24 USD/kg on January 1, 2021, which was 20% cheaper than the price of 0.3 USD/kg in 2020. Over the last seven months, the price had risen steadily, reaching 0.29 USD/kg in August 2021.
The wholesale price of the grain in Argentina increased by 10.71% year over year.
The pricing started at 0.24 USD/kg in January 2021, up 26.3% from 0.19 USD/kg in the same month the previous year. In July 2021, the price gradually reduced to 0.2 USD/kg, down from 0.21 USD/kg in 2020.
For the Year 2020
Asia
In 2020, the average Indian wheat market price was recorded at 235 USD/MT in the first half of the year while it was 257 USD/MT in the second half. The Chinese market price was recorded at 350 USD/MT in January, 339 USD/MT in June and 377 USD/MT in December, while it was 273 USD/MT in Australia. Sub-milling grade wheat was prevalent in China, supplementing feed diets.
Europe
Ukraine's market price was recorded at 190 USD/MT in August and 210 USD/MT in December. Following a major reduction in corn feeding due to restricted domestic and Ukraine-grown maize availability, the EU increased wheat feed and residue use.
The outsourced prices rose further in October, reflecting strong global requirement amidst shrinking export availabilities, poor growing conditions in Argentina, and continued dry weather adversely affecting winter wheat conditions in parts of Europe, Northern America, and the Black Sea region, according to the UN Food and Agriculture Organization's Food Price Index Report.
North America
US market price was recorded at 194 USD/MT in January, which rose to 200 USD/MT in December, with a slight dip to 167 USD/MT in August. Strong export demand and sharp increases in row crop values, particularly for maize, also contributed to market bullishness.
Improved weather for 2020-21 harvests in certain locations and concerns over growing COVID-19 instances in numerous countries pushed market sentiment lower towards the end of the month in 2020.
Latin America
In 2020, the price in Argentina was recorded at 245 USD/MT. World wheat prices were firm in 2020, mostly due to dry weather impacting the beginning of the growing season in the Northern Hemisphere and unfavourable production conditions in Argentina.
Procurement Resource provides latest prices of Wheat. Each price database is tied to a user-friendly graphing tool dating back to 2014, which provides a range of functionalities: configuration of price series over user defined time period; comparison of product movements across countries; customisation of price currencies and unit; extraction of price data as excel files to be used offline.