About Raspberries, their Uses, and Market Demand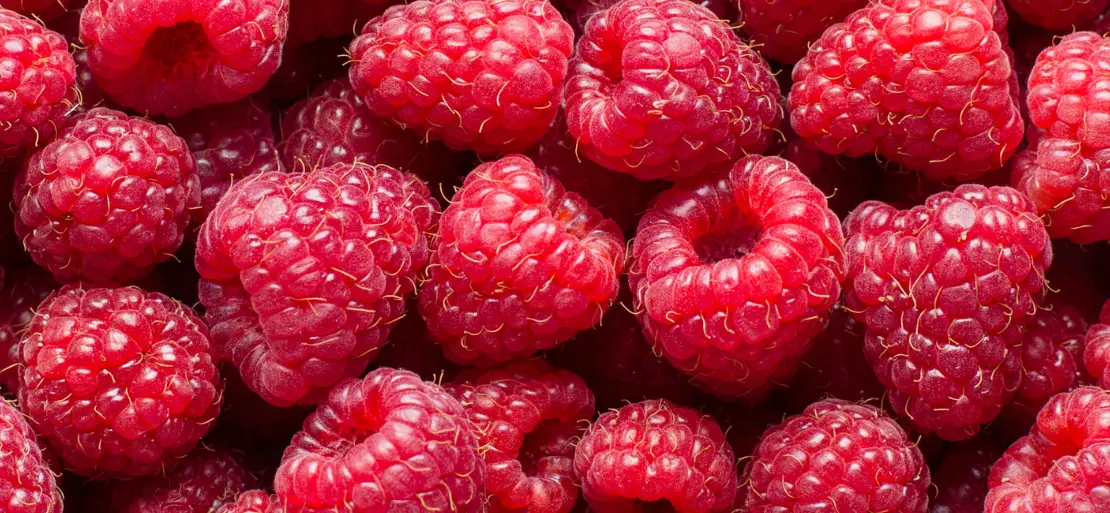 A raspberry is an aggregation fruit that forms from a single flower's many unique carpels. Whether or not the torus picks with the fruit separates the raspberry from its blackberry relatives. The torus remains with the blackberry fruit when it is picked. When a raspberry is grown, the torus stays on the plant, leaving the fruit with a hollow centre.
Raspberries are cultivated for the fresh fruit market as well as for industrial processing into individually fast-frozen (IQF) fruit, purée, juice, or dried fruit used in a range of supermarket goods, like raspberry pie. For optimum growth, raspberries require lots of sunlight and moisture. Red berries are pulpy fruits used in a variety of food products, including snacks, beverages, sauces, baked goods, and nutraceuticals. To improve flavours in dairy food products such flavoured ice creams and shakes.
Golden raspberries and yellow raspberries are the names of the plant's fruits, which, despite having a similar appearance, still have the distinct flavours of their individual species (red or black). Most pale-fruited raspberries that are sold commercially in the eastern United States are red raspberry variants. Black raspberry cultivars with yellow fruits are occasionally grown in backyard gardens.
The earliest of these hybrids, the loganberry, was created when red raspberries were mated with different species from other subgenera of the genus Rubus. The olallieberry, boysenberry, marionberry, and tayberry are recent examples of famous multi-generational hybrids. Additionally, certain Asiatic species of Rubus have successfully bred with the well-known domesticated red raspberries.
Request Access For Regular Price Update of Raspberries
The food and beverage industries growing desire for natural flavours is primarily driving the market expansion of red berries. This is ascribed to an increase in consumers who are concerned about their health because of growing knowledge about the harmful effects of artificial additives and components in food goods. Additionally, it is projected that the market expansion of red berries will be aided by the rising demand for frozen fruits.
Red berries market expansion is anticipated to benefit from the growing trend of low-calorie, healthier-for-you beverages. For instance, in January 2019, Boost Drinks introduced Boost Energy Red Berry 250ml, which was supported by advertisements on Tinder with a romantic theme. The PMP value pricing point for Red Berry is 49p. Thus, it is anticipated that rising consumer demand for such energy drinks will stimulate red berry market expansion. The use of red berries in nutraceuticals is a brand-new and cutting-edge idea. The enormous demand for nutraceuticals among elderly and health-conscious populations is anticipated to support the market expansion for red berries.
Read More About Raspberries Production Cost Reports - REQUEST FREE SAMPLE COPY IN PDF
A total of 48.8 million pounds of fresh raspberries worth USD 154 million were exported from the United States in 2021. About 90% of all fresh raspberry exports from the United States go to Canada (ERS, 2021). Raspberries are imported into the US to satisfy consumer demand. Around 96 percent of imports between October and May come from Mexico. A total of USD 1 million worth of fresh raspberries from Mexico, Canada, and Chile were imported by the United States.
The key market players in the raspberries market include Ocean Spray Cranberry Inc., Döhler Group, SunOpta, Inc., Hortex Group, Milne Fruit Products, Fruit d'Or, Few Recent Developments, Ocean Spray Cranberry Inc.
About Author:
Prakhar Panchbhaiya
Senior Content Writer at Procurement Resource
Prakhar Panchbhaiya is an accomplished content writer and market research analyst. With over 4 years of experience in content creation and market analysis encompassing many industries, including pharmaceuticals, nutraceuticals, biochemistry, healthcare, ed-tech, and Food & Agriculture, he has been creating quality content for multiple sectors. He is a Biochemistry major with sturdy backing in a PG diploma in digital marketing, helping in the exhaustive content creation based on extensive research and competitive marketing.