Defining Acetone, its Uses and Market Landscape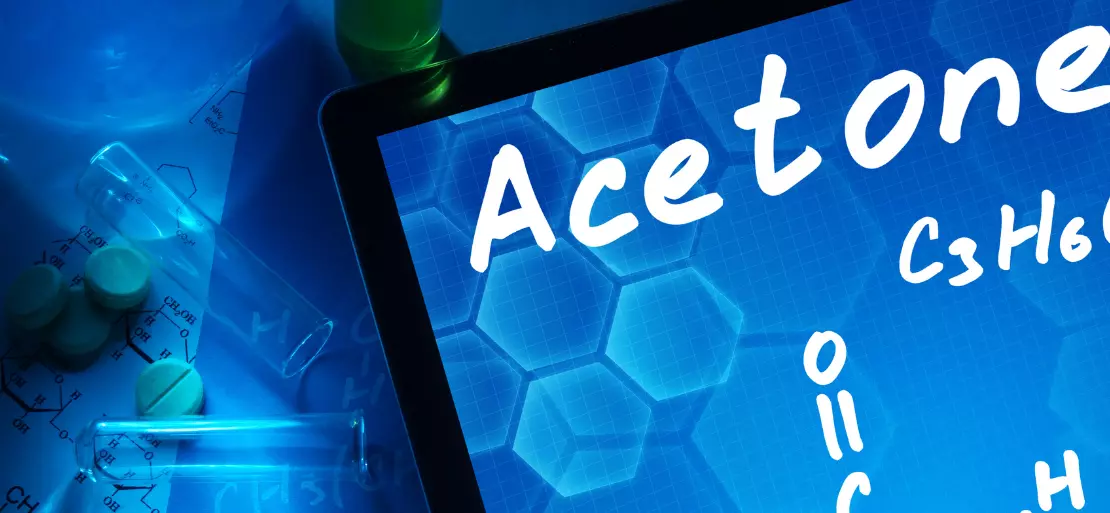 Acetone is a compound of chemistry with the formula (CH3)2CO. It's also classified as propanone as well as dimethyl ketone. It's the most primitive and tiniest ketone. It's a translucent, extremely combustible substance with a pungent smell. Given that it is compatible with water, acetone is a biodegradable chemical solvent in businesses, industry home, and the laboratory.
In 2010, around 6.7 million tonnes were generated worldwide, predominantly to be used as surfactant and for the manufacturing of methyl methacrylate (and, from there, PMMA) and bisphenol A. In analytical synthesis, it is a fundamental key component. Acetone can indeed be found in typical everyday items such as paint stripper and nail polish cleaner. It is not subject to volatile organic compound (VOC) rules in the United States.
Acetone is produced on a bigger scale in countries such as China, the United States, Taiwan, South Korea, and Western Europe. Acetone use increased dramatically in the Asia Pacific region due to rapidly expanding pharmaceutical and electronics sectors. China is Asia-largest Pacific's acetone producer, with increased demand from a diverse range of industries such as transportation, hygiene products, and chemicals. The solvent qualities of the product are essentially driving the acetone industry. Industry demand is being driven by methyl methacrylate, a white liquid that is soluble in most organic solvents except water.
Request Access For Regular Price Update of Acetone
It is commonly utilised in clinical, orthodontic, and surgical intervention therapy, in addition to a large array of commercial operations. Furthermore, MMA is widely used in the manufacture of polymethyl methacrylate (PMMA) resin, which is then used to generate PMMA plastics.
PMMA provides a more cost-effective counterpart to polycarbonate. Acetone possesses exceptional solubility characteristics and may be easily blended with water in the production of paints and coatings, acrylics, varnishes, coating, as well as other products, every one of which drive to growing demand.
Formosa Chemicals and Fibre Corporation, Mitsui Chemicals Inc., INEOS, Borealis AG, and Shell PLC are among the major competitors in the acetone industry. Honeywell announced in March 2021 that Lotte GS Chemical Corp. would deploy Honeywell UOP Q-Max, Phenol 3G, and Evonik MSHP technologies at its petrochemical plant in Yeosu, South Korea, to manufacture approximately 565,000 metric tonnes of phenol and acetone per year.
Read More About Acetone Production Cost Reports - REQUEST FREE SAMPLE COPY IN PDF
Acetone has a strong burning rate as well as a lower neurotoxicity. Those considerations may be a disadvantage to the worldwide acetone sector because inhalation towards this solution causes serious irritation to the eyes and it may induce hallucinations or disorientation. One major thing likely to hinder the advancement of the global acetone market over the coming years is the steep cost of acetone.
REQUEST FREE SAMPLE of Acetone Industry Report
Due to the chemical reactor's significant solubility in water, contamination of groundwater may happen, causing environmental destruction that might have an impact on a person's health. The European Agency's enhanced rules on BPA are expected to slow the development of the acetone marketplace, because it is significant component in the fabrication of thermoplastic polymers and polyester resin. Additionally, the accessibility of substitutions and the growing prevalence of organic solvents can slow the economy.
About Author:
Prakhar Panchbhaiya
Senior Content Writer at Procurement Resource
Prakhar Panchbhaiya is an accomplished content writer and market research analyst. With over 4 years of experience in content creation and market analysis encompassing many industries, including pharmaceuticals, nutraceuticals, biochemistry, healthcare, ed-tech, and Food & Agriculture, he has been creating quality content for multiple sectors. He is a Biochemistry major with sturdy backing in a PG diploma in digital marketing, helping in the exhaustive content creation based on extensive research and competitive marketing.