The Increasing Demand for Corn and its Market Dynamics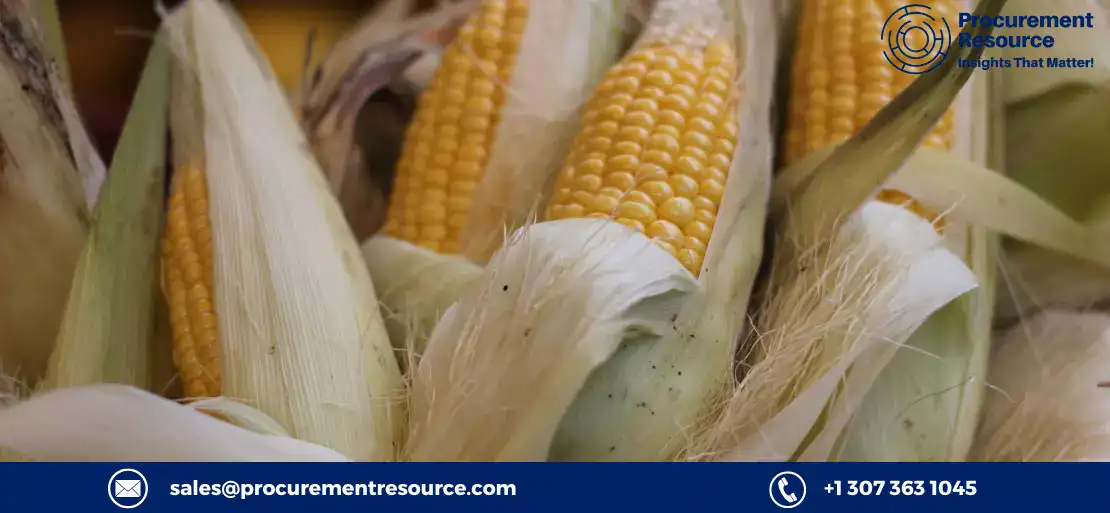 Corn: Definition and its Types

Corn or cereal grass, which is also known as zea mays, is a tall plant that has large, elongated ears of starchy seeds. It is a member of the Poaceae grass family. Both humans and animals consume it. It is converted into a variety of necessary compounds as well as employed as a source of biofuel and as a raw material industrially.
The four main varieties of corn are sweet corn (yellow, white, or both), popcorn (soft corn with a starchy centre wrapped in a hard gold-colored shell), flint or Indian corn (harder than sweet corn with red, white, blue, black, and gold colour), and dent corn (appears white and yellow with a dent in the top).
Request Access For Regular Price Update of Corn
This blog contains detailed information on pricing trends of corn, market drivers, and key competitors.
Corn Price Trend

North America
The uneven supply and demand trends within the domestic market contributed to the varied corn prices across North America. Prices were rising in the first half of the last quarter of 2022 for corn, one of several agricultural commodities that recently had a price increase, partly as a result of the Ukraine situation. Even previous to the war, there was a modest upward pressure on agricultural goods due to supply chain interruptions and high transportation costs, which are generally the reason behind the economic inflation.
Prices began to decline in the middle of the most recent quarter as a result of slightly improved circumstances in the United States, seasonal supplies in Argentina, and the forthcoming and anticipated maize crop. Due to the slightly improved economic conditions in the United States, the seasonal supply in Argentina, and the forthcoming and anticipated harvest of maize crop in Brazil, prices began to decline.
Europe
Due to changes in market dynamics, corn prices in Europe were erratic. Numerous agricultural items were seeing price hike, including corn, which saw its most recent price increase partially as a result of the Ukrainian situation.
A small amount of upward pressure on agricultural goods existed even before the war as a result of supply chain disruptions and rising transportation costs, both of which contributed to overall economic inflation. Due to slightly better crop conditions in the US, Argentina's seasonal supply, and Brazil's anticipated start of corn harvest, prices fell as the middle of the quarter got underway, which was quite similar to the conditions that were prevalent in the USA. Due to the war crisis and the limited supply, prices increased.
Asia Pacific
Due to uncertain market dynamics, corn prices varied in the Asia-Pacific region. India's prices increased as a result of the agreement because Ukrainian supplies, the fourth-largest maize supplier in the world, were delayed as a result of Russia's invasion. The war has made it unpredictable whether Ukraine would be a reliable supplier, and it has also disrupted the spring sowing season.
India's main source of imported grains in Russia, and Ukraine have persisted in being a significant buyer of Ukrainian corn. Due to sufficient substitutes in the home market, Indian prices decreased in the most recent quarter. Prices increased as a result of a lack of goods needed to meet customer demand.
Market Drivers

The expanding use of corn in numerous business sectors is fueling the global market for corn. It is used to create corn starch, which is used to make items like ethanol, paper, sweeteners, and food additives, among others. The market is growing since it is also utilised as cattle feed. Due to its high starch content, corn is used in the production of ethanol and biofuel, which expands the market for many firms.
Read More About Corn Production Cost Reports - REQUEST FREE SAMPLE COPY IN PDF
Corn starch is used to create sorbitol and sweeteners in the confectionery industry, which are then added to the finished goods to increase market sales in the sector. Additionally, the fact that sorbitol is employed in many pharmaceutical and personal care items raises consumer demand.
Corn Key Market Suppliers and Industry Players
DuPont de Nemours, Inc
The Archer Daniels Midland Company
KWS SAAT SE & Co. KGaA
Limagrain UK Ltd
Cargill Incorporated
Bunge Milling, Inc.
About Author:
Prakhar Panchbhaiya
Senior Content Writer at Procurement Resource
Prakhar Panchbhaiya is an accomplished content writer and market research analyst. With over 4 years of experience in content creation and market analysis encompassing many industries, including pharmaceuticals, nutraceuticals, biochemistry, healthcare, ed-tech, and Food & Agriculture, he has been creating quality content for multiple sectors. He is a Biochemistry major with sturdy backing in a PG diploma in digital marketing, helping in the exhaustive content creation based on extensive research and competitive marketing.