The Market Overview of Acetylene and its Increasing Demand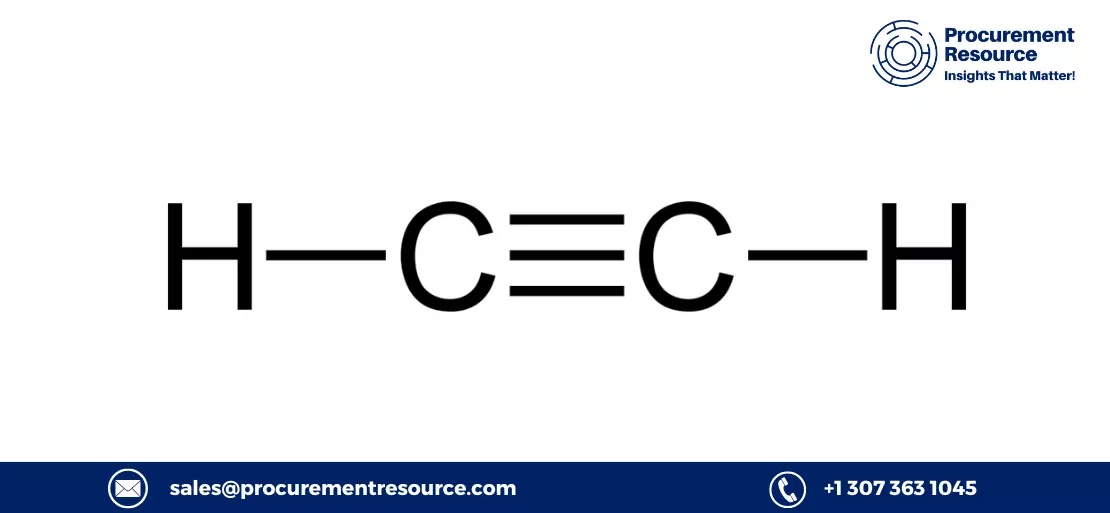 Acetylene: Definition

Acetylene is commonly referred to as ethyne. The acetylenic series is the most common and least complex of the hydrocarbon series, which consists of one or more pairs of carbon atoms linked together by triple bonds (alkynes).
Request Access For Regular Price Update of Acetylene
The structural formula of acetylene is C2H2, and its molecular weight is 26.04 g/mol. The density of acetylene is 1.1 kg/m³and its boiling point is -84 °C.
It is a flammable, colourless gas that is widely used as a fuel in processes like metal cutting and oxyacetylene welding, and as a starting material in the synthesis of many polymers and organic compounds. It is handled as a solution since it is unstable in its natural form and smells like garlic, while its commercial variations smell strong.
This blog comprises detailed information on pricing trends, producing countries, recent developments, key competitors, and industrial uses.
Acetylene Price Trend

North America
Acetylene costs have been rising in the US market. The cost of acetylene has maintained on the higher end notwithstanding increased cost support from Calcium Carbide upstream. The tight monetary policies and rising interest rates have an effect on the economic circumstances in the US market.
The manufacturing companies were functioning at a regular rate and had enough inventory on hand. However, there was little improvement in the domestic region's demand from the downstream building sector. Additionally, inflation began to decline, which improved the state of the market. Market participants observed lower shipping prices and uncongested ports in December.
Asia Pacific
Acetylene prices in the domestic Indian market have shown conflicting market attitudes. October saw price increases as a result of consistent fundamental demand.
Acetylene's market value increased thanks to the acceptable cost support provided by the raw materials upstream. Later on, though, the costs of the inputs eased and there was less procurement from the downstream construction sector.
Additionally, the costs of Calcium Carbide upstream rose at the end of the fourth quarter, which had an effect on the price of producing Acetylene. The downstream production has been supplemented by the active material procurement by market participants as India's industrial operations have been strengthened.
Europe
Acetylene production costs in the European region have remained high. The German market's manufacturing activity has been hampered by the tightened gas supplies and soaring inflation. To retain their profit margins, the manufacturers have raised their offers and raised production costs. The increase in the market value of acetylene was supported by the upstream Calcium Carbide, which has likewise been maintained on the upper end.
However, the pressures of inflation and high production costs have reduced demand from the construction and other end-use sectors. The trading environment was calm, and there weren't many downstream purchases. The supply side was sufficiently available to meet the downstream demand.
Acetylene Producing Countries

The acetylene-producing countries are China, Germany, the United Kingdom, the United States, and Italy.
News and Events
September 15, 2022: Maine Oxy-Acetylene Supply Co., a manufacturer of welding supplies, received its first USD 6.3 million permission for a class settlement along with employees who contend that they were under pressure to give their business stock at a significant discount, according to a federal court ruling.
October 2022: A joint venture agreement to run an acetylene black production company in Thailand's Rayong province was signed by SC Chemicals Public Company Limited and Denka Company Limited. By 2025, the joint venture hopes to have finished building the factory, which will have an 11,000-ton annual production capacity.
May 2022: Orion Engineered Carbons announced plans to construct a production facility for acetylene-based conductive additives in the United States. These additives will be used in lithium-ion batteries, high-voltage cables, other electrification-related products, and the renewable energy sector.
Key Market Players:
BASF SE
Gulf Cryo
Linde
Praxair Technology Inc.
SINOPEC
Chengdu Xinju Chemical Co. Ltd.
Industrial Applications

Acetylene is most frequently used for welding, heat treating, and oxyacetylene cutting. In the chemical industry, bulk acetylene is also used as a raw material to create organic compounds including acetaldehyde, acetic acid, and acetic anhydride, among others. Because of its triple bond structure, acetylene has the highest flare temperature.
In the presence of oxygen, acetylene burns at a flame temperature of 3090 °C (5594 °F), releasing 54.8 kJ/liter of energy.
Read More About Acetylene Production Cost Reports - REQUEST FREE SAMPLE COPY IN PDF
Because of its high flame temperature, acetylene can be utilised in metalworking processes like cutting, welding, soldering, and brazing. As more applications for metalworking are developed, the market for acetylene is anticipated to grow.
About Author:
Prakhar Panchbhaiya
Senior Content Writer at Procurement Resource
Prakhar Panchbhaiya is an accomplished content writer and market research analyst. With over 4 years of experience in content creation and market analysis encompassing many industries, including pharmaceuticals, nutraceuticals, biochemistry, healthcare, ed-tech, and Food & Agriculture, he has been creating quality content for multiple sectors. He is a Biochemistry major with sturdy backing in a PG diploma in digital marketing, helping in the exhaustive content creation based on extensive research and competitive marketing.