The Increasing Demand for Adipic Acid and its Market Dynamics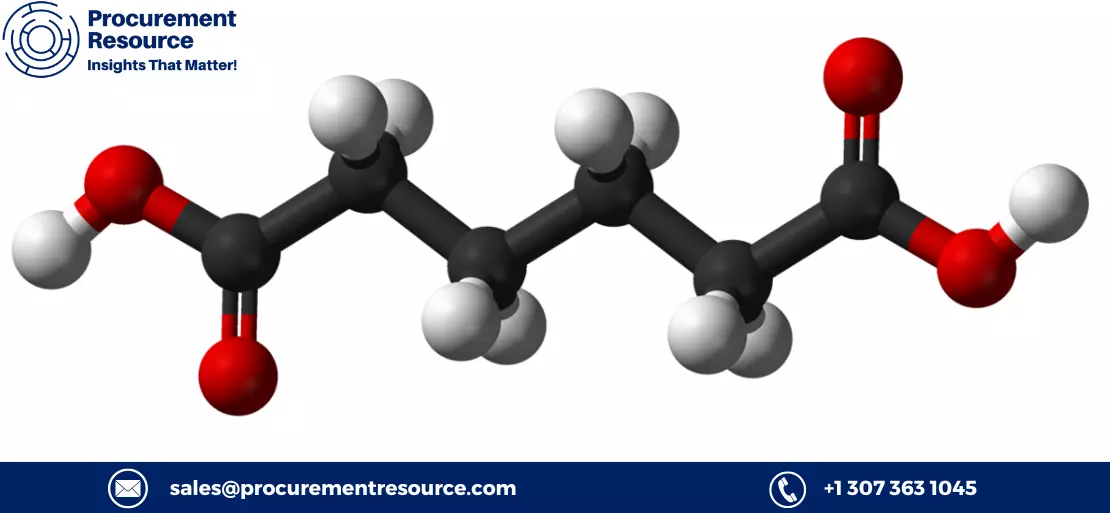 Adipic acid is an organic compound, which is also referred to as hexanedioic acid. The chemical formula of adipic acid is (CH2)4(COOH)2. It is a white crystalline powder and works as a precursor in the production of nylon.
It is the most essential dicarboxylic acid and is extensively used in the manufacturing of plastics. It is immiscible in water. The melting point of adipic acid is 152°C and its boiling point is 337.5°C.
Sugar cane and beets both contain adipic acid naturally. To give bottled beverages a fizzy pop, adipic acid is frequently added as the primary acid. It is also used to add sweetness to a variety of powdered food and drink mixes. D-Glucose serves as an alternative feedstock for the production of adipic acid. D-Glucose is transformed into cis-muconic acid by E-coli, and then adipic acid is hydrogenated using the hydrogen gas.
Request Access For Regular Price Update of Adipic Acid
This blog contains a detailed information on production processes, regional outlook as well as market drivers, pricing trends and key competitors.
Production Process of Adipic Acid

From Cyclohexanone and Cyclohexanol Via Oxidisation
Cyclohexanone and cyclohexanol are mixed to form RA oil (ketone-alcohol oil), which is then used to produce adipic acid through oxidation. The process involves a number of processes to oxidise RA oil with nitric acid, which leads to the formation of adipic acid and other by products such as glutaric acid and succinic acid.
From Cyclohexene Via Oxidative Cleavage
By utilising cyclohexene via oxidative cleavage, adipic acid is produced. The hydrogen peroxide is further mixed with water and gives the desirable product.
Adipic Acid Exporting and Importing Countries
The leading adipic acid exporting countries are China, the United States, South Korea, Germany, and France. On the other hand, Spain, Italy, Canada, Chinese Taipei, and Turkey are the significant importers of adipic acid.
Market Drivers

Adipic acid is a monomer used in the production of engineering plastics, polyamide 6.6 pellets, and other polyamides or polymers used as polyurethane in flexible and semi-rigid foams.
Nylon 6,6 is also produced using adipic acid, primarily for the automobile industry due to its superior mechanical, temperature -resistant, and lightweight characteristics. The market will continue to expand as a result of the rising need for lightweight engineering plastic.
Modern plastic materials are being employed by automakers to reduce weight and increase fuel efficiency as a result of recent economic and environmental concerns. The high rate of production and rising sales of light-duty cars will probably contribute to the continued expansion of the adipic acid market.
Adipic Acid Price Trend

North America
Prices for adipic acid in the North American continent showed an inclining tendency. The price increase in the region is due to increased use of nylon 6,6 and polyurethane as well as high demand from importing countries like Canada.
As a result of port congestion, the local supply chain was hampered, and commodities were delivered later than expected.
Europe
Due to poor downstream industry usage, the market sentiments for adipic acid in the European region were negative. The market has a sufficient supply of goods despite a lack of supply from manufacturers because of port congestion in the area, which restrained price fluctuations.
Due to the high cost of natural gas and raw material, the Italian company Radici declared force majeure for adipic acid and polyamide.
Asia Pacific
Adipic acid decreased, and market for feedstock cyclohexanone has a negative trend in the Asia-Pacific region. In the Indian market, the price of imported cargo has decreased.
Read More About Adipic Acid Production Cost Reports - REQUEST FREE SAMPLE COPY IN PDF
The price of adipic acid has been restricted by the failing demand from the downstream polyamide derivatives. The port's inventory position was adequate in terms of adipic acid production costs, stock levels, and number of imported commodities in the Asian market.
Due to weak buying, the upstream benzene prices debilitated, supporting the downstream chemical derivatives in the market. Natural disasters in China, Japan, and South Korea led to the closure of some adipic acid plants.
Key Players in the market of Adipic Acid
Asahi Kasei Corporation,
Ascend Performance Materials LLC,
Lanxess AG,
Solvay SA,
Invista (Koch Industries, Inc.)
Procurement Resource encompasses product price and market data from many industries. Our team provides our clients with the most up-to date data and accurate market studies, cost models, benchmarking, and category insights. Other than that, it also provides the most updated information on the costs involved in producing a variety of goods and commodities.