Is Cassava Good for Health?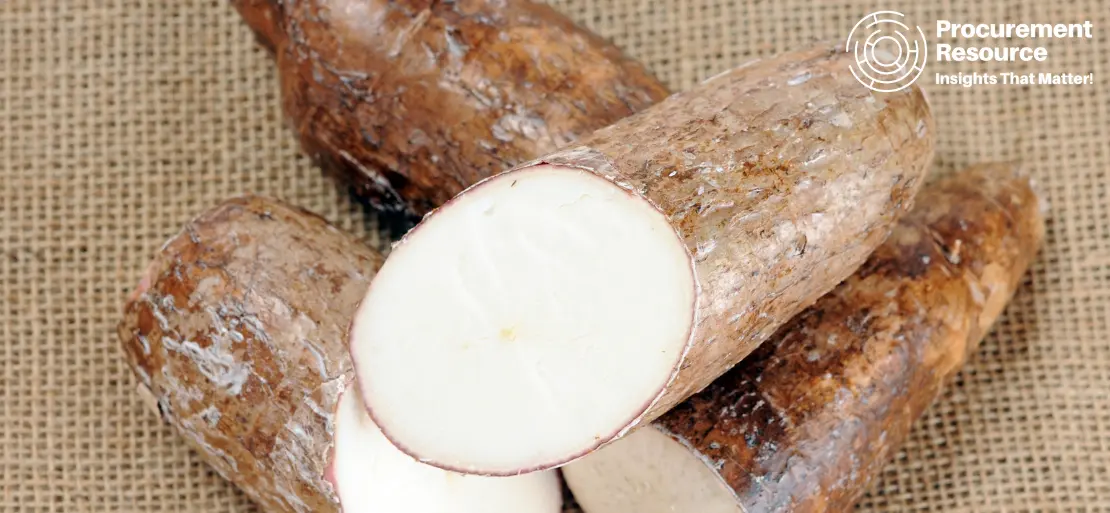 An indigenous crop to South America, cassava is a starchy root vegetable or underground stem that has a flavour like nuts. Globally Nigeria, Thailand, and Indonesia are the leading producers of cassava that provides the consumers with the main source of calories and carbohydrates in these areas.
Owing to its capability to survive in the tough farming environments, cassava is well grown in tropical regions across the globe. As a matter of fact, the crop is amongst the most drought-resistant crops found.
Even though cassava is accessible in both sweet and bitter type, the sweet variety of it is more popular in the United States, and is generally mentioned as yuca, manioc, or Brazilian arrowroot. Cassava consumers in the United States grind the crop to get tapioca, a form of starch, that is then used as a condensing agent or eaten as a pudding.
Request Access For Regular Price Update of Cassava
Root is the most eaten part of the cassava plant and hence it is extremely useful. This root can be consumed as a whole, grated, or ground into flour which is utilised in making bread and crackers. Raw cassava however has cyanide in it that makes it poisonous to consume hence it is crucial to cook it appropriately.
Cassava root can be beneficial to people who have allergies to food by using it for cooking and baking as it has no gluten, grains, and nuts. Cassava is a vegetable that is rich in calories and comprises lots of carbohydrates in it.
Cassava root specifically has high content of vitamin C which is a vital vitamin that performs as an antioxidant, encourages the production of collagen, and improves immunity along with other advantages. It is also rich in thiamine, riboflavin, and niacin.
In addition, cassava root has abundance of copper, a component that is essential for neurotransmitter fusion, energy creation, iron absorption, among others. Along with this, it is also a supplier of resistant starch, which as per the scientists are capable of enhancing the gut health of the consumers by supporting to develop useful gut bacteria.
Food items that are rich in resistant starch can promote the health of the people in many ways. Since resistant starch feeds the favourable bacteria in the gut that supports in reducing inflammation and stimulate digestive health.
Read More About Cassava Production Cost Reports - REQUEST FREE SAMPLE COPY IN PDF
Besides, it has been analysed that the resistant starch has the capacity to enhance metabolic health and lessen the probability of obesity and type 2 diabetes. Such advantages are expected to be associated with increased management level of blood sugar content in the body, heightened feelings of fullness in the stomach, and decreased hunger.
Furthermore, cassava also facilitates in avoiding fatal diseases like cancer. This is because its leaves include B17 content that supports in encouraging the substance of red blood cells, as the damage of this may lead to cancer.
Likewise, including cassava in the diet in the form of rice and bread helps to lose excess weight. It is low in calories as well as it supports in staying full for a major part of the day and avoids indulging in unnecessary eating.
Since cassava leaves have abundant magnesium content, they help in lowering the blood pressure levels that in turn brings down the chances of rheumatic diseases during the course of life. Additionally, cassava peels from its plants can also be utilised as an exfoliator for skin and mask made from cassava absorbs and enhances the smoothness and disorder of the skin.
About Author:
Prakhar Panchbhaiya
Senior Content Writer at Procurement Resource
Prakhar Panchbhaiya is an accomplished content writer and market research analyst. With over 4 years of experience in content creation and market analysis encompassing many industries, including pharmaceuticals, nutraceuticals, biochemistry, healthcare, ed-tech, and Food & Agriculture, he has been creating quality content for multiple sectors. He is a Biochemistry major with sturdy backing in a PG diploma in digital marketing, helping in the exhaustive content creation based on extensive research and competitive marketing.