The Market Overview of Isopropyl Alcohol and its Increasing Demand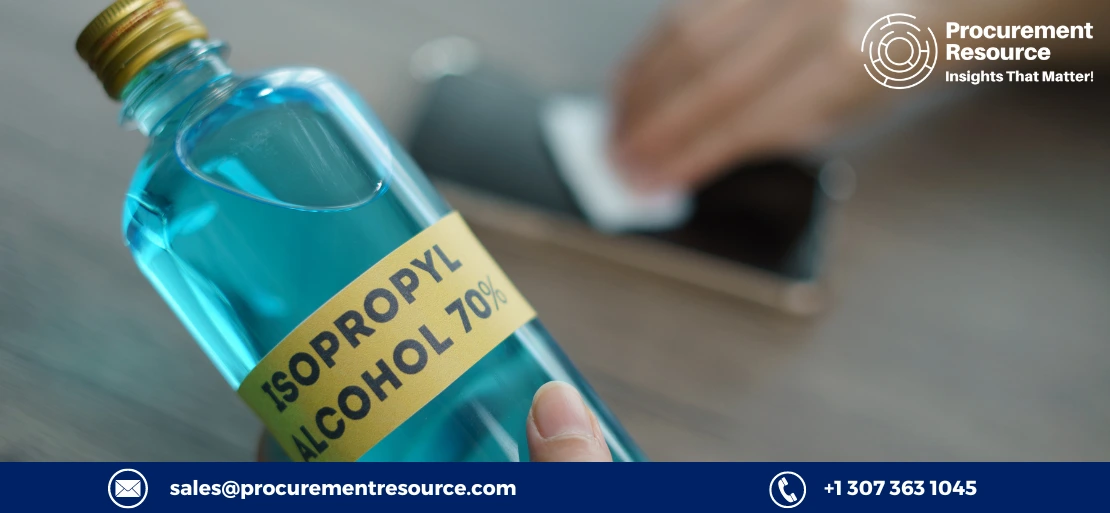 This blog contains detailed information on pricing trends, as well as key market players, market drivers and the latest news and developments.
Isopropyl alcohol is a flammable, colourless organic compound that has a strong odour. The boiling point and melting point of isopropyl alcohol are 82.5°C and -89°C respectively. The chemical formula of isopropyl alcohol is C3H8O, and its molecular weight is 60.1 g/mol.
Request Access For Regular Price Update of Isopropyl Alcohol
1-Propanol (n-Propanol) and ethoxy methane (ethyl methyl ether) are the wo structural isomers of isopropyl alcohol (2-Propanol) . The density of isopropyl alcohol is 786kg/m³.
The production of isopropyl alcohol involves high grade (or polymer-grade) propene. It is produced when catalysts are present by directly hydrating gaseous propene with water. Propyl alcohol is produced in small quantities as a by-product.
Isopropyl Alcohol Price Trend

North America
In recent times, the prices of isopropyl alcohol revealed a gloomy market outlook in the US. Prices were under pressure due to a slowing in end-user demand. The market dynamics for isopropyl alcohol leaned on the lower side by moderate GDP growth in North America, which also hindered industrial isopropyl alcohol production cost.
Isopropyl alcohol was in sufficient supply on a spot basis in the domestic market, and most market transactions were demand-driven.
Since the worst of the port congestion during the first year of the epidemic, the U.S. supply chain has gradually recovered. The pricing trends for isopropyl alcohol in the US, however, were unaffected by this.
Asia Pacific
Prices for isopropyl alcohol had a significant drop of about 1.56 percent throughout Asia Pacific, particularly in China, and then stabilised.
While consumer inflation slowed in November 2022, factory prices in China fell annually. This indicates weak tendencies among market participants, such as weak demand and higher inventories in an economy that had been restrained by strict pandemic controls. Additionally, as a result of weak domestic and worldwide demand in November and an increase in COVID-19 instances, manufacturing and shipping were disrupted, placing pressure on the second-largest economy in the world as traders stocked up on their inventory.
Europe
The prices of isopropyl alcohol were unstable in the European region. The downstream demand from the domestic market declined and the investigations also remained uncertain, which supported the cost valuation outlooks in Germany.
The prices started to increase because of rising demand from downstream industries such as pharmaceuticals, coating, and chemicals. Furthermore, the increased price trend of isopropyl alcohol in Germany also supported the propylene prices in December 2022.
Key Market Players:
BASF SE
SynQuest Laboratories (Central Glass Co., LTD.)
Acros Organics
Penta Manufacturing Company
Market Drivers

Isopropyl alcohol is used by the pharmaceutical industry as a final product. Alcohol swabs and wipes with a 70% isopropyl alcohol concentration are used to clean wounds. It can also be found in ear drops and hand sanitisers. Isopropyl alcohol can also be found in several oral mouthwash solutions.
Additionally, cleaning materials contain isopropyl alcohol. Isopropyl alcohol can typically be used in modest, safe amounts in the pharmaceutical business when making capsules or tablets. Pharmaceutical intermediates are created utilising solvents and IPA.
Many different companies, including those that produce shellac, gum, medicines, and cosmetics, employ isopropyl alcohol as a solvent. Additionally, it is used to denaturise ethanol.
Read More About Isopropyl Alcohol Production Cost Reports - REQUEST FREE SAMPLE COPY IN PDF
It is used in flexography, lithography, and gravure printing as a cleanser and for industrial equipment in the printing sector.
In addition, it is used to make rubber, as a diluent and extractor in chemistry, to clean metal, and to remove paint.
In hospitals and medical facilities, it is used as a trusted disinfectant. Additionally, it serves as a mild cleaner in astringents, fragrances, and cosmetics.
News and Development

September 2022: A fresh batch of catalysts was just introduced by BASF. Oxo alcohol catalyst Ni 3954 E, manufactured by a firm, combines remarkable selectivity and activity. This catalyst has been investigated and shown to be efficient for the hydrogenation of acetone to create isopropyl alcohol.
About Author:
Prakhar Panchbhaiya
Senior Content Writer at Procurement Resource
Prakhar Panchbhaiya is an accomplished content writer and market research analyst. With over 4 years of experience in content creation and market analysis encompassing many industries, including pharmaceuticals, nutraceuticals, biochemistry, healthcare, ed-tech, and Food & Agriculture, he has been creating quality content for multiple sectors. He is a Biochemistry major with sturdy backing in a PG diploma in digital marketing, helping in the exhaustive content creation based on extensive research and competitive marketing.