The Market Overview of Palm Oil and its Growing Demand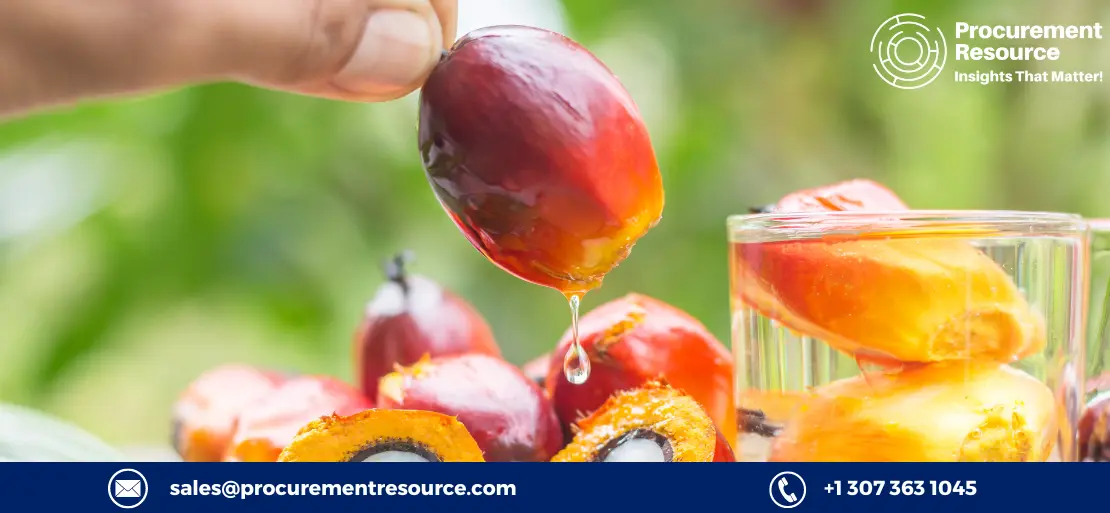 Palm oil is an edible vegetable oil, which is extracted from the mesocarp (reddish pulp) of the oil palm's fleshy fruit. Owing to its reddish-orange colour, it is also referred to as red palm oil.
The Elaeis guineensis tree, which is indigenous to West and Southwest African coastal nations such as Angola, Gabon, Liberia, Sierra Leone, Nigeria, and others, is the primary source of palm oil.
One-third of the world's production of plant oil is now made up of palm oil, and it is one of the least expensive and widely used oils.
This blog contains comprehensive information on the palm oil production process, as well as pricing trends, market drivers, and key competitors.
Palm Oil Production Process

The palm fruit extract is used to make palm oil. After being threshed, the palm fruits are first sterilised by roasting or smoking. Alternatively, one can prepare the fruits for threshing by heating or boiling them first. The fruits are removed from the bunch and placed in rotary drums during the subsequent phase of threshing.
Request Access For Regular Price Update of RBD Palm Oil
The fruit is then compressed to remove the pulp and skin of palm fruits. By pressing the fruit between metal plates, the oil is separated from the fruit, allowing for the production of oil through extraction. Finally, refined, and pure palm oil is produced by processing and filtering crude palm oil.
Palm Oil Price Trend

North America
The price of palm oil production recently decreased in North America as a result of a decrease in demand from downstream businesses. Product prices dropped as a result of the export ban on Indonesian palm oil being lifted. North American nations imported palm oil from the Asia Pacific region, particularly from Indonesia and Malaysia. The product's price was lowered as a result of a surplus of stock in the local market. The abrupt easing of the Indonesian ban resulted in continued demand from the downstream industries and a drop in the product's price.
Asia Pacific
Due to the erratic market perceptions of palm oil, the price of palm oil varied throughout the Asia-Pacific nations. The palm oil market in China kept shrinking, which contributed to the prices staying low. The price of palm oil in Malaysia's futures market has been declining because Indonesia, the world's largest producer of palm oil, reduced its export tax. As a result, domestic palm oil futures have decreased along with the market. The second month of the quarter saw a decline in prices, which was aided by sizable domestic market stockpiles. Increased demand from end-user industries is what caused the price to climb.
Europe
The reduced price of the commodity in the months after the fourth-quarter period helped to sustain the price of palm oil in Europe. Prices decreased as a result of waning customer faith in the domestic market.
Due to massive inventories, there were no supply disruptions in the local market. Prices fell as a result of Indonesia relaxing its export restrictions, which had no long-term consequences for the region of Europe. Prices, however, started to drop again as a result of the low demand and abundant supply in European countries.
Market Drivers

The demand for palm oil is mostly driven by its uses in cooking. South-East Asia, West Africa, and some parts of Brazil all utilise it for cooking. Because it is less expensive, it is utilised in commercial cookery, which is increasing its sales. Glycerin is one of its by-products, which is also utilised in the manufacturing of biodiesel and has further uses in a variety of industries, contributing to the market's expansion.
In addition to its broad end use in cooking, it is used to make pre-packaged food (such as pizza, doughnuts, and chocolate), goods for cleaning, cosmetics (such as lipstick), soaps, and personal care items (such as toothpaste and deodorant), as well as products for hair care and cosmetics.
Read More About RBD Palm Oil Production Cost Reports - REQUEST FREE SAMPLE COPY IN PDF
It is a crucial raw material in the production of biofuel and is used as fuel in cars, ships, and aeroplanes, expanding the market for major companies. Additionally, because the oil resists oxidation, and lengthens the shelf life of various products, therefore it is a great option for manufacturers.
Key Market Players
FGV Holdings Berhad
IOI Corporation Berhad
Sime Darby Plantation Berhad
Musim Mas Holdings Pt. Ltd
Bumitama Agri Ltd.
Adani Group
Emamiltd
Asian Agri
Apical Group Ltd.
About Author:
Prakhar Panchbhaiya
Senior Content Writer at Procurement Resource
Prakhar Panchbhaiya is an accomplished content writer and market research analyst. With over 4 years of experience in content creation and market analysis encompassing many industries, including pharmaceuticals, nutraceuticals, biochemistry, healthcare, ed-tech, and Food & Agriculture, he has been creating quality content for multiple sectors. He is a Biochemistry major with sturdy backing in a PG diploma in digital marketing, helping in the exhaustive content creation based on extensive research and competitive marketing.