The Market Overview of Glycerine and its Demand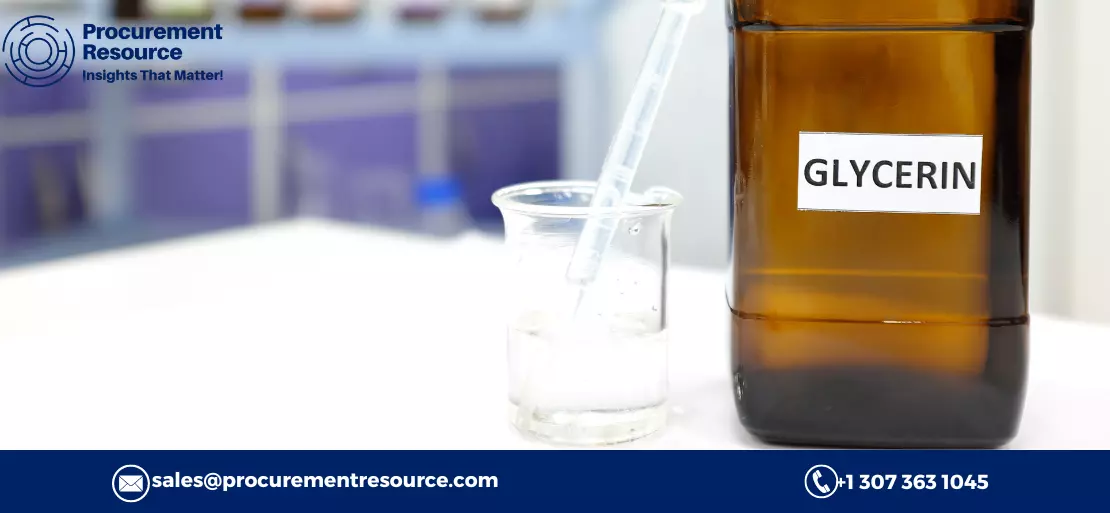 Glycerine: What is it?
A basic polyol natural molecule called glycerin, often known as glycerol, is created from plant or animal fats. The IUPAC name of glycerine is propane-1,2,3-triol. It is a thick, colourless, odourless liquid with a good flavour that is also non-toxic. Its boiling point is 290 °C. The molecular weight of glycerine is 92.09382 g/mol and its chemical formula is C3H8O3.
Production of Glycerine
Propane can be converted into glycerol in a number of methods. The most important one is the epichlorohydrin method, which calls for chlorinating propylene to create allyl chloride, which is then oxidised with hypochlorite to create dichlorohydrins, which then react with a solid base to create epichlorohydrin.
Request Access For Regular Price Update of Glycerin
Once epichlorohydrin has been broken down, glycerol is produced. Examples of chlorine-free propylene processes include glycerol synthesis from acrolein and propylene oxide.
Market Drivers of Glycerine
The sector is being propelled by the product's rising notoriety as a platform chemical with the potential to expand the market's set of applications. A surplus of crude glycerin has been produced as a result of increased biodiesel production, and this glycerin can be used directly in animal feeds as a dust suppressant to prevent coal from freezing and storing grains. Glycerin's demand has increased due to its increased use in the production of electricity as a result of the oversupply and subsequent price decline.
The market is anticipated to grow due to the increased use of glycerin in the treatment of conditions that cause high eye pressure, such as glaucoma, during eye surgery, and as a substitute for alcohol in the production of herbal and botanical tinctures, which will boost the industry.
Recent Developments in Glycerine

In October 2021, IOL Corporation Berhad announced that it would spend MYR 220 million to build a new oleochemical facility in Prai, Penang, with an annual capacity of 110,000 metric tonnes (MT). Glycerine and fatty acids based on palm and palm kernels, which are essential components of personal care and cosmetics, will be the main products of the new factory. The factory ought to be complete by the second quarter of 2022.
July 2021: ENI and BASF just launched a project to develop bio-propanol made from glycerin. The new method converted glycerine into propanol.


Glycerine Price: Forecast and Trend
Asia
Prices for glycerine have fallen precipitously as a result of continuous geopolitical tensions and declining demand. Prices for glycerine dramatically dropped at the start of the first half of Q3 2022 as a result of consistent demand and available supplies in the Asia Pacific area. Glycerine prices were impacted by the declining trajectory of the prices of raw palm oil and other edible oils on the local market.
Additionally, low manufacturing rates and production costs, together with downstream end-user demand, had an impact on glycerine prices. Beginning in September, local retailers began building up inventory in anticipation of future demand. A modest increase in glycerine's price was caused by rising raw material costs.
Europe
Glycerine (Excipient) prices in the European market were constant. Due to a lack of demand from end-user industries, feed palm oil and other edible oil prices remained unchanged in the European market; glycerine prices have increased as a result of offtakes from the pharmaceutical, food, and cosmetics industries. The glycerine market remained tranquil due to the declining demand and ample available supply.
North America
Due to rising prices for other edible oils and feed palm oils as a result of geopolitical unrest and logistical challenges, glycerine prices have been trending upward. Glycerine is slightly more expensive than average. The price climbed slightly as a result of the overheated economy and currency fluctuations, despite the steady demand from the downstream pharmaceutical, cosmetic, and food industries. The prices of glycerine in the North American region were also impacted by increased manufacturing costs and higher raw material market sentiments.
Read More About Glycerine Production Cost Reports - REQUEST FREE SAMPLE COPY IN PDF
Key Market Players for Glycerine
BASF SE
Emery Oleochemicals
Wilmar International
Godrej Industries
Cargill Incorporated
P&G Chemicals
Kao Corporation
Avril Group
Vitusa Products Inc.
Twin Rivers Technologies
Timur Oleochemicals
Archer Daniels Midland Company
Croda International Plc
IOI Group
The Dow Chemical Company
About Author:
Prakhar Panchbhaiya
Senior Content Writer at Procurement Resource
Prakhar Panchbhaiya is an accomplished content writer and market research analyst. With over 4 years of experience in content creation and market analysis encompassing many industries, including pharmaceuticals, nutraceuticals, biochemistry, healthcare, ed-tech, and Food & Agriculture, he has been creating quality content for multiple sectors. He is a Biochemistry major with sturdy backing in a PG diploma in digital marketing, helping in the exhaustive content creation based on extensive research and competitive marketing.