The Market Overview of Polycarbonate and its Increasing Demand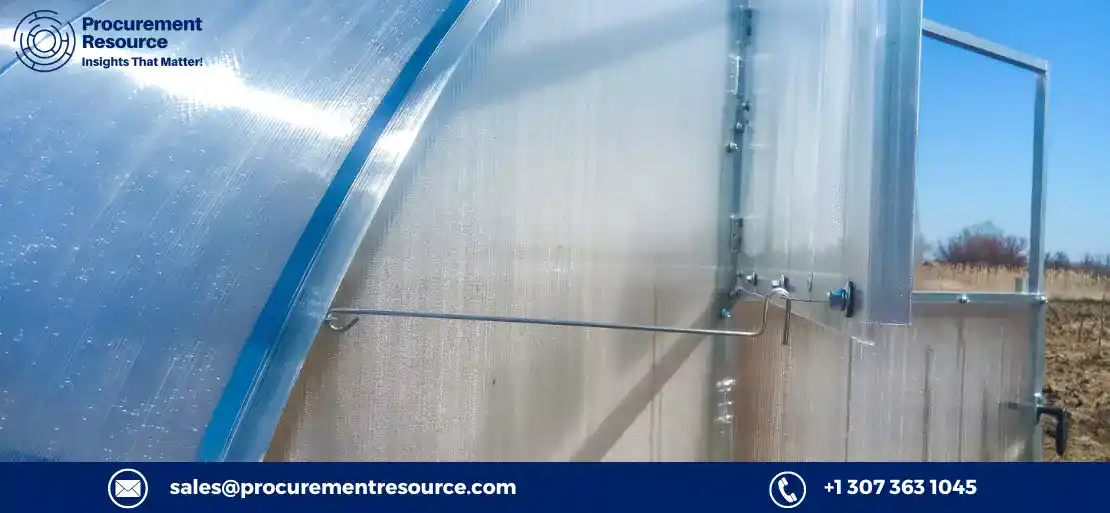 Polycarbonate: Definition

Polycarbonate is a naturally occurring thermoplastic. It is abbreviated as PC and is transparent and amorphous in nature.
The melting point of polycarbonate is 155°C and its density ranges from 1.2 g/cm3-1.22 g/cm3. It has good electrical, as well as great dimensional stability properties. It can be employed for various industrial uses, due to its strength and flexibility.
Request Access For Regular Price Update of Chlorine
It has a great heat and chemical resistance and helps to prevent from the penetration of harmful UV Rays. It is also used to commercially produce various materials.
Production Process of Polycarbonate

Polycarbonate Production from diphenyl carbonate and bisphenol A:
This procedure is also known as the Melt process. It involves trans esterifying bisphenol A and diphenyl carbonate. The resulting substance is pure and can be directly pelletised to produce polycarbonate.
Polycarbonate Production from Bisphenol A and Carbonyl Chloride via Condensation Polymerisation:
In this process, sodium hydroxide is used to create a bisphenol A solution, which is then coupled with a carbonyl chloride solution dissolved in an organic solvent, such as dichloromethane: The process of polymerisation is then carried out with the aid of a catalyst, which is essentially an amine. The aqueous layer is eliminated in order to create polycarbonate in an inorganic layer.
Polycarbonate Price Trend

North America
The polycarbonate production cost has skyrocketed in recent months on the North American market. The downstream derivative industries suffered because of the significant cost pressure from the input, bisphenol A.
Demand for polycarbonate struggled on the domestic market in the US, and costs were further stressed by rising interest rates and skyrocketing costs for downstream automotive components. Regional plants increased activity slightly to help the market, and carriers continued their rising trend with sufficient terminal acceptance. The level of participation was raised by intermediary traders and downstream epoxy factories.
Asia Pacific
Asia recently saw a decline in market sentiment for polycarbonate. Expenses from exporting nations like South Korea and Thailand were extenuated, in addition to a decline in downstream sector consumption. With the ongoing conflicts across the world, freight prices in Asia kept falling.
In terms of supply, there are more than enough commodities on hand, and for a few months now, weak demand, rising inventory, and buyer wait-and-see market sentiments have been the norm. Due to the holiday season, the price of polycarbonate just increased in India.
Europe
Recently, the price of polycarbonate increased as a result of rising operational costs, higher natural gas, and raw material costs in the area. The countries in Europe have faced significant challenges as a result of a natural gas shortage and increased costs for the material that is readily available as a result of the war's escalating tensions between Russia and Ukraine.
Operational costs for polycarbonate manufacture in the area were observed to be rising. In September, the supply chain in Germany was interrupted, there was a low level of product inventory in the market, and several German ports were crowded. The typical demand from the downstream sectors, such as the automobile and electrical & electronics industries, drove the cost upward.
Polycarbonate Industrial Applications

Electronics primarily use polycarbonate because of its safety attributes. It is the perfect material for a variety of items, including electrical and telecommunications hardware, because it is a superb electrical insulator, heat-resistant, and also acts as a flame retardant. In addition, it serves as the dielectric in high-stability capacitors.
The product is also widely employed in the building industry, where it is used in flat or curved glass, dome lighting, and sound walls.
In the creation of DVDs, Compact Discs, and Blu-ray Discs, polycarbonate is used. These discs are created by injecting polycarbonate into a chamber in a mould that also houses the metal stamper side that holds the disc's negative image. The mirror surface of the other side of the mould is in contrast.
Read More About Polycarbonate Production Cost Reports - REQUEST FREE SAMPLE COPY IN PDF
Components for the automotive, aerospace, and security industries are made from injection-molded polycarbonate, which produces incredibly smooth surfaces that are perfect for direct-metalized parts like decorative bezels and optical reflectors. Compared to polypropylene parts, its homogeneous mould shrinkage can produce parts with a higher degree of accuracy. To make bulletproof glass for windows, cars, etc., it can be laminated.
Many different types of lenses, including lighting lenses, eyeglass/sunglass lenses, safety glasses, and vehicle headlamp lenses, are made from polycarbonate. Also, it is possible to manufacture items like visors, IMP3/Digital audio player cases, computer cases, blender jars, riot shields, and instrument panels. Moreover, parts for toys and other products like gyro mounts, fins, and fly bar locks for radio-controlled helicopters are constructed of polycarbonate.
Key Players in the market of Polycarbonate
Covestro AG
SABIC
Teijin Limited
Trinseo S.A.
Mitsubishi Chemical Corporation
Procurement Resource offers data on a range of goods as well as product prices, market analyses, and information. Industry research and evaluation is Procurement Resource's main service. Customers can obtain current information, accurate pricing models, benchmarking data, and category analytics.