Sesame, Product Description, Harvesting, Benefits and By-Products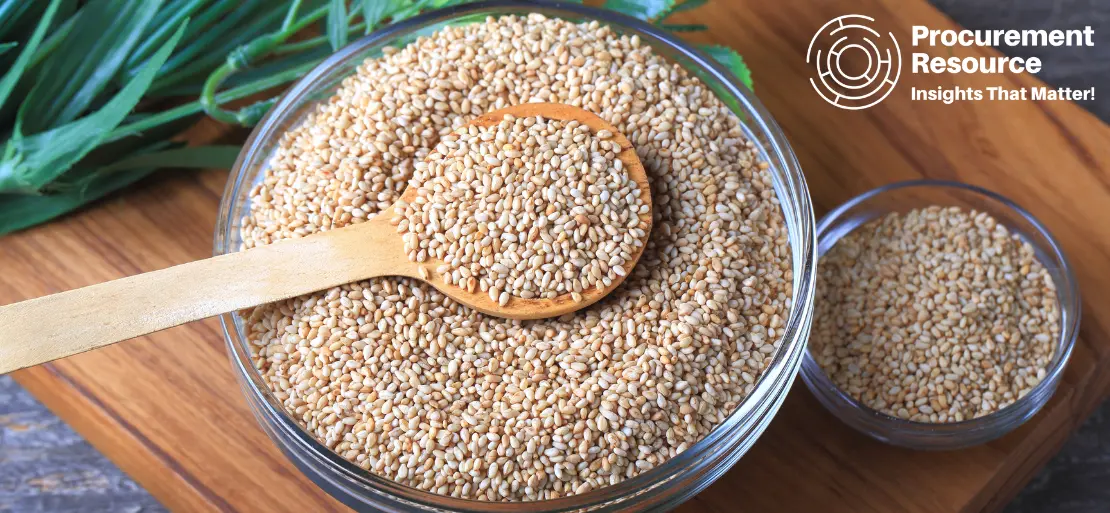 Sesame is a flowering plant cultivated to derive the oil (amounting to about 44 to 60 percent) present in its seed, and its crop is found in subtropical and tropical areas of Africa, Asia, and South America. Sesame oil is present in the genus Sesamum also known as benne and is the most oil-rich seed compared to rapeseed, peanuts, and soybean.
Sesame is nutrient-rich and contains vitamins, protein, thiamin, and antioxidants. It is used in cooking to treat ailments like high blood pressure, diabetes, heart disease, high cholesterol, and several other conditions. It has a rich, nutty flavour and is a key ingredient in cuisines all over the world.
Sesame seeds are present in a capsule that explodes at the ripening of the seeds. Sesame is a flat, tiny seed with a complex drying process as the small seeds move with air and need to be harvested and stored with at least 6 percent moisture or less. After harvesting, the seed is cleaned by removing all impurities and dust particles and hulled by soaking, dehulling, splitting, washing, and drying in the next step.
Request Access For Regular Price Update of Sesame
After being hulled, they go through a sorting process which is done by three methods, fine sorting, magnetic sorting, and colour sorting. In Fine sorting, all the seeds are fined and sorted based on their size. Based on Magnetic sorting, the seeds go through a magnetic field that gets rid of all sorts of magnetic contaminants. Lastly, a single sorter machine removes impurities like stones and foreign particles in Colour sorting.
Sesame has several health benefits; it is a great source of fibre that is beneficial for the digestive system while reducing the risk of some cancers, possible heart disease, obesity, and type 2 diabetes. It is rich in polyunsaturated, monounsaturated, and saturated fats, which lower the body's cholesterol and reduce heart disease. They are high in two amino acids, methionine, and cysteine, making them a rich plant-based source of protein.
Sesame seeds are magnesium-rich and have vitamin E, lignans, and other antioxidants that maintain good blood pressure levels. It promotes healthy bones and lowers inflammation in chronic obesity, cancer, and heart and kidney disease cases. They also promote the growth of red blood cells and control blood sugar levels. Other benefits of the seeds include boosting the immune system, helping with arthritic knee pain, preventing thyroid, balance hormones during menopause.
Read More About Sesame Production Cost Reports - REQUEST FREE SAMPLE COPY IN PDF
Sesame seeds are edible and primarily used for extracting oil used in cooking, baking, and the candy industry. It is also used in the pharmaceutical sector as a vehicle for drug delivery and segments, including insecticides and cosmetics. Sesame oil meal is a by-product rich in protein and can be used as food grade or feed for livestock. The seed's discarded hulls can be used as fodder for ruminants or poultry.
Sesame seeds are used in various applications, have several health benefits, and produce many by-products, especially oil extensively used in cooking applications. Owing to its many uses and benefits, it is widely prevalent among consumers and end-user industries, thus, resulting in an increased demand for the commodity.
About Author:
Prakhar Panchbhaiya
Senior Content Writer at Procurement Resource
Prakhar Panchbhaiya is an accomplished content writer and market research analyst. With over 4 years of experience in content creation and market analysis encompassing many industries, including pharmaceuticals, nutraceuticals, biochemistry, healthcare, ed-tech, and Food & Agriculture, he has been creating quality content for multiple sectors. He is a Biochemistry major with sturdy backing in a PG diploma in digital marketing, helping in the exhaustive content creation based on extensive research and competitive marketing.