Regional Price Overview
Get the latest insights on price movement and trends analysis of Sesame in different regions across the world (Asia, Europe, North America, Latin America, and the Middle East & Africa).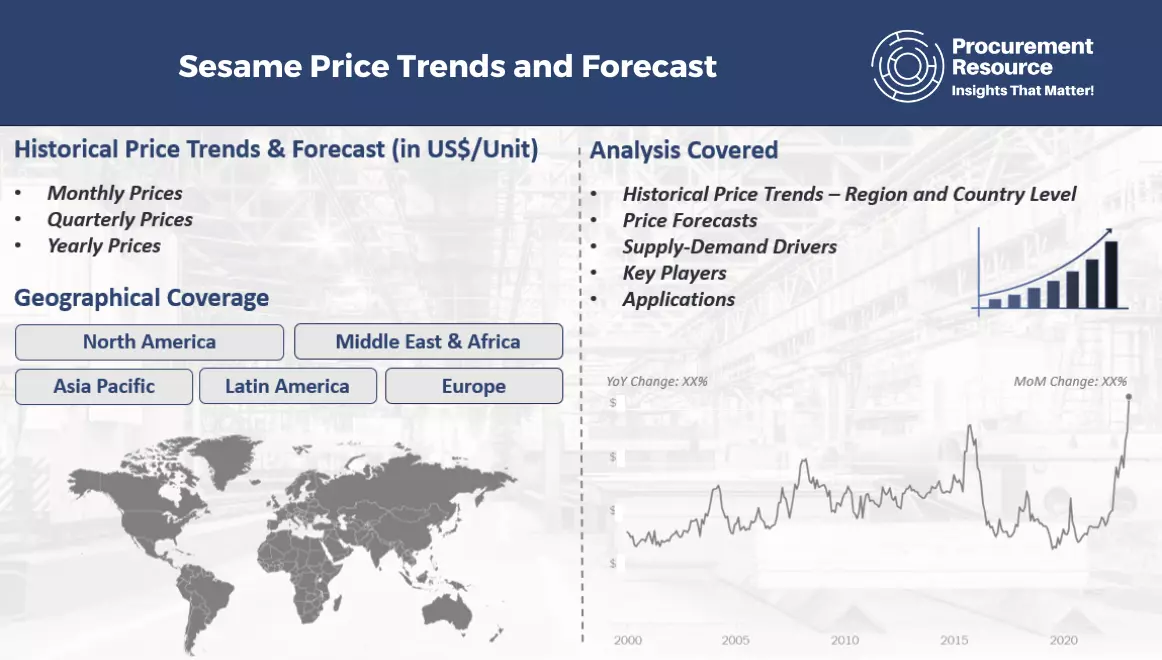 Sesame Price Trends for the First Half of 2023
Sesame, in general, is considered a high-demand agricultural commodity as it is extensively used in food and beverages in various forms. The prices are also dependent on the yield quantity, quality, and market offtakes. In the first and second quarters of 2023, the market experienced a tough time because of curtailed supplies owing to poor crop yield. The difficulty in procurement supported the overall cost; the market was rather disturbed.
The first half of the year 2023 received abnormally high rainfalls, but the distribution was scattered, uneven, and unseasonal, which disrupted the Sesame crop cycle, creating a supply shortage. Overall, the Sesame prices remained inclined throughout the discussed timeline.
Analyst Insight
According to Procurement Resource, as climate change appears to be a lasting problem, the Sesame supplies seem disturbed for the current year, so the price trends for Sesame are estimated to remain inclined for upcoming months.
Sesame Price Trends for the Second Half of 2022
Sesame prices largely depended on the supplies and agricultural yields along with the downstream and end consumer demands. The market had a fairly stable start in July'22, as the supply–demand dynamics were fairly stable during this time. But slight upward wavering in prices began by the end of the third quarter as the inventories were vacating with moderate market demands. However, the market sentiment was stable even at the beginning of the final quarter of 2022.
As the year's end approached, the demands, especially from the oil industries, started picking up, setting the Sesame prices on an inclined trajectory, which continued till the end of the fourth quarter. Overall, the Sesame market in the Asian region exhibited mixed sentiments throughout the said period, with prices remaining tugged between supply, demand, and other associated factors.
Analyst Insight
According to Procurement Resource, the price trends for Sesame are expected to fluctuate since both supply and demand continue to remain unsettled amid rising global inflation.
For the Second Quarter of 2022
Asia
In India, suppliers exported sesame at the price of 1579-1664 USD/MT at the end of April 2022 as prices for good-quality surged along with demand from South Korea. By the end of the second quarter the sesame prices rose even further rising by 30 USD per ton as demand from China for black sesame seeds increased while supply was running low.
Europe
In Europe as more people shift towards foreign foods like tahini, sushi and hummus, the demand for sesame is going up in the region and a major amount of the commodity is imported as local production is low.
North America
In North America, the demand for sesame is rising as people are switching to healthier diets making it the largest importer of sesame in the world.
Middle East Africa
In Ethiopia, the ongoing civil war led to a shortage of sesame seeds in the global market amidst high demand from the downstream tahini manufacturers. Israel was expected to come forward with a solution and increase the supply of sesame.
For the First Quarter of 2022
Asia
The future of the sesame seed business remains uncertain, particularly for the year 2022. Farmers in Rajasthan, Madhya Pradesh, and Uttar Pradesh fear crop loss in the first quarter of 2022 due to excessive rains. The price in 2022 will be determined by the availability of the new crop and the demand scenario once purchasers have met their needs for sesame seeds in the EU and Korea.
China's consumption has not decreased. Japan is acquiring sesame seeds for 2022 since it cut its imports this year and did not have enough supply for 2021. The removal of COVID-19 limitations across the world and increased product use had a beneficial influence on the pricing. Sesame seed prices were ranged between 1.25-and 1.28 USD/kg in Iran.
In China, sesame prices demonstrated a tendency of stability and fluctuation. The market's overall exports decreased as a result of the pandemic in March, and downstream consumer confidence was low.
For the Fourth Quarter of 2021
Asia
Sesame seed prices in India continued to fall in the last weeks of the year, as local demand did not build up as predicted. Last-minute festive season sales surged in the approaching weeks, as the harvest season and winter in North India approached.
The newly discovered virus omicron was rapidly spreading across Indian states. Crop production in India was much lower than predicted during this monsoon season, despite the fact that it rained heavily in all of India's southern states, particularly Tamil Nadu, Karnataka, Telangana, and Andhra. As a result, one can anticipate pretty strong crops in those states, where the new crop is scheduled to begin in early February 2022.
However, the overall crop size is smaller, which may be sufficient to meet domestic needs. Thus, taking into account all of the aforementioned variables, it is reasonable to anticipate that sesame seed prices of different varieties will either remain stable at present levels or will not reduce significantly.
For First, Second and Third Quarters of 2021
Asia
In 2021, sesame seed prices increased. In India, there was a year-long shortage of high-quality sesame seed crops, with approximately 40% of them being faulty. The major difficulties and issues confronting the Indian planter in 2021, as a result of the pandemic, were labour shortages, market panic caused by reduced supply due to restrictions, which led to a rise in costs, lockdowns, shipping, high freight rates (nearly five times what they were previously), and a lack of container availability, as well as ETO-related problems, particularly with sesame seeds for the EU market segments. Their MSP in India was increased by 452 INR/quintal to 7,307 INR/quintal in June 2021.
Europe
The EU had set tough import restrictions on Indian sesame seeds beginning in September 2020 and exports from India to the EU were halted due to elevated levels of ethylene oxide in samples.
This resulted in a shortage of sesame in European nations, resulting in a price increase. However, Indian suppliers resumed exports to EU countries following months of negotiation on the condition that they adhere to all EU quality criteria. By February 2021, India resumed the exports to the EU, restoring the lost equilibrium in the demand and supply dynamics.
Latin America
Sesame seeds were being marketed in Brazil at a price of 1,300 USD/MT in early June 2021. It was previously offered at a price of 1,400 USD/MT FOB Santos, approximately three months ago. According to sources, their rates in Brazil were projected to fall when the season began in June, and the prices did indeed fall in the latter part of the quarter.
The producers in Brazil's primary productive pole preferred the K3 type due to its ease of agricultural management, low input requirements, and increased production. Due to its less sweet flavour, the K3 cultivar is more ideal for oil production. According to market analysts, the K3 will account for almost 80% of overall output.
For the Year 2020
Asia
With 99% of hulling plants in India closed, stockpiles accumulated and pending orders began to accumulate in March 2020. April was a complete production wipeout, but by early May, things were looking up when production resumed at a reduced capacity. Imported cargo was also cleared, and a significant amount of surplus cargo scheduled by Indian firms was transferred to China.
Still, the stockpile for the hulling manufacturers was greater than normal, and with the rapid depreciation of the rupee, it was priced considerably higher than anticipated, exacerbated further by expensive demurrage charges levied on importers. Chinese markets are normally closed in January in observance of the Chinese New Year. They were closed during the time of the pandemic.
And, as a preventive measure in light of the coronavirus outbreak in Wuhan, the industries were placed on lockdown. Gujarat's commodity exports, particularly cumin seeds, sesame seeds, and groundnut oil, sustained a 10-15% damage over the months of June and July 2020. China contributed for between 20% and 30% of India's exports of several major commodities.
Europe
Consumers worldwide, particularly the millennial generation in Europe, have an increasing appetite for healthy elements in their diets. Their nutritious profile has increased consumer interest in recent years in European regions. As a result, it's unsurprising that the European Union purchases 50% of its yearly sesame seed imports from India. However, the EU imposed strict import limits on Indian sesame seeds in September 2020.
The impositions were made as a result of the sample's high ethylene oxide concentration. When ingested in large amounts, ethylene oxide has been known to cause cancer. This disturbance created a demand-supply imbalance in the EU, naturally driving sesame seed prices to skyrocket.
North America
The seed's production has historically been limited to the southern United States, owing to a dearth of manually harvestable cultivators adapted to other regions. Although the majority of commercial production occurs in Texas and Oklahoma, production is expanding into Kansas and Arkansas. The United States of America imports the majority of sesame seeds for conversion. Imports to the United States were worth USD 80.29 million in 2020.
Latin America
Brazil, one of the most important LATAM countries, was ranked 12th in 2020 with a 1.98% share of worldwide sesame seed exports. It was placed 39th in terms of imports, accounting for 0.20% of global imports. Brazil also signed a trade pact with India in early 2020. The conditions of this agreement made it simple for them to be imported from India to Brazil and for maize seeds to be exported from Brazil to India.
Procurement Resource provides latest prices of Sesame. Each price database is tied to a user-friendly graphing tool dating back to 2014, which provides a range of functionalities: configuration of price series over user defined time period; comparison of product movements across countries; customisation of price currencies and unit; extraction of price data as excel files to be used offline.