Sesame Seeds – Health Benefits, Uses, and Market Trend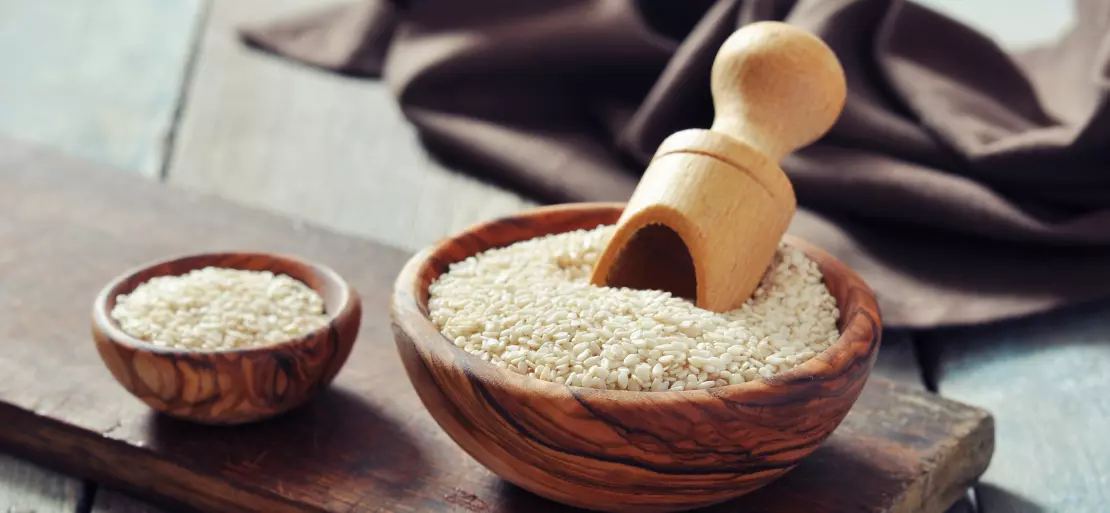 One of the most essential oil crops on the planet is sesame seeds. Whole seeds, seed oil, and meal are its main commercial products. Since prehistoric times, sesame seeds are farmed in tropical places worldwide, but popular beliefs claim that they have even older roots. According to Assyrian mythology, Gods drank sesame seed wine when they gathered to create the world. These seeds were considered to have originated in India and were mentioned in ancient Hindu mythology.

Sesame seeds are used as a sign of immortality in several traditions. It was one of the first oilseed crops and condiments. During the late 17th century, these seeds were introduced to America from Africa. India, China, and Mexico are currently the world's major commercial sesame seed producers. The seeds are appreciated for their oil, which is exceptionally rancidity resistant. Sesame oil is relatively stable and only rarely goes rancid in hot weather.
It has many unsaturated fatty acids, with 14 percent saturated, 39 percent is monounsaturated, and 46 percent polyunsaturated fatty acids. They also have beneficial physiological effects, such as antioxidant activity, reduced blood pressure, and the ability to lower serum cholesterol levels, as demonstrated in both experimental animals and humans.
The three types of sesame seeds available in the market are white sesame, black sesame, and brown sesame. In 2019, the black sesame seed category held a considerable market share, and it is likely to continue to grow at a healthy rate throughout the forecast period. Black sesame seeds have more calcium. On the other hand, white ones have a more robust flavour and are crunchier. The hulls of white sesame seeds must be removed to find the white sesame seed.
Request Access For Regular Price Update of Sesame
Sesame oil has laxative, emollient, and demulcent properties. Bandages and oil made from seeds and fresh leaves are also used in various medical and pharmaceutical applications. For thousands of years, people have utilised the oil to cure wounds. Sesame oil has laxative, emollient, and demulcent properties. Additionally, the antioxidant, sesamin, has been discovered to protect the liver from oxidative damage. Besides, by altering the gene expression of fatty acid oxidation enzymes, sesamin can improve fat burning and decrease fat storage in the body. It has the potential to be used in the creation of weight-loss nutraceuticals. Recently, the focus has shifted to the development of biodiesel from sesame seed oil as a viable alternative to diesel fuel.
Between 2020 and 2027, the global sesame seeds market is predicted to increase at a CAGR of 1.5 percent, from USD 6.67 billion in 2019 to USD 7.56 billion in 2027. Increased awareness of the population to lead a healthy life can be attributed to the sesame seeds market growth.
Read More About Sesame Production Cost Reports - REQUEST FREE SAMPLE COPY IN PDF
Geographically, the sesame seeds market is divided into North America, Europe, Asia Pacific, the Middle East and Africa, and Latin America. During 2019-2027, the Asia Pacific market dominated the market share, and this trend is expected to continue. The existence of large producers and the rising cases of diabetes and high cholesterol concerns among the population in the region are the main drivers for the growth of the sesame seeds market.
The major players of the sesame market are, Dipasa USA, Inc, Triangle Wholefoods, SunOpta, Fuerst Day Lawson, McCormick, Selet, and Orienco.
Sesame is a simple plant to grow and is ideal for crop rotation. This is one of the plants with high oil content in the seed. These seeds have numerous benefits and are used extensively for purposes like culinary, industrial, engineering, and pharmaceutical.
About Author:
Prakhar Panchbhaiya
Senior Content Writer at Procurement Resource
Prakhar Panchbhaiya is an accomplished content writer and market research analyst. With over 4 years of experience in content creation and market analysis encompassing many industries, including pharmaceuticals, nutraceuticals, biochemistry, healthcare, ed-tech, and Food & Agriculture, he has been creating quality content for multiple sectors. He is a Biochemistry major with sturdy backing in a PG diploma in digital marketing, helping in the exhaustive content creation based on extensive research and competitive marketing.