Synthetic Rubber Applications with Focus on Asia Region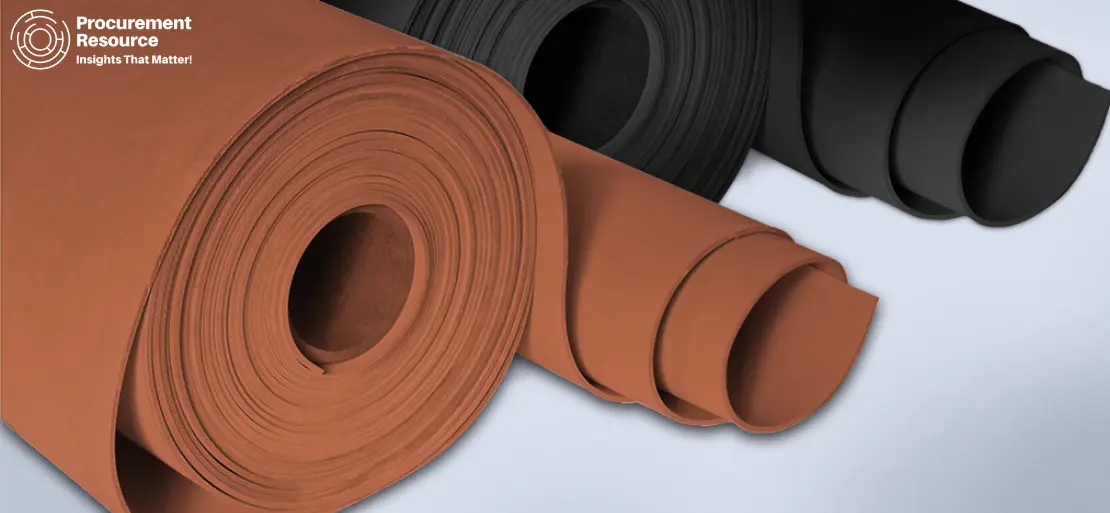 Synthetic rubber is any artificial elastic product made from the polymerization of isoprene, butadiene, and other unsaturated hydrocarbons. It is employed in the automobile industry for manufacturing seals, tires etc., due to its chemical and physical properties like thermal stability and resistance to oils and similar compounds, and resistance to oxidizing agents, such as ozone and oxygen.
In chemical plants, synthetic rubber production initiates with petrochemicals, consisting of neoprene (polychloroprene) and emulsion styrene-butadiene rubber (E-SBR). The process takes place by coal, oil, and other hydrocarbons, processed to create naphtha. Next, the naphtha is paired with organic gas to create monomers like chloroprene, styrene, propylene, butadiene, isoprene, and ethylene.
Later, with the use of catalyst and process steam, it is polymerised, resulting in polymer chains that create rubber, which is, in turn, vulcanised as required. The vulcanisation process converts polymers to a more durable material by adding accelerators like sulphur. The by-product is later shaped according to the need and through quality assurance checks.
Request Access For Regular Price Update of Synthetic Rubber
The properties of rubber, such as adhesiveness, toughness, resistance to water, alkalis, elasticity, and flexibility, makes it ideal for use in end-uses like consumer products, transportation, medical and industrial sector.
Styrene butadiene rubber (SBR) has qualities like abrasion resistance, lower elasticity, electrical insulation material etc., which are used in industries such as seals, tires, conveyor belts etc. Polybutadiene rubber (BR) can be mixed with NR or SBR, which has good elasticity and flexibility in low temperatures and is usually employed in clutches, technical products, and tires, among others.
Read More About Synthetic Rubber Production Cost Reports - REQUEST FREE SAMPLE COPY IN PDF
Isoprene rubber (IR) is a transparent, cleaner, uniform product variant that can be used in technical applications like heating hoses, construction sections, etc. Acrylonitrile butadiene rubber (NBR) is oil and fuel resistant with good temperature tolerance and resistance to abrasion that finds application in oil hoses, mats, seals, and other stuff.
Chloroprene rubber (CR) is flame and grease resistant and is used in clutches, cables, pneumatic suspension systems etc.
Butyl rubber (IIR) is the variant that has age, chemical, and ozone resistant properties that make it ideal for use in membranes, automotive hoses, cable insulation and other applications. As a result of the several product variations and their extensive application, the market is witnessing high demand and growth.
Asia region holds a significant accounting share in the industry. China is the global synthetic rubber giant holding a 22 percent share in worldwide production. Southeast Asia contributes significantly to rubber production. Countries like Indonesia, Thailand, and Vietnam are significant commodity producers. Countries like China, India, and Malaysia are also major contributors to the market.
Traditional agriculture in Southeast Asia focuses on high-value cash crops like rubber. However, large rubber-producing factories have recently replaced conventional farming practices. Government policies and programs will decide the transition's impacts on local farmers.
About Author:
Prakhar Panchbhaiya
Senior Content Writer at Procurement Resource
Prakhar Panchbhaiya is an accomplished content writer and market research analyst. With over 4 years of experience in content creation and market analysis encompassing many industries, including pharmaceuticals, nutraceuticals, biochemistry, healthcare, ed-tech, and Food & Agriculture, he has been creating quality content for multiple sectors. He is a Biochemistry major with sturdy backing in a PG diploma in digital marketing, helping in the exhaustive content creation based on extensive research and competitive marketing.