The Ready-To-Eat Nature of Instant Noodles is Making it Popular Among Consumers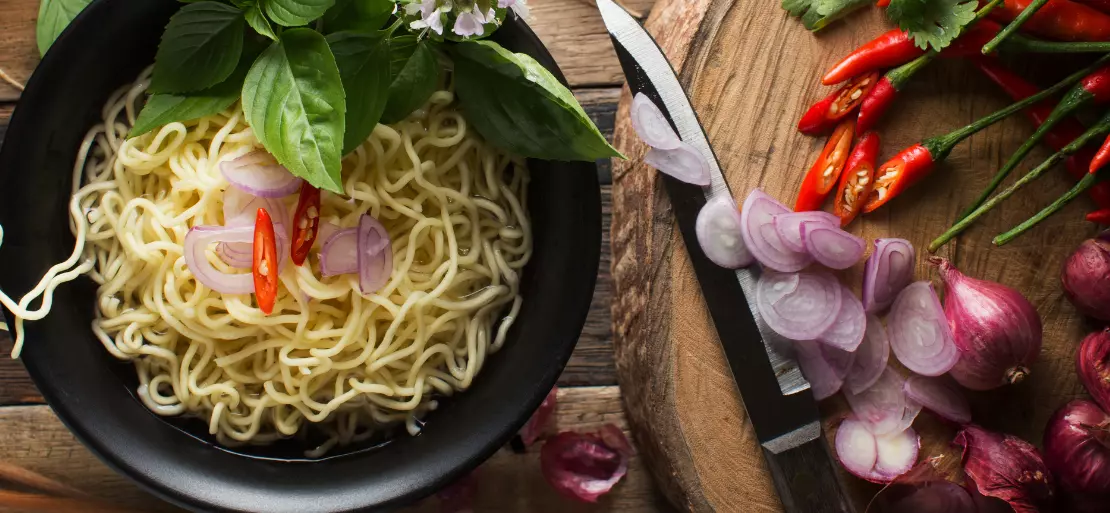 Supermarkets are the primary types of distribution for instant noodles in urban areas. People in cities prefer to buy instant noodles and their regular groceries. The ease of access to these supermarkets is also a significant factor driving instant noodle sales. Due to changing customer preferences, players introduce new varieties in the market; supermarkets ensure that all these products are available to attract more customers.
Cup/bowl noodles are becoming increasingly popular among consumers due to their easy preparation and ready-to-eat nature. As the market's demand grows, major market players such as Nestle Maggi, HUL Knorr, Top-Ramen, and others have introduced it. It is also growing in popularity due to its convenient packaging, ease of preparation, and good taste compared to packet noodles. The market is segmented into chicken, vegetable, seafood, and others. It is positively influenced using chicken during the manufacturing of noodles, owing to its flavours and affordability factor. The global demand for chicken products has increased dramatically in the last 30 years. Consumers are focusing on effective health management and delicious taste, and chicken instant noodles are proving to be more suitable food options with high protein content. Health concerns are the most significant market restraints, followed by unhealthy ingredients and the availability of other extruded snacks.
Request Access For Regular Price Update of Instant Noodles
Aside from the standard flavours, companies are developing new tastes and flavours, such as Chinese, a mix of masalas, and so on. Consumers in India have become more health-conscious, which has created an opportunity for players to develop a new segment of healthier noodles. The growing urbanisation, the hectic schedule, and the ease of consumption are the primary drivers of the Indian instant noodles market. Besides, because instant noodles made from white flour were deemed unhealthy, players set noodles made from atta.

The Asia Pacific market's expansion is being driven by its large consumer base and rising disposable incomes, which allow them to spend on a wide range of food items in market scenarios. Consumers pay more for convenience food products in the region to avoid stumbling blocks in their busy lives and improve overall well-being. These noodles are one of the most popular convenience foods, and their popularity is multiplying in the region's densely populated countries such as India, Indonesia, and china.
Read More About Instant Noodles Production Cost Reports - REQUEST FREE SAMPLE COPY IN PDF
The product's consumption in China has skyrocketed due to investments and innovations by key players in the country. Because of shifting trends toward convenience and on-the-go products, instant noodles have emerged as an essential snacking food in Europe. The availability of ethnic flavours and the flour's nutritional value pave the way for market growth in Europe.
Fear of a global pandemic and increased sensitivity to hygienic food have emerged as critical factors in determining overall demand for processed and packaged food across Europe, creating a fair market potential for the product. Master Kong (Shenyang) Instant Noodle Foodstuff Co., Ltd., Hebei Hualong Food Group, Indofood Sukses Makmur, Nissin Foods, Nestle and Acecook Vietnam Joint Stock Company are the leading companies in the market of instant noodles.
About Author:
Prakhar Panchbhaiya
Senior Content Writer at Procurement Resource
Prakhar Panchbhaiya is an accomplished content writer and market research analyst. With over 4 years of experience in content creation and market analysis encompassing many industries, including pharmaceuticals, nutraceuticals, biochemistry, healthcare, ed-tech, and Food & Agriculture, he has been creating quality content for multiple sectors. He is a Biochemistry major with sturdy backing in a PG diploma in digital marketing, helping in the exhaustive content creation based on extensive research and competitive marketing.