Cosmo Films Net Profit Increased by 45 percent, Company Plans to Change Its Name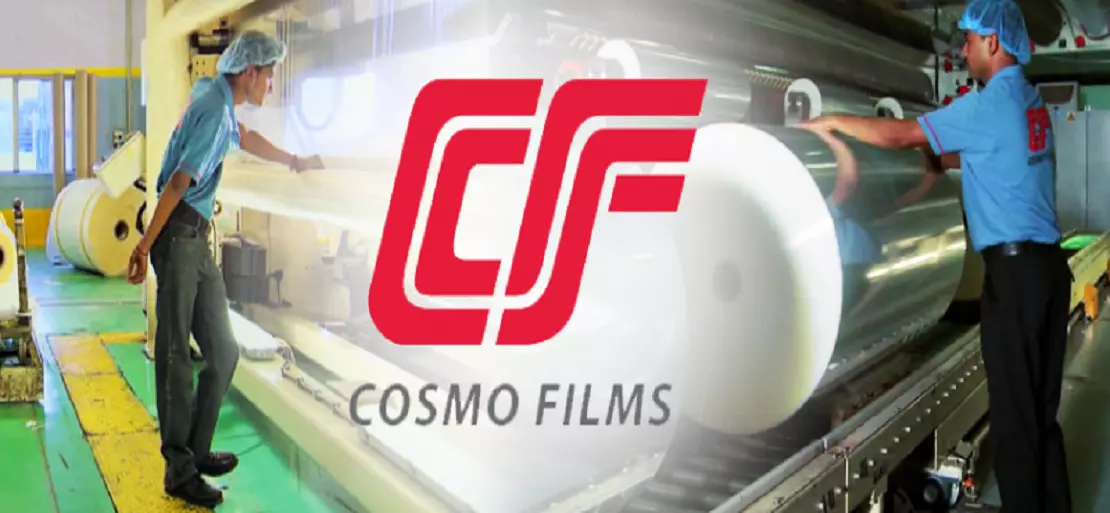 Higher specialist sales, improved operating margins, and improved performance by subsidiaries boosted EBITDA by 31 percent in Q4 FY22. PAT increased by 45 percent because of increased EBITDA and a lesser applicable tax rate. With a rise in EPS to INR 222 per share, FY22 ROCE, and ROE are at 29 percent and 39 percent, respectively. Net debt is less than 0.5 times EBITDA at INR 303 crores.
The company's Board of Directors also has advocated that shareholder approve a bonus issue of one equity share of INR 10 for every two equity shares of INR 10 held by shareholders as of the record date. Management's trust in the company's corporate plan and possible progression is indicated in the bonus concern. Making observations about the company's performance Cosmo Films Ltd. Group CEO Pankaj Poddar said, researchers have prided themselves throughout our journey in our ability to create industry-first specialty solutions in the fields of packaging, laminating, industrial, and labeling applications. They have made strategic diversifications into specialty chemicals, consumer care, and direct-to-consumer retail, with the goal of becoming a market leader in previously fragmented industries.
According to Pankaj Poddar, Group CEO of Cosmo Films Ltd., while observing the organisation's performance and making observations they are taking pride in their capacity to offer industry's first speciality solutions in the domains of laminating, packaging, industrial, and labelling applications throughout their journey. With the goal of establishing a market leader in previously fragmented industries, they undertook strategic diversifications into specialty chemicals, consumer care, and direct-to-consumer retail. The company's growth will be fueled in the coming years by the Films Division (specialised polyester line, largest CPP and BOPP line), and expansion into consumer care, specialty chemicals, and pet care.
The organisation's board of directors has also recommended that the name of the organization to be changed from Cosmo Films Limited to Cosmo First Limited, pending shareholder approval. This was due to the organisation's diversification outside films to specialised chemicals (master batches, textile chemicals, coatings, shortly-to-launch adhesives), D2C Pet care, and soon-to-launch consumer films. Cosmo First Limited is a four-decade-old Indian conglomerate that lives on innovation to unlock value in various emerging industries, including films, consumer goods, specialty chemicals, and direct-to-consumer pet care (under the Zigly brand).
An Indian multinational firm, Cosmo Films Limited, generates bi-axially oriented polypropylene films (BOPP) for labelling, packaging, industrial use, and laminating. New Delhi, India is the company's headquarters. It has production plants in India and South Korea. National Stock Exchange (NSE) and India's Bombay Stock Exchange (BSE) both list the company. Mr. Ashok Jaipuria created Cosmo Films Limited in October 1976, and in the year 198, he established the first production unit in Aurangabad, Maharashtra. Gujarat Propack Limited was purchased by Cosmo Films for 76.51 percent in 2001. Cosmo Films paid USD 17.1 million for GBC Commercial Print Finishing in 2009 (About INR. 82 crore).
In addition, Cosmo Films export their products to over 80 nations in addition to India. They can manufacture customised films in terms of length, width, and packing parameters because of the diversity of our activities. Furthermore, their films are also well-suited to the most cutting-edge printing, converting, and lamination procedures.