Crude Oil Prices Fell Once Again Due to Inflation Worries and Increased Export from Iraq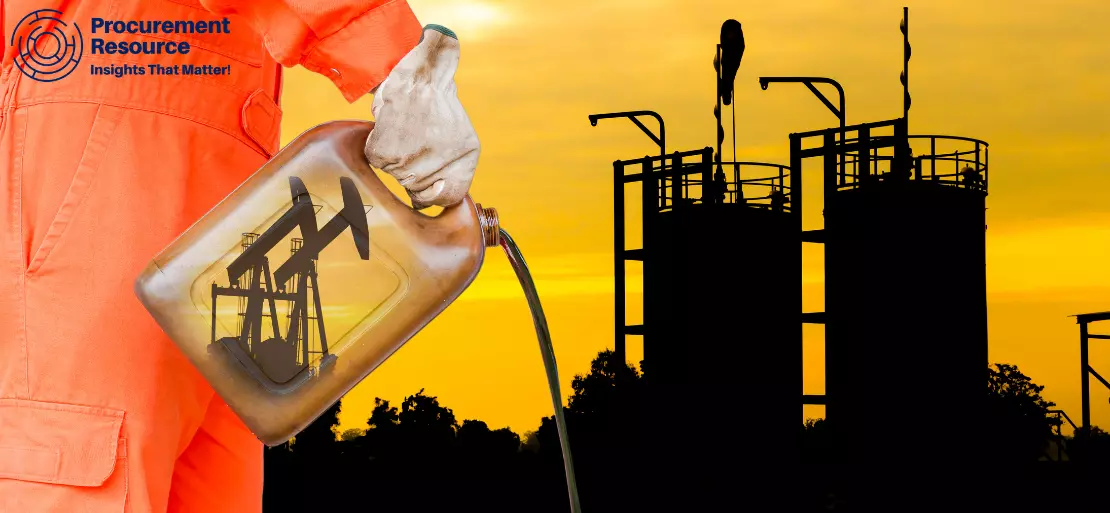 On Tuesday, the prices of oil fell again due to an inflation-induced fear of a worldwide economic slowdown leading to softening fuel demand along with unhinged Iraqi crude exports despite the clashes. After reaching a 4.1 percent high in around a month, brent crude October projections fell USD 2.45, or 2.33 percent, to USD 102.64 a barrel by 1022 GMT.
On Wednesday, the October contract will expire, and the current November contract was at USD 101.12 a barrel, down 1.76 percent.
After a rise of 4.2 percent in the preceding session, the U.S. West Texas Intermediate crude stood at USD 95.46 a barrel, down USD 1.55, or 1.6 percent.
Request Access For Regular Price Update of Crude Oil
On the other hand, an business consortium, the American Petroleum Institute, is awaited to issue the U.S. crude inventory data at 4:30 p.m. EDT (2030 GMT) on Tuesday. There was a decline of 600,000 barrels in the week for the U.S. crude oil stockpiles, along with gasoline and distillates inventories.
Soaring inflation and the risk of rate hikes by central banks aggravated apprehensions of reducing fuel demand paired with a global economic slowdown weighed on investors and prices. The prices also dipped, and more stocks from emergency reserves may be released if required. The October Brent contract on the Intercontinental Exchange at 1153 IST was at USD 104.52 per barrel, lower by 0.54 percent from the previous close. Marginally the projections for West Texas Intermediate were down at USD 96.93 a barrel.
Read More About Crude Oil Production Cost Reports - REQUEST FREE SAMPLE COPY IN PDF
The prices for crude oil are anticipated to remain volatile owing to several factors in place. Despite that, unstable risk sentiment with growth worries can lead to selling pressure at higher levels. Meanwhile, retail prices of diesel and petrol in India have remained unchanged for more than three months. In the country's capital, petrol retails at INR 96.72 per litre, and diesel sells at INR 89.62.
In the United States, the American Petroleum Institute (API) noted a minor development in the current week for crude oil of 593,000 barrels, although experts expected a pull of 633,000 barrels. During the weekend of August 26, the Department of Energy delivered a vast 8.1 million barrels from the Strategic Petroleum Reserves, holding off only 450 million barrels for the SPR.
A week ago, it was reported by the API that there was a pull in crude oil stocks of 5.632 million barrels once forecasters had expected a pull of 448,000 barrels. On Tuesday, West Texas Intermediate traded down due to concerns over inflation and fears of an economic slowdown. WTI traded at 5.08 percent on the day at 4:50 p.m. ET at USD 92.08 per barrel, higher than USD 7 per barrel up on the week.
REQUEST FREE SAMPLE of Crude Oil Industry Report
Brent crude traded on the lower end by 5.19 percent on the day at USD 99.64 after rebounding the week earlier around Saudi remarks that OPEC+ might drop or reduce the amount produced, noting a "disconnect" concerning both fundamentals and prices.
For the August 19 ending week, U.S. crude oil production data dipped once more by 100,000 bpd to 12.0 million bpd. The API testified a move in gasoline stocks this week of 3.414 million barrels for the week closing August 26, contrasted to the last week's 268,000-barrel build up.
A witness of Distillate stocks draws of 1.726 million barrels for the week corresponded to the previous week's 1.051-million-barrel rise. Cushing supplies were lowered by 599,000 barrels this week. The API noted a Cushing build of 679,000 barrels the week before. The official EIA Cushing inventory rose from 25.381 million barrels the previous week to 25.807 million barrels on August 19.
As per Procurement Resource, the crude oil price declined once again owing to the concern regarding the global economic slow movement that may lead to the lessening of demand for fuel as well as deranges crude exports from Iraq regardless of the conflicts. All this has put pressure on the investors and the prices. The October 2022 forecasts for brent crude has fallen USD 2.45, or 2.33 percent, to USD 102.64 per barrel by 1022 GMT.