Exxon Mobil Projected Increased Margin and Profit from the Sale of Ethylene Derivatives Including Ethylene Glycol and Ethylene Oxide for the Year 2022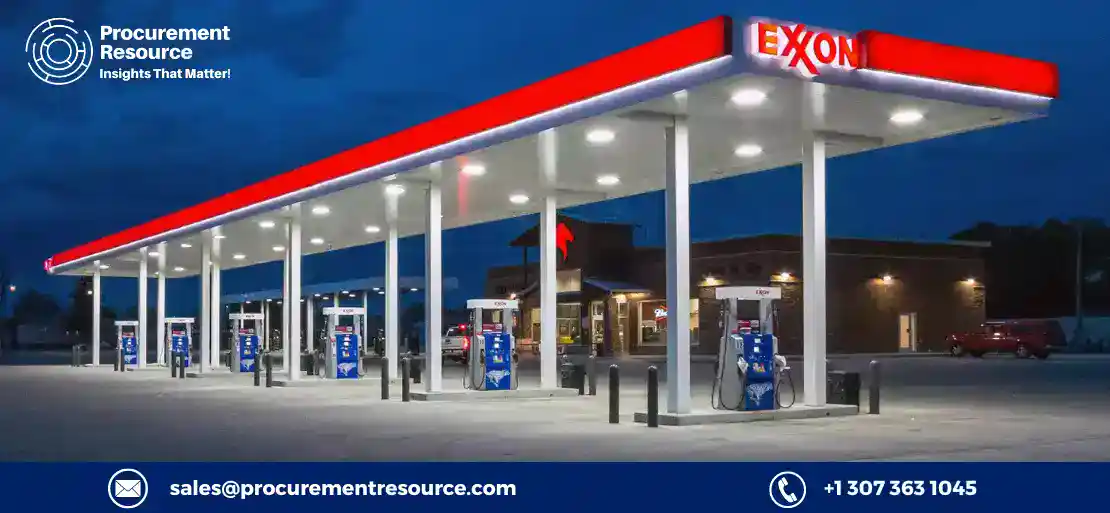 According to Exxon Mobil Corporation XOM, the rising margins in fuel and oil sales may help the company achieve a record profit in 2022. However, the pace of productivity considering the profit margin of ethylene oxide and ethylene glycol might see a deceleration
ExxonMobil and SABIC began running a large-scale production facility in San Patricio County, Texas, in January 2022.
Request Access For Regular Price Update of Ethylene
The new manufacturing facility uses an ethane steam cracker with an installed capacity of 1.8 million metric tonnes annually, two polyethylene units with a production capacity of 1.3 million tonnes annually, and a monoethylene glycol unit with an installed capacity of 1.1 million metric tonnes annually to produce packaging, agricultural films, and construction materials.
With profits of USD 58 billion, 2022 was ExxonMobil's finest financial year, according to preliminary findings. For the fourth quarter, the business anticipates an operational profit of USD 15.4 billion.
ExxonMobil reported significantly lower profits in the fourth quarter despite having a banner year. The company anticipates that falling oil and gas prices will result in lower production business earnings. Due to the decline in crude prices, the oil major anticipates a USD 3.3-USD 4.1 billion sequential drop in upstream division earnings in the fourth quarter.
Lower natural gas prices are anticipated to have cost the upstream business USD 2-USD 2.4 billion in losses, while lower crude oil prices cost USD 1.3-USD 1.7 billion. Upstream mark-to-market derivative profits of USD 1.3–USD 1.5 billion more than offset the losses.
According to ExxonMobil, the increasing refining margins might cause a USD 100 million sequential increase or decrease in fourth-quarter earnings. Unsettled derivatives may have lost between USD 0.9 and 1.1 billion in value.
It is anticipated that the company's chemical division's margins suffered a USD 400–USD 600 million setback in the fourth quarter. ExxonMobil reported USD 500 million in losses as it sold undesired properties to concentrate on more lucrative ventures.
It's likely that rising commodity prices and improving gasoline consumption helped the energy sector in the fourth quarter. Commodity price explosions in 2022 led to record profits for all major oil companies. When European competitors switched to renewable energy initiatives, ExxonMobil gained the most from its decision to double down on oil during the pandemic.
In the previous six months, ExxonMobil stock outperformed its sector. The stock has increased by 28.2% vs the industry's rise of 23.5%.
A company called ProPetro Holding Corp. PUMP offers oilfield services primarily in the Permian Basin, which spans west Texas and New Mexico. The 38 cents per share that PUMP reported for the third quarter of 2022 exceeded the 36 cents consensus estimate from Zacks.
PUMP is anticipated to experience a 145.3% increase in earnings in 2022. ProPetro has USD 155 million in total liquid assets as of September 30th, including USD 43.2 million in cash and cash equivalents. The fact that ProPetro has no debt on its balance sheet offers a potential lifeline in the midst of the challenging operating climate. The capital budget's drastic cuts have improved its financial situation.
In numerous North American basins, Liberty Energy Inc. LBRT provides hydraulic fracturing services to onshore upstream energy companies. The third-quarter 2022 earnings per share of 78 cents for LBRT is above the 63-cent Zacks Consensus Estimate.
In 2022, Liberty is predicted to experience a 298% increase in earnings. Liberty has USD 298 million in liquid assets available as of September 30, 2022, including USD 24 million in cash on hand and supported by the revolving credit facility. In contrast to most of its competitors who are heavily indebted, LBRT has a debt-to-capitalization ratio of just 15.2%.
Read More About Ethylene Production Cost Reports - REQUEST FREE SAMPLE COPY IN PDF
As per Procurement Resource, As per Procurement Resource, the business though might have made record profit in 2022 as a result of the increasing margins in fuel and oil sales, the fourth quarter decline doesn't give a positive outlook on the fate of ExxonMobil in 2023.
Despite having a stellar year, ExxonMobil reported slightly reduced profits in the fourth quarter. The company expects decreased production business profitability as a result of declining oil and gas prices. The oil major expects a USD 3.3–USD 4.1 billion sequential dip in upstream division earnings in the fourth quarter as a result of the drop in crude prices and a slow profit chunk at least for the initial months of 2023.