Global Flat Steel Prices Are Likely to Remain Under Pressure Due to Sluggish Demand and Oversupply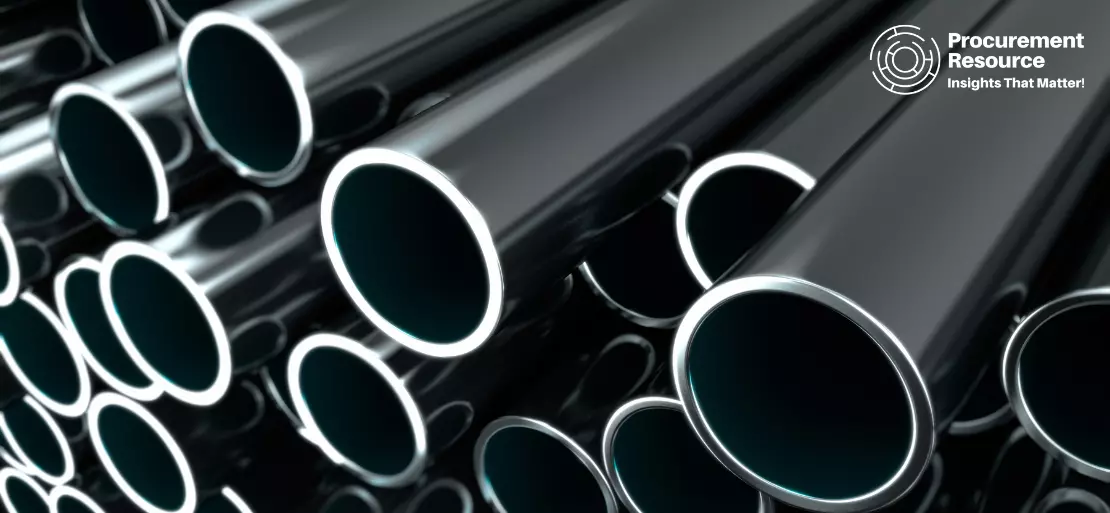 Between October and November, the Raw Steels Monthly Metals Index (MMI) dropped by 5.08 per cent. Several factors can be attributed to the drop in steel prices.
Following the flattening of U.S. steel prices, the drop for cold rolled coil, hot rolled coil, and hot dipped galvanized prices revved in October. Since November 2020, hot rolled coil prices have been at their lowest level. However, prices of plates stay sideways, undergoing just subtle declines throughout October.
Nucor to Keep Plate Costs Horizonztal in December
Nucor, an American steel giant, declared that in December, there was no change in discrete plate prices which means that they will stay at USD 1,620/st. It is noted as the second consecutive month where Nucor's prices remained flat after the company decreased them in mid-September by USD 120/st.
Request Access For Regular Price Update of Steel
As prices of flat-rolled steel stayed in free fall, plate prices persisted in separating from the larger trend. Since prices of plates soared almost seven months ago, they have by far lowered by just 14.76 per cent; prices of HRC dipped majorly by 52.69 per cent in the same time span.
For months, consumers opposed the broadening spread between the two commodities. Till October 2021, when HRC prices peaked, plate prices were over HRC averaging around USD 107/st. But that average has since increased to around USD 600/st, with the current spread set at USD 1,014/st,the highest ever.
New Brandenburg Mill to Test Sideways Plate Trend
As the new capacity comes online, the sideways trend will face its next major obstacle. As a matter of fact, Brandenburg, Kentucky's Nucor plate mill operations officially started on October 20. At its total capacity, the mill can produce around 1.2 million short tons per year. With that being said, operations persist in their initial stages, and it is still ambiguous when the maximum production of the mill will be reached.
As per the company, the mill will mainly supply the renewable energy sector, delivering plates for wind and solar energy projects. However, as the mills begin contributing its supply in relation to thethe plate market, the sideways price trend will have to deal with rising downside pressure. Therefore, prices of steel have held out against any significant decline. Nevertheless, the tipping point could be this new mill.
Average Mill Lead Times
Yet, mill lead times have significantly retraced compared to last year, eventually reinstating to previous levels well within their historical range. Due to this logic, the demand/supply equilibrium is not likely to be the sole driver for the current steel prices being high. In general, the plate remains a small market with some significant domestic producers. To top off the persistent demand from infrastructure expenditure, this has offered those producers more price control compared to other forms of steel.
Hefty Plate Prices Nullify Narrow Margins for Other Steel Prices
Steel producers are keen on keeping plate prices as high as possible. Ultimately, declining prices are continually taking away the profit margins from other steel kinds. Clearly, increased input costs and demand collapse in the midst of a deteriorating economic outlook have put the steel company's Q3 earnings under a lot of pressure.
For example, in its most recent earnings report, Nucor stated that the decline in revenues between Q2 and Q3 was mainly a result of reduced shipping volumes and metal margin contraction.Plate Prices Keeps Nucor Corp.
Since 2012, the plate prices have strongly correlated (92 per cent) with Nucor Corp. stocks. This implies that plate prices will have a major impact on the profits of the company. Furthermore, they have led to the price decline impacting other steel forms as well. Yet, the diverging price trends have somewhat led to high volatility for Nucor Corp. They are also a considerable drag on shares.
In the same report, Nucor cautioned against another anticipated decline between Q3 and Q4 earnings. The company reported growing challenges in the market conditions in the midst of economic uncertainty, in addition to declinations caused by seasonality.
This bleak outlook implies a predicted weakness in steel prices, which might lead to an increase in plate prices. It might also trigger Nucor and other producers to concentrate on flat plate prices due to the expected decline in steel prices elsewhere.
Read More About Steel Production Cost Reports - REQUEST FREE SAMPLE COPY IN PDF
According to Procurement Resource, the article states that flat steel prices will stay under pressure as a result of the decline in demand and an oversupply issue. Produces of steel are looking to keep the prices high; however, increased input costs and demand collapse amida deteriorating economic outlook have put the steel company's earnings under pressure.