Subdued Global Demand and High Inflation Will Keep Hot-Rolled Steel Prices Under Check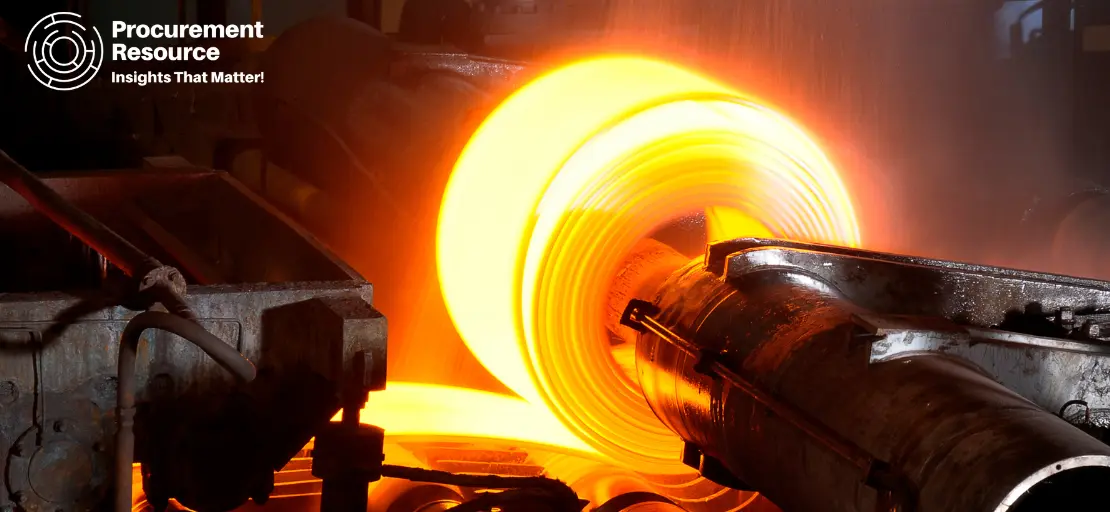 The Hot-rolled steel prices will be under check, due to high inflation and subdued global demand. In the last six months, domestic steel prices decreased by roughly 40 percent to USD 690.21 per tonne (INR 57,000 per tonne) due to weak export demand. Hot rolled coil prices began to rise towards the beginning of 2022. The changes in steel prices directly affect sectors including real estate and housing, infrastructure, and construction, automotive, and consumer products.
In April 2022, local steel prices reached a high of USD 954.19 per tonne (INR 78,800 per tonne). The price was approximately USD 1126.13 per tonne (INR 93,000 per tonne) after the Good and service tax (GST) of 18 percent.
Request Access For Regular Price Update of Steel
According to market experts, the prices started to decline at the end of April 2022 and decreased to USD 728.96 per tonne (INR 60,200 per tonne) by the end of June 2022. In mid-September 2022, the steel was USD 690.21 per tonne (INR 57,000 per tonne) after further declines in July 2022 and August 2022.
The governmental tax on steel goods, weak international demand, high energy, and low inflation are cited as causes of the decline in steel prices. The domestic Hot rolled coil prices will remain range-bound in the upcoming quarter of 2022. The mills will raise the prices during the next two months due to the below-average steel exports and inventory pressures.
The third quarter of 2022 saw a drop in the price of hot-rolled coils in the European market as a result of a weak demand outlook. The enormous inventories of purchasers and the sluggish demand from end-user sectors are creating a major problem, according to market experts. Only minor tonnages have recently traded in the spot market, as the European purchasers of hot rolled coil remained suspicious.
In spite of a low level of end-user order intake, a number of significant shareholders claimed that they have delayed replenishing for several weeks because of their comparatively high inventories. Therefore, the HRC (3mn) cost valuation for Ex Ruhr (Germany) was valued at USD 848 per MT.
Read More About Steel Production Cost Reports - REQUEST FREE SAMPLE COPY IN PDF
Due to a dimming demand outlook, Hot-Rolled Coil prices decreased in the third quarter of 2022 in Asia. The closing of deals in the Middle East and Southeast Asia caused Indian mills to raise their offers in the middle of August 2022.
Inventories grew as a result of lower exports, which compelled steel producers to increase their production. As a result, the pricing of the HR Coil (2 mm) for Ex Mumbai (India) was estimated at USD 692.03 per MT (INR 57150 per MT).
According to Procurement Resource, due to high inflation and weak global demand, hot-rolled steel prices will be kept in check. The sluggish export demand resulted in the fall of domestic steel prices by over 40 percent in the last six months to USD 690.21 per tonne (INR 57,000 per tonne). The variations in steel prices have a direct impact on industries like housing, infrastructure, transportation, consumer goods, and real estate.