North East Asia Sulphur Prices May Decline Further In Q1 2023 Amidst Sufficient Supply And Muted Demand From Fertilizer Sector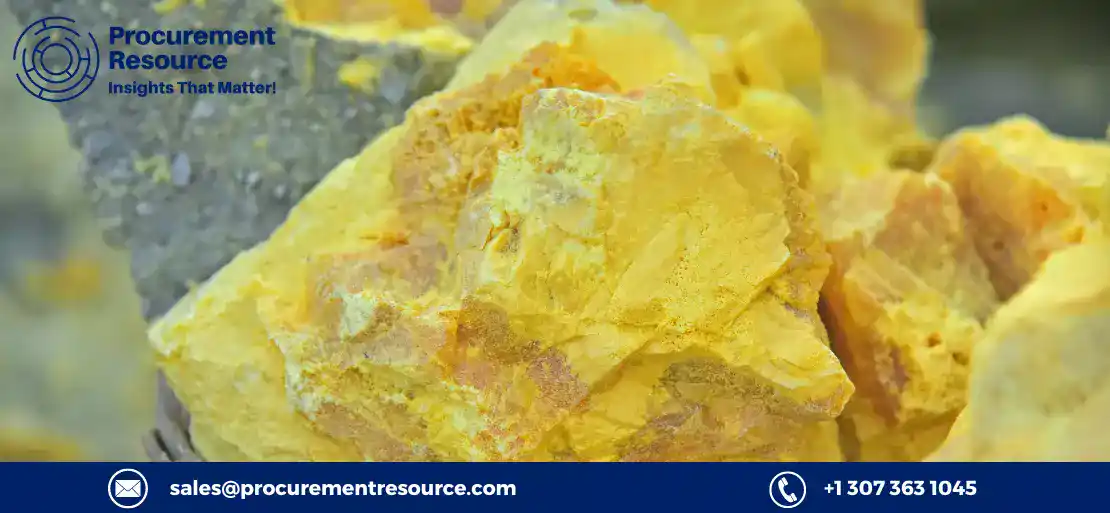 Rising Supplies Stress Chinese Sulphur

The rising supplies and frail demand from the phosphate fertilizer market will likely put a strain on the prices of sulphur in China, causing them to drop in the first quarter of 2023. The production capacity of domestic sulphur in China is lengthening, also driving the nation to cut back on imports.
Shenghong, the private-sector refiner, began trial production during the Q3 of 2022 at its Lianyungang refinery in the Jiangsu province in east China. Its 600,000 t/yr sulphur capacity is still running on low utilisation and primarily caters to its own chemical products.
Request Access For Regular Price Update of Sulphur
It will likely begin standard production in February 2023, when Shenghong has additional supplies of sulphur to provide the domestic market. The Lianyungang start-up's impact on the existing sulphur market stood restricted at the end of 2022.
The Jieyang refinery of PetroChina in the Guangdong province in south China is anticipated to start in February 2023, which will likely not bring large-scale changes in the current sulphur market in China.
However, the additional export quota allotted to the producers of phosphate fertilizer in China in November may have forced them to purchase more sulphur between November-December. Any rising purchases could be moderated by growing prices of sulphur globally.
The exports of sulphur from Russia to China were disrupted before December 2022 due to issues related to export licensing. The high prices of crude, along with logistics issues, added to the costs of importing cargo from Turkmenistan and Uzbekistan.
The prices of sulphur will likely be pushed forward due to strong demand from smelters in Indonesia and Senegal in December. By the end of 2022, Russian sulphur was anticipated to obtain its export licence, raising availability from Russia by January and considering international prices of sulphur.
Authorities in China will likely continue their last customs assessments for phosphates fertilizer exports in January 2023, limiting sulphur demand.
Kuwait's al-Zour refinery's 600,000 t/year expansion began in November and will start full operations in February 2023. This will add to availability during the Q1 of 2023 in order to increase pressure on sulphur prices globally.
The Q3 of 2022 witnessed a drop in prices of sulphur, with the beginning of this trend in June when the Huaxicun Commodity Contracts Exchange halted trading on 16 June, as authorities in China considered the exchange as non-standard.
Producers of Chinese DAP slashed their rates of operations with an unclear export policy during the year's second half. The operating rates stayed at 55-65pc at river ports however dropped to 50-55pc in Guizhou and Yunnan provinces at June-end in contrast to 50-60pc in early June.
Price Pressure

In July, authorities in China enforced a de-facto export quota regime for phosphate fertilizers during the second half of last year. The producers of Chinese DAP slashed their rates of operations to 40-50pc at river ports and 50pc in Guizhou and Yunnan during July-end, which led to a slump in sulphur prices globally.
Muntajat, state-controlled by Qatar, established the Qatar Sulphur Price (QSP) at $77/t fob Ras Laffan/Mesaieed for August during July-end, lower by $351/t compared to the QSP of $428/t fob in July. The Argus granular cfr China estimates declined to $95/t on August 4.
the hasty drop restrained buyers in China from buying from the international market and encouraged them to return to the regional market. This fragile import demand helped prices of sulphur to increase constantly, starting in August 2022. The prices of Granular cfr China returned to $197.50/t on December 12.
Between April-June 2022, sulphur imported by China accounted for 2.4mn t, up by 50pc from a year ago, propelled by phosphate fertilizer exports. These imports turned sluggish following the de-facto export quota regime enforced for phosphate fertilizers. For July-October, the imports of sulphur were 2.5mn t, lower by 5.9pc compared to a year before, taking January-October imports down by 22pc to 6.65mn t from a year ago.
Read More About Sulphur Production Cost Reports - REQUEST FREE SAMPLE COPY IN PDF
As per Procurement Resource, the article concludes that the prices of sulphur in North East Asia will continue declining in the first quarter of 2023 in the middle of adequate supply and muted demand from the fertiliser industry. Furthermore, supply chain challenges in the Chinese market stayed moderate in spite of the abundance of products in the domestic market, along with the falling freight charges.
Hence, the downstream fertiliser demand kept oscillating all-throughout the last quarter of 2022. However, fluctuating prices of energy along with disruption in the supply chain in China persist in being a major challenge that weakened consumer sentiments and gave rise to greater concerns over risk in financial markets that impact the prices of sulphur. The paucity of consumer demand and profuse supplies would primarily mar the sulphur prices in 2023, at least for the first quarter.