Regional Price Overview
Get the latest insights on price movement and trends analysis of Cassava Starch in different regions across the world (Asia, Europe, North America, Latin America, and the Middle East & Africa).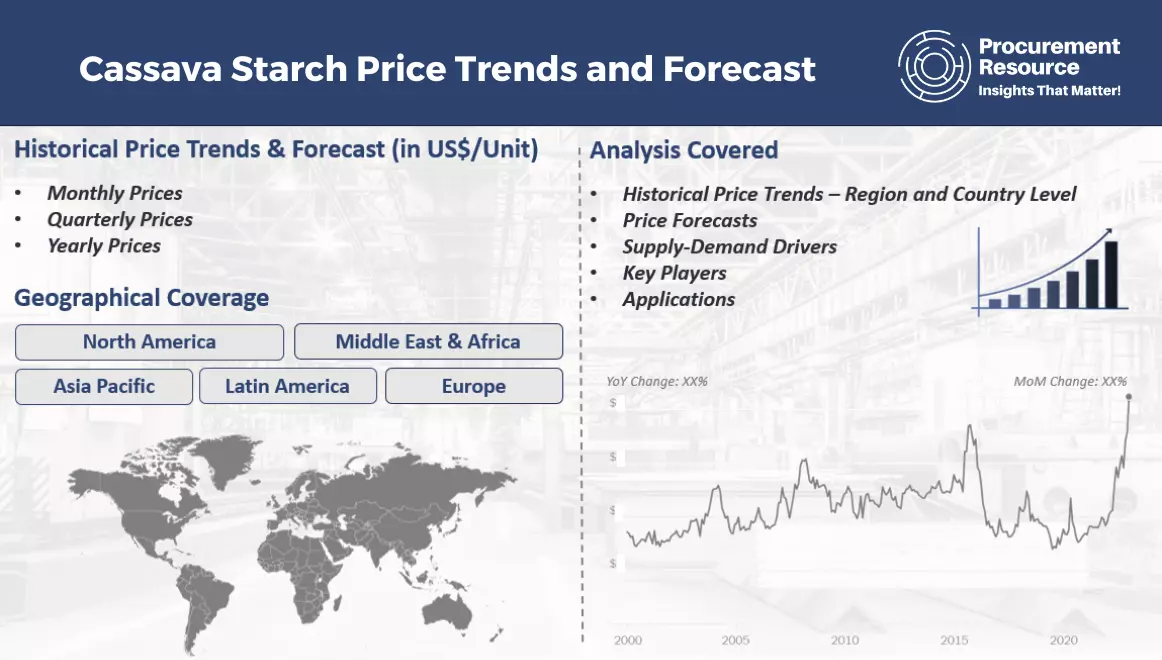 Cassava Starch Price Trends for the First Half of 2023
Cassava starch experienced mixed price patterns in the first half of 2023. As cassava starch is directly sourced out of cassava root vegetables, cassava starch prices closely follow the cassava price trends. The price trends for cassava starch experienced more variations regionally than periodically.
Asian Cassava Starch market observed inclined price trends throughout the concerned period. Record yields and consistently high demands from the Chinese downstream cassava starch sectors promoted the prices and helped the market grow.
While on the other hand, in the Southern American region, prices fluctuated throughout, especially in Brazil. After growing initially, prices turned southward and steadily declined over the next few months. A decline in demand from the downstream cassava starch sector was the primary reason behind this market behavior. Overall, low swinging price trends for cassava starch were observed in the American region.
Analyst insight
According to Procurement Resource, the Cassava Starch market is expected to remain demand dependent for the upcoming months as well. Prices are expected to continue fluctuating.
Cassava Starch Price Trends For the Second half of 2022
The Chinese domestic market recorded declining price trends for cassava starch during the first half of 2022 and these trends continued till the first half of the third quarter. Since August to November is the peak demand season, the prices soon inclined as the production levels increased to keep up with the renewed market inquiries.
Similar trends were seen in the Brazilian market where the prices inclined rapidly amid the robust demand and undersupply. The prices went from 895.98 USD/MT Spot FD in July to 1103.24 USD/MT (Spot FD Brazil) (approx..) in September 2022.
Analyst Insight
According to Procurement Resource, the prices of cassava starch are expected to increase in the coming months given the robust demand and tight inventories.
Cassava Starch Price Trends For the First half of 2022
Asia
In the first half of 2022, China bought 1.95 million tonnes of dried cassava slices and cassava starch from Vietnam, making up 93% of the total volume of exports. Due to China's growing usage of cassava and corn to manufacture biofuels (ethanol) in response to the high price of petroleum, the country's need for imported cassava has grown manifolds.
In particular, in March 2022, Vietnam's exports of cassava and its products were 447,018 tonnes, worth 198.61 million USD, with an average price of 444.3 USD/tonne. China exported 328 thousand tonnes of cassava and cassava-derived goods in July 2022, worth close to 150 million USD. Exports of cassava and cassava products totalled 2.11 million tonnes in the first seven months of the year, with a turnover of 904 million USD, an increase of 10.5% in volume and 32.1% in value over the same period the previous year.
For the Fourth Quarter of 2021
Asia
The Industry and Trade Information Center in Thailand raised the value floor of cassava flour from 475 USD/MT to 480 USD/MT in the first quarter of this year, resulting in a price rise from 0.41 USD/kg to 0.42 USD/kg. Simultaneously, other merchants, such as the Thai Yam and Tapioca Factories Association, raised the price of exported chips by 0.5 USD/kg. The price of raw cassava, on the other hand, remained stable around 0.075-0.080 USD/kg.
Europe
Cassava starch prices in the United Kingdom were estimated between 1220 USD/MT and 1290 USD/MT during December 2021. Due to the characteristics like elasticity, abrasion resilience, and capacity to make a connection with the fiber, cassava starch was widely employed in the textile industry for finishing, sizing and printing.
Latin America
In Q4 of 2021, cassava starch prices in Brazil was gradually increasing at the rates of 540 USD/MT in October, 620 USD/MT in November, and 629 USD/MT in December. The price rose following a low productivity while demand increased.
For First, Second and Third Quarters of 2021
Asia
The cassava industry grew as a result of urbanization, increased working population, and rising family incomes, the global food sector was rapidly expanding, particularly in emerging economies such as India and China. This encouraged the industry's rise by increasing demand for ready-to-eat food products.
North America
Cassava flour has been in high demand in the global market for culinary and pastry goods since it had less gluten. Increased demand for processed foods leads to increased investment and the establishment of new food businesses dedicated to the production of gluten-free products.
Latin America
In 2021, the average Brazilian cassava starch prices for the first three quarters were 441, 447, 520 USD/MT, respectively. The consumption patterns and overall market demand for the tuber was consistent since it is a well-established product in South American countries. The population increase in Latin America, as well as rising demand in the food industry were the primary drivers of its market in 2021.
For the Year 2020
Asia
In 2020, in Vietnam cassava market price was around 94 to 98 USD/MT while in Indonesia the price range was 68 to 72 USD/MT. Thailand was ranked fifth in exports in 2020, with a global share of 6.32%, a value of USD 5.77 million, and a volume of 4.84 MT. On the other hand, it was rated 19th in imports for 2020, with a 0.46% share valued at USD 578.19 thousand and a volume of 92.96k MT.
Europe
In the beginning of 2020, the import price for cassava in the United Kingdom was 1170 USD/MT. Manufacturers were trying to develop and invent clean-label meals and food ingredients, which boosted demand for and acceptance of flour as a natural product in the global food and beverage sectors. Global demand for the flour was driven by technological advancements, industrial expansion, and higher population growth.
North America
In 2020, U.S. cassava starch prices were recorded at 668 USD/MT in January, 640 USD/MT in February, 692 USD/MT in March. The global cassava flour market grew as a result of the growing consumer inclination to lead a healthy lifestyle which resulted in higher consumption of healthy food products and food ingredients. Furthermore, rising demand for packaging innovation, convenience foods, and an expanding population willing to pay a premium for healthy food were some of the drivers driving market expansion.
Latin America
In 2020, in Brazil cassava starch market prices dropped from 633 USD/MT in January to 472 USD/MT in February, and even further to 427 USD/MT in March. While prices somewhat recovered to 540 USD/MT in October, they dropped again to 466 USD/MT in November and remained somewhat rangebound till the year end. The market faced issues due to the decline in demand and consumption as governments imposed lockdowns and transportation restrictions affected several food industries.
Procurement Resource provides latest prices of Cassava Starch. Each price database is tied to a user-friendly graphing tool dating back to 2014, which provides a range of functionalities: configuration of price series over user defined time period; comparison of product movements across countries; customisation of price currencies and unit; extraction of price data as excel files to be used offline.