Regional Price Overview
Get the latest insights on price movement and trends analysis of Citronellol in different regions across the world (Asia, Europe, North America, Latin America, and the Middle East & Africa).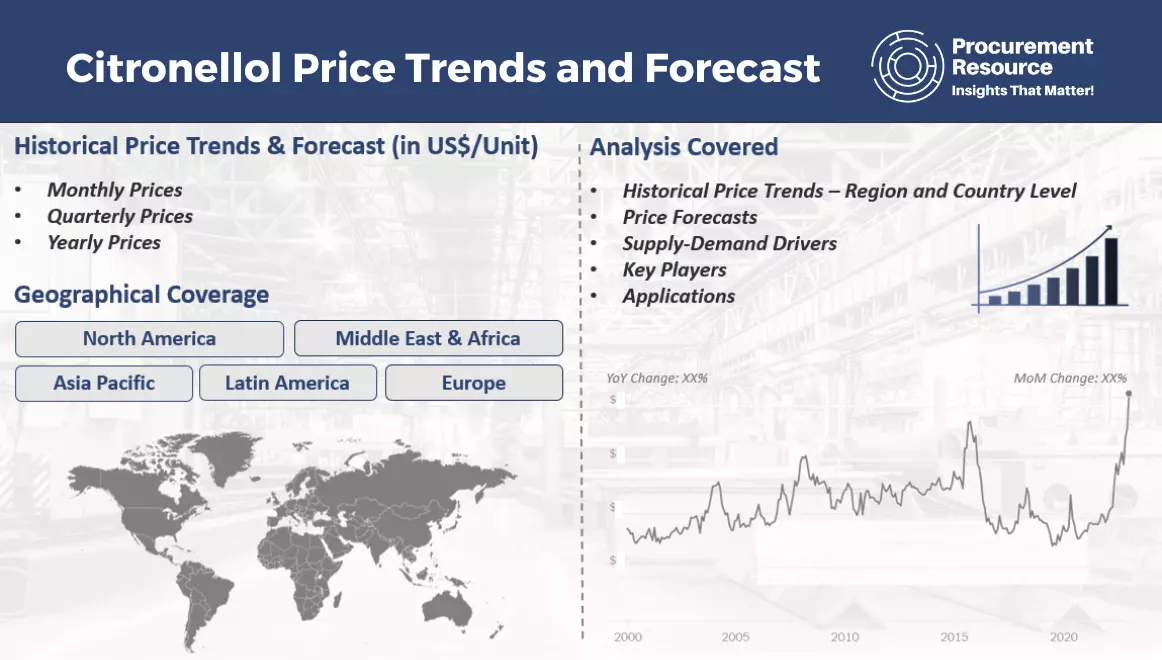 Citronellol Price Trends for the First Half of 2023
Citronellol price trendss are primarily driven by the demands from downstream consuming sectors like natural mosquito repellents, aroma, and flavoring industries. In the first half of 2023, the Citronellol market remained oscillating, and the prices were tugged, given the current market dynamics.
Aromatherapy and natural fragrances were gaining consumer interest, especially with Citronellol, because of its therapeutic properties. But a rise in mosquito bone diseases, majorly in the European region, also questioned the efficacy and potency of Citronellol in repelling mosquitoes, so the consumer sentiment was observed to be very mixed. Overall, the Citronellol market remained afloat throughout the said period.
Analyst insight
According to Procurement Resource, the Citronellol market is expected to continue exhibiting similar fluctuating price trendss since both the consumer demands and the supplies continue to remain under pressure.
Procurement Resource provides latest prices of Citronellol. Each price database is tied to a user-friendly graphing tool dating back to 2014, which provides a range of functionalities: configuration of price series over user defined time period; comparison of product movements across countries; customisation of price currencies and unit; extraction of price data as excel files to be used offline.