Regional Price Overview
Get the latest insights on price movement and trends analysis of Curcuma Oleoresin in different regions across the world (Asia, Europe, North America, Latin America, and the Middle East & Africa).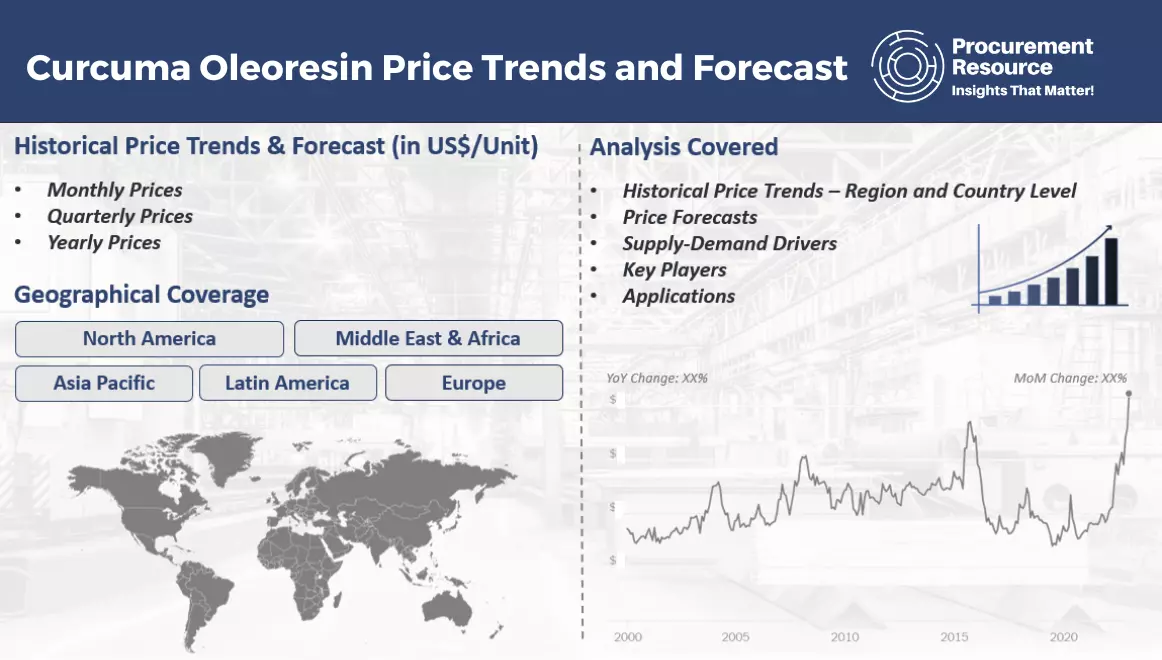 Curcuma Oleoresin Price Trends for the First Half of 2023
Curcuma Oleoresin is directly extracted from the turmeric plant, so the price trendss of Curcuma Oleoresin directly follow that of turmeric plants.
The first half of 2023 witnessed mixed market behavior for the Curcuma Oleoresin market. The consuming sectors posed high demands during the COVID-19 times because of its immunity-boosting properties, so the farmers grew more turmeric, expecting higher profits. But the demand dipped, and the prices crashed, declining the Curcuma Oleoresin price trendss, and these trendss lasted till the middle of the second quarter. Farmers preferred storing their produce to sell it at much cheaper prices.
But things took a turn when the untimely, unexpected rains started ruining the stored turmeric produce. Unforeseen climate changes adversely affected the crop yields, creating a supply constraint and forcing the Curcuma Oleoresin prices to shoot up immediately in the mid-Q2. Overall, mixed price sentiments were observed.
Analyst Insight
According to Procurement Resource, Curcuma Oleoresin prices are expected to rise further in the upcoming months since the supplies are constricted amidst steady demands.
Procurement Resource provides latest prices of Curcuma Oleoresin. Each price database is tied to a user-friendly graphing tool dating back to 2014, which provides a range of functionalities: configuration of price series over user defined time period; comparison of product movements across countries; customisation of price currencies and unit; extraction of price data as excel files to be used offline.