Regional Price Overview
Get the latest insights on price movement and trends analysis of DMF (Dimethylformamide) in different regions across the world (Asia, Europe, North America, Latin America, and the Middle East & Africa).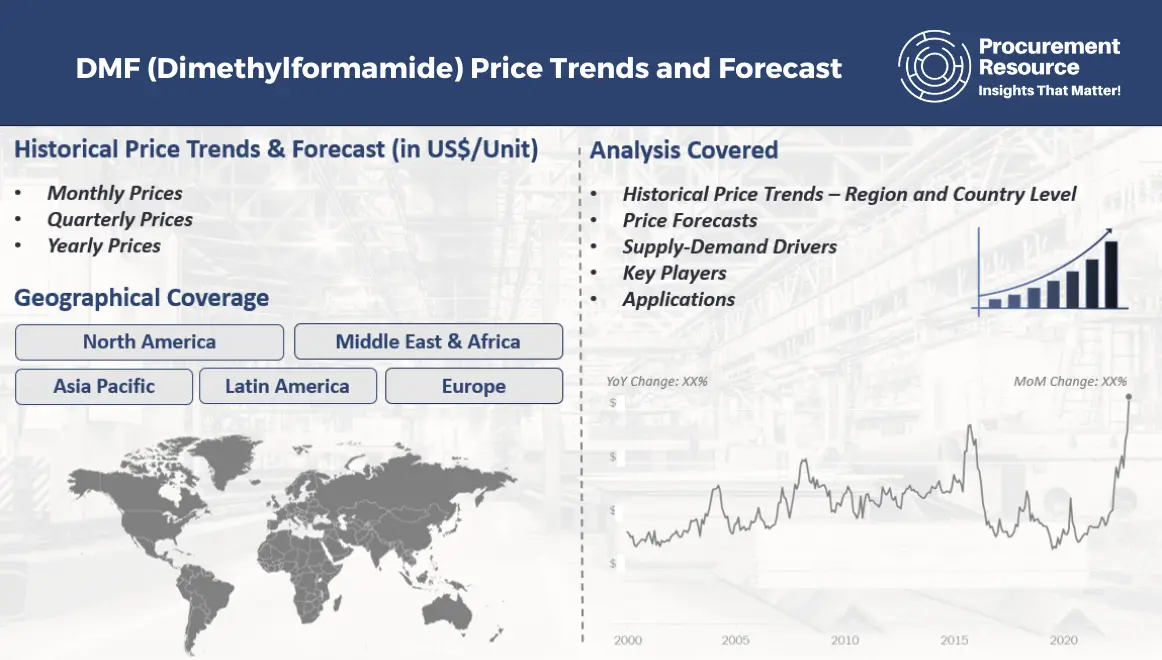 Dimethylformamide Price Trends for the July-September of 2023
Asia
The price trends of dimethylformamide experienced a downfall throughout the third quarter of 2023. This downfall in dimethylformamide prices was attributed to the consistent decline in the demand for dimethylformamide. On the other hand, the supply of dimethylformamide exceeded its rate of procurement, thus disrupting the supply-demand equilibria. In addition to this, there was a significant depletion in the number of bulk orders of dimethylformamide, aiding the downfall in the dimethylformamide price trends.
Europe
The European countries suffered from the lowering of demand for dimethylformamide from the downstream textile, paints, and coating industries. In view of the weak sentiments of the dimethylformamide market, the consumers also adopted a wait-and-see approach which was evident in the declining rate of purchasing index of dimethylformamide. In addition to this, the excess supply and increasing pressure of inflation challenged the dimethylformamide traders. Thus, the weak potential of the market and the negative effects of inflation ultimately resulted in the decline in dimethylformamide prices.
North America
The textile and coating industries lowered their rates of procurement of dimethylformamide, and the excess influx of dimethylformamide further aided in the downfall of dimethylformamide price trends. The trading of dimethylformamide also remained weak during this quarter of 2023 as the situation of both domestic and overseas downstream industries remained bleak. Similar to the conditions observed in the European and Asian countries, the negative trajectory of the dimethylformamide price graph was a combined result of the above factors.
Analyst Insight
According to Procurement Resource, the price trends of Dimethylformamide are estimated to continue their downward trajectory as the demand and overall trading sentiments of dimethylformamide are expected to remain feeble in the upcoming quarters.
Procurement Resource provides latest prices of DMF (Dimethylformamide). Each price database is tied to a user-friendly graphing tool dating back to 2014, which provides a range of functionalities: configuration of price series over user defined time period; comparison of product movements across countries; customisation of price currencies and unit; extraction of price data as excel files to be used offline.