Regional Price Overview
Get the latest insights on price movement and trends analysis of Greek Yogurt in different regions across the world (Asia, Europe, North America, Latin America, and the Middle East & Africa).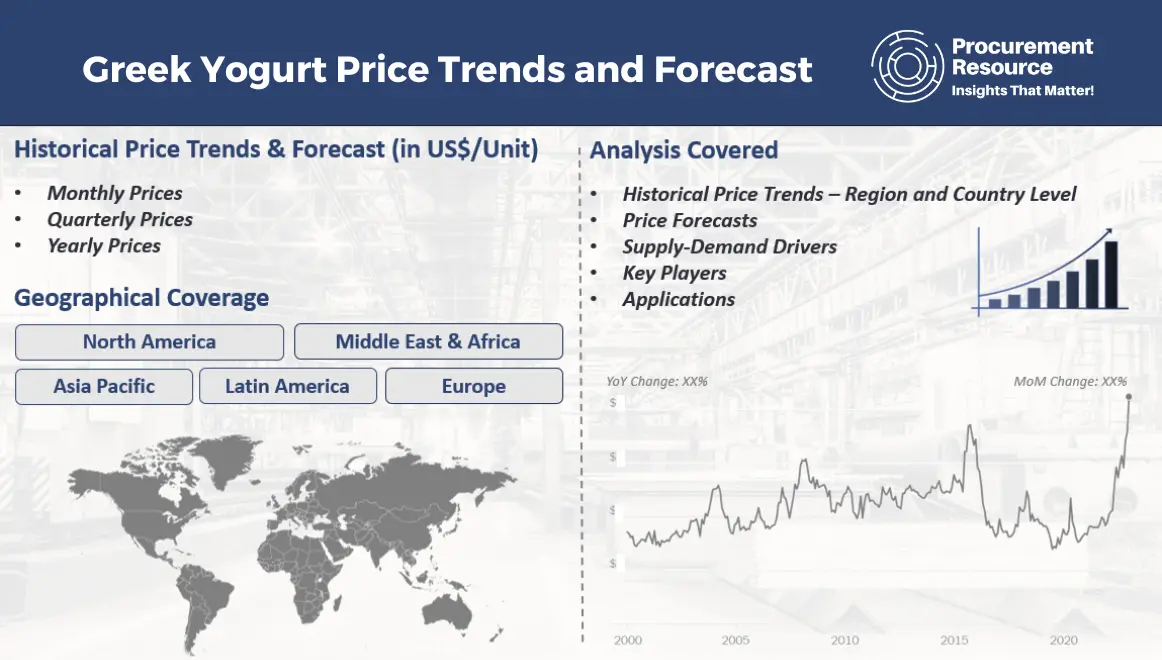 Greek Yogurt Price Trends for the First Half of 2023
A number of factors influenced the price trends of Greek yogurt in the first two quarters of 2023 in the European and North American regions. The first and foremost being severe disruptions in the supply chains caused by the Russia-Ukraine crisis. The rising costs of aluminium, raw materials, labor, and energy production have further accelerated the challenges for the Greek yogurt price trends.
The prices of food products, in general, accelerated in the first and second quarters as the supply of the products remained restricted while the global economy faced several challenges, especially in the European countries and the US. In North America, the failure of two major banks led to a significant hike in the rates of inflation and interest charged by banks. These extreme situations caused the prices of Greek yogurt and, in general, all edibles to shoot up globally.
Analyst Insight
According to Procurement Resource, the price of Greek Yogurt is estimated to oscillate as the ongoing trends of food inflation is supported by high demand and challenging market sentiments.
Procurement Resource provides latest prices of Greek Yogurt. Each price database is tied to a user-friendly graphing tool dating back to 2014, which provides a range of functionalities: configuration of price series over user defined time period; comparison of product movements across countries; customisation of price currencies and unit; extraction of price data as excel files to be used offline.