Regional Price Overview
Get the latest insights on price movement and trends analysis of Neodymium in different regions across the world (Asia, Europe, North America, Latin America, and the Middle East & Africa).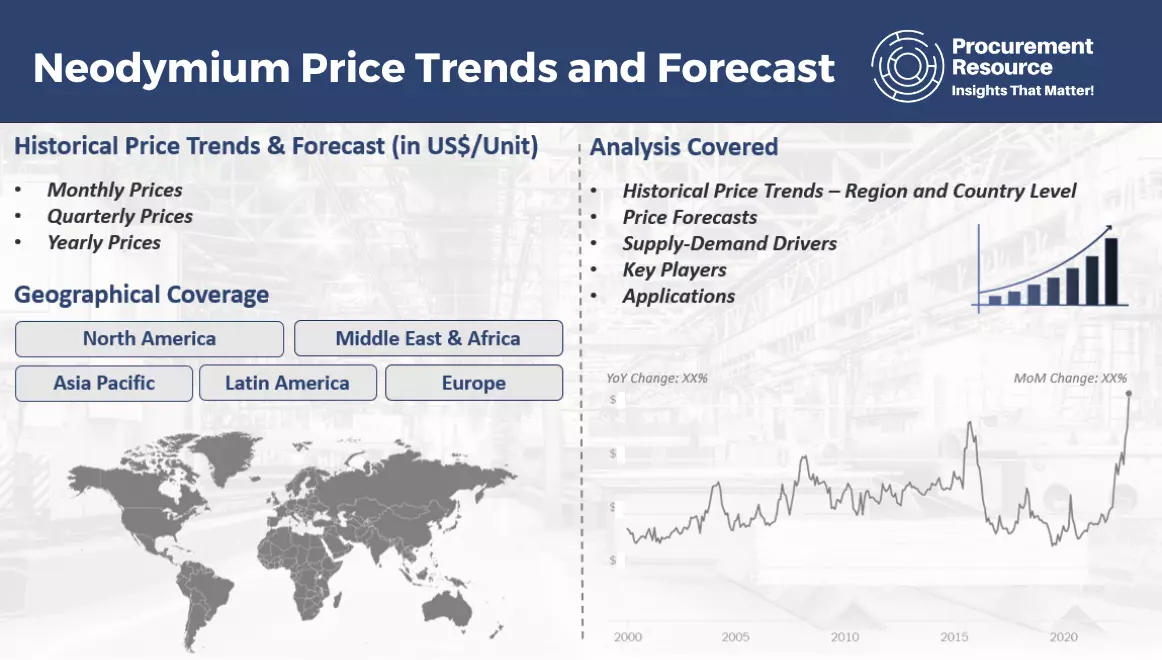 Neodymium Price Trends for the First Half of 2023
The market of rare earth metals such as neodymium witnessed fluctuating market sentiments in the first two quarters of 2023 as the price trendss suffered from the consistent decline in demand from the renewable energy sector and other related industries. Amid this muted demand for neodymium, the supply from the majority of suppliers, especially in China, inclined gradually during the first two quarters of 2023.
Among the downstream sector, the automotive sector somehow managed to maintain its pace, but the combustion engines sector and global wind energy sector were challenged with a low number of sales.
The magnets industries also showcased weak growth potential, and the plunging economy further pushed the price trends of neodymium into the negative zone. In addition to this, the supply of neodymium remained unrestricted in the Asia Pacific region, but the export rates suffered from strict policies, which only led to a rise in the level of inventories, hampering the growth of neodymium prices.
Analyst Insight
According to Procurement Resource, the price of Neodymium is expected to continue its declining trajectory as the demand from the end-user industries will likely remain weak amid feeble economic conditions.
Procurement Resource provides latest prices of Neodymium. Each price database is tied to a user-friendly graphing tool dating back to 2014, which provides a range of functionalities: configuration of price series over user defined time period; comparison of product movements across countries; customisation of price currencies and unit; extraction of price data as excel files to be used offline.