Regional Price Overview
Get the latest insights on price movement and trends analysis of Niacinamide in different regions across the world (Asia, Europe, North America, Latin America, and the Middle East & Africa).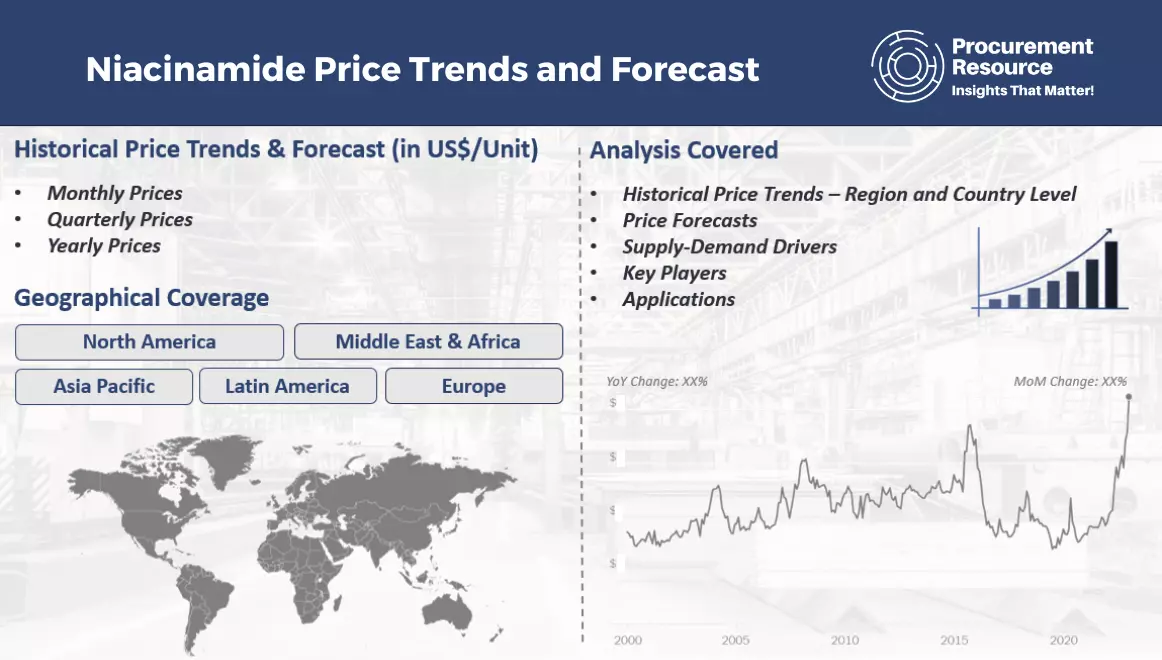 Niacinamide Price Trends for the First Half of 2023
Asia
The Asia-Pacific market witnessed a gradual decline in the price trends of niacinamide in the first and second quarters of 2023. The cost of raw materials fell consistently during these two quarters, along with demand from the domestic and international markets. The traders were forced to destock their produce at compromised rates amid rising supply rates. The prices showed some improvement in the later months of the second quarter when manufacturing activities slid, and with a rise in demand for niacinamide, the prices stabilized.
Europe
In European markets, the prices of niacinamide decreased as the purchasing potential of buyers declined amid the weak economic markets. The decline in the value of the Euro as compared to the US dollar led to a rise in the interest rates and inflation and a reduction in the number of new orders from international and domestic buyers; the prices of niacinamide witnessed a decline. However, during the end phase of the second quarter, the situation started to improve with the rise in overall market sentiments.
North America
The trends of niacinamide prices in the North American region declined in the first quarter and fluctuated in the second. The first quarter suffered from the weak buying appetite of consumers in the domestic and overseas regions. The falling cost of transportation and freight also had a negative impact on the market activities of niacinamide. In the months of May and June, the prices improved as the level of inventories declined with a rise in the rates of procurement. In addition to this, the speed of inflation also slowed down, which supported the niacinamide prices to grow.
Analyst Insight
According to Procurement Resource, the price trends of Niacinamide is estimated to decline due to the weak performance of feedstock industries and a highly uneven trends in the demand from the downstream industries.
Procurement Resource provides latest prices of Niacinamide. Each price database is tied to a user-friendly graphing tool dating back to 2014, which provides a range of functionalities: configuration of price series over user defined time period; comparison of product movements across countries; customisation of price currencies and unit; extraction of price data as excel files to be used offline.