Regional Price Overview
Get the latest insights on price movement and trends analysis of Phosgene in different regions across the world (Asia, Europe, North America, Latin America, and the Middle East & Africa).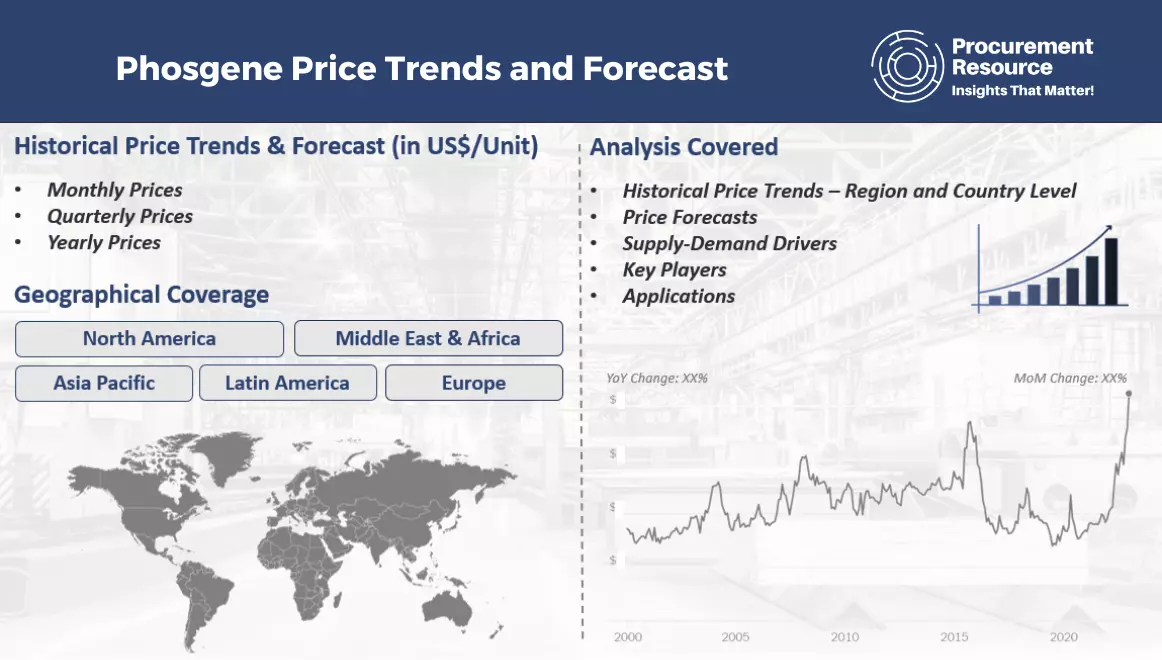 Phosgene Price Trends for the First Half of 2023
Asia
The market dynamics of phosgene were dependent on the trends of chlorine prices as it serves as a major feedstock in its production. In the first and second quarters of 2023, the price trends of feedstock products fell considerably as the level of inventories remained high while the demand from the downstream industries failed to support the market. In the second quarter, there were some signs of economic improvement in the Asia-Pacific region that helped pull the momentum of the phosgene price trends from the red zone, but the overseas demand and lower trading sentiments resulted in the decline in phosgene prices.
Europe
The European countries were challenged by the excess supply of phosgene feedstock materials. In addition to this, the trading activities and consumer preferences also shifted from phosgene, which hampered the growth of its price trends.
Due to the poor outlook of consumer confidence and lack of support from the cost of production, the prices of phosgene found it difficult to grow. Moreover, the economic scenario and sluggish movement of the construction sector ultimately resulted in the drop in the phosgene price trends.
North America
In North America, the consumption rates of consumers slumped significantly in the first two quarters of 2023 as compared to the previous quarters. Further, the phosgene market was under the pressure of excess stockpiles and poor demand.
The percentage of depreciation was much more noticeable in the second quarter as it reached almost double in digits. Further, the persistent economic challenges, rising interest, and inflation rates diminished the scope of phosgene price trends growth.
Analyst Insight
According to Procurement Resource, the price trends of Phosgene is expected to decline in the upcoming quarters as the market seems to be suffering from a negligible number of new orders and poor performance of the global economy.
Procurement Resource provides latest prices of Phosgene. Each price database is tied to a user-friendly graphing tool dating back to 2014, which provides a range of functionalities: configuration of price series over user defined time period; comparison of product movements across countries; customisation of price currencies and unit; extraction of price data as excel files to be used offline.