Price Trends Overview
Get the latest insights on price movement and trends analysis of Potato in different regions across the world (Asia, Europe, North America, Latin America, and the Middle East & Africa).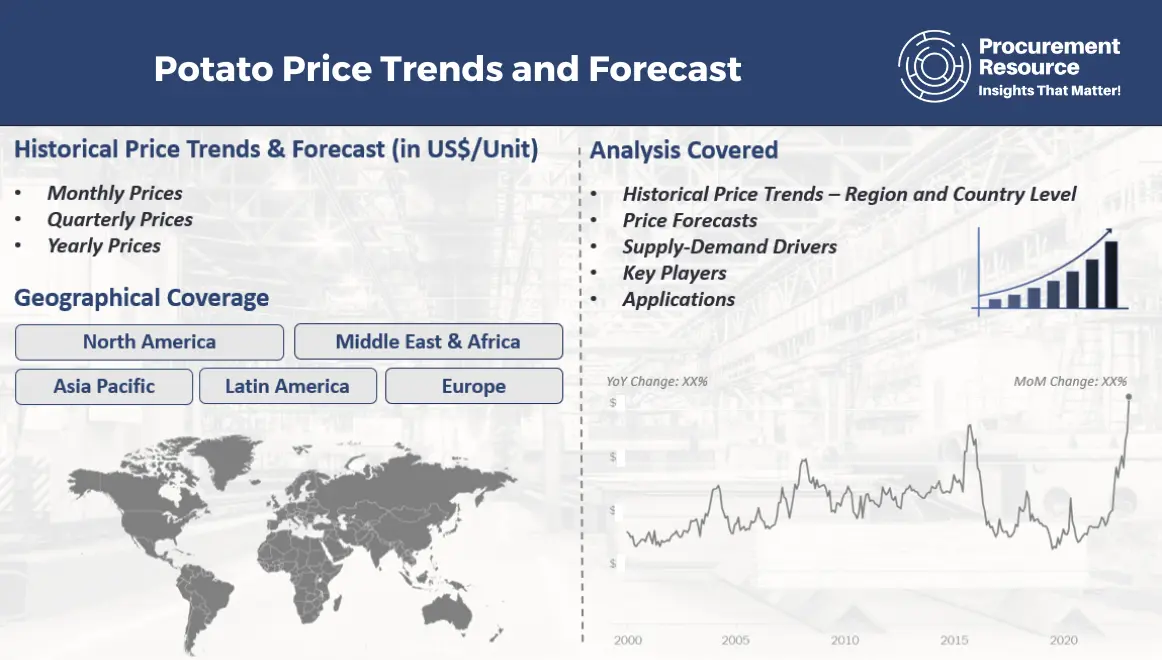 Potato Price Trends for the First Half of 2023
In the European countries, in the first two quarters of 2023, the prices of potatoes surged significantly as the existing inventories were unable to cater to the demand of the consumers. The scarcity is majorly caused by the lower production and delayed harvest of potatoes in Europe. Due to the poor domestic production, the traders were forced to increase their imports from France and Israel. In addition to this, the number of intakes from Ukraine also rose noticeable due to the ongoing war, supporting the rise in the prices of potatoes.
In India and other Asian countries, however, the trends followed an opposite trajectory. The price trends of potatoes declined consistently in the first two quarters and the farmers even struggled to cover their input costs. In these challenging times, the producers had to halt the supply as they adopted a wait-and-see approach, negatively affecting the price trends of potatoes.
Analyst Insight:
According to procurement resources, the price of Potato is estimated to struggle with the declined production and limited trading activities.
Potatoes Price Trends for the Second Half of 2022
The prices of potatoes followed a volatile trajectory in the last two quarters of 2022. In India, due to extreme weather conditions such as heavy rainfall, hailstorms, and drought in many agricultural states, the supply of potatoes declined significantly. This supply crunch led to a rise in inflation in the food industry, due to which the price trends of potatoes rose significantly, especially in the third quarter. But soon, due to government regulations and adequate supply, the prices dipped considerably, in some states, by almost 25%.
The rise in the price trends of potatoes was not only limited to India. In Uzbekistan and other related regions, too, the prices surged in the last two quarters. The most prominent cause of this rise is the ill effect of climate change, which has altered the trajectory of the agricultural sector indefinitely and thus is the leading cause of the currently suffering food market.
Analyst Insight
According to Procurement Resource, the prices of Potatoes are expected to fluctuate as the trends depends on the rates of production of potatoes and the smoothness of global supply chains.
For the Second Quarter of 2022
Asia
In April 2022, China increased the export price for potatoes by 6.69% on a month-to-month basis while decreasing the export volume due to rising rates of sea freights and the appreciation of the RMB. The export unit price in China was 583 USD/MT in April. In India, the potato prices in July ranged between 26-36 INR/kg.
Europe
The price of potatoes surged in Europe as potato processing prices witnessed a sharp rise amid rising prices of electricity, natural gas and fuel putting pressure on growers financially. Processing prices in Belgium rose by 11% in April 2022.3 In June, however, per ton price of potato processing came down to 233 USD in Belgium while in Netherlands the price was down to 254 USD following favourable weather conditions in the region.
North America
In the US, potato prices were climbing in the second quarter of 2022 following the inflation caused by supply chain issues and labour disputes. In June the average price of white potato reached 1780 USD per ton rising by 15.86% on a year-over-year basis.
Latin America
In Brazil, the prices of fruits and vegetables were on an upward trends with potato prices rising slightly in April as a result of low winter crop supply and inflation.6 The price of potatoes was reported to increase by close to 68% from last year as a result of maritime transport disruptions caused by the Ukraine-Russia war.
For the First Quarter of 2022
Asia
Potato prices are expected to rise this year in comparison to last year, owing to a projected decline in production in West Bengal, the country's second largest producer of the commodity. This year's production of the tuber is projected to be roughly 20% lower at near to 8.5-9 MT due to delayed sowing caused by unseasonably wet weather.
In Bengal, the loading price of potatoes in cold storage climbed by 60% in the first quarter of 2022, to 15-16 USD/kg, up from 8-10 USD/kg a year earlier. This translates into the tuber fetching between 25 and 26 USD/kg in the wholesale market when inventories are released from cold storage in April-May.
North America
Week 8 of 2022 showed prices of common fresh Russet potato at 0.68 USD/kg, up 47.6% YoY from 0.46 USD/kg previous year. The USDA confirmed the 2% YoY reduction in potato production and forecasted a similar decrease of 1.6% for the 2022 harvest. Increasing demand from the potato processing industry pushed down stored potato commodities stocks by roughly 5% YoY.
For the Fourth Quarter of 2021
Asia
In Delhi, price per kg of potato was INR 20. The retail price was 21.22 INR/kg in India while the wholesale price was 1605.46 INR/quintal.
Europe
In Q4 2021, European potato prices were recorded at 4.50 EUR/10 kg in November. The seed trade was in full swing across Europe, with big volumes moving at faster rates than a year ago. Trading began two weeks earlier than usual, despite the fact that the crop in Europe arrived two weeks later than expected. Yields and pricing were said to be good.
North America
In Q4 of North America, potato prices were recorded at 17.5 USD per carton in October and 15.69 USD per carton in November. Idaho's spud production was lesser in 2021 than in 2020, which contributed to the price hike. Farmers in Idaho planted 315,000 acres of potatoes in 2021, up from 300,000 in 2020, but total statewide production fell 2% to 132 million hundredweight in 2021.
Latin America
In Q4 2021, the Brazilian market price was recorded at 2 USD/MT in October, 3 USD/MT in November, 2 USD/MT in December. Low consumption was attributed to a lack of availability as well as the exorbitant rates that Mexicans had to pay for fresh potatoes. Fresh Mexican potatoes sell for roughly 25 pesos per kilogramme across the country, while those from the United States that cross the 26-kilometer border zone, on the other hand, cost between 10 and 15 pesos per kilo.
For First, Second and Third Quarters of 2021
Asia
The month-to-month price of the commodity dropped further since January 2021, when they were around 50% lower. Wholesale potato prices in Delhi hovered around Rs 7/kg to Rs 9/kg.
Europe
Germany and the Netherlands, two of the EU's biggest potato processors, were among the countries affected by the floods. MBPs for Netherland processing potato last stood at 18.40 EUR/kg, up 60% in the three weeks leading up to August 4th, 2021. Due to flooding, several crops were lost, resulting in a lower autumn yield. Tuber supply was at a standstill due to the lack of improvement in weather conditions.
The North-Western European Potato Growers (NEPG) reported that the crop in 2021 was average/good across its membership, but that production costs were increasing. Later in the season, Eastern Europe was projected to run out of the crop. This season's export movement was expected to reflect higher transportation, container, and energy prices.
Otherwise, the outlook for exports was positive. Growers were concerned about the availability of seed potatoes for the coming season, and lobbying efforts to develop a two-way trade model between the EU and the UK were continuing.
North America
In the first three quarters of 2021, in North America, potato prices were recorded at 1.50 USD/kg. They were also investing heavily in R&D in order to introduce new products to the market and extend their product portfolio. Furthermore, as consumers became more health-conscious, producers began to introduce value-added potato chip variations that were considered to be healthier.
This included items with lower cholesterol and lower fat and calorie content, as well as those fortified with healthy components. Apart from that, the well-organized retail sector had fueled market growth by making potato chips readily available in hypermarkets, supermarkets, and convenience stores. Drought circumstances and exceptionally high summer temperatures in 2021 cut average yields dramatically, resulting in a reduction in Idaho potato production.
Latin America
In 2021, potato prices in Brazil for the first three quarters were recorded at 3 USD/kg in January and 2 USD/kg in the quarters ending June and September. The Mexican Supreme Court voted in favour of overturning a lower court ruling that blocked the Mexican federal government from allowing fresh U.S. potatoes to be imported throughout the country in April of this year, by a vote of 5-0.
For the Year 2020
Asia
In India, average prices in 2020 were 222 USD/MT in the first half of the year. Fresh potato demand was strong in the processed food business in 2020, where processed items account for the majority of its consumption. In developing countries, the growth of potato producing regions had quickly surpassed that of all other food crops. In 2019, the harvested area was reported to be 4,038,885 ha, rising to 4,218,188 ha in 2020. The significant increase in Chinese production could be attributed to a number of factors.
They are suitable for a wide range of regions and climate types in China and can be planted at any time of year due to their short growth period and adaptability. The majority of China's fresh potatoes were consumed at the table. According to industry sources, 60% of the commodity was consumed fresh in homes and restaurants.
In India, the production increased steadily through 2020. This was owing to an increase in its consumption in the country as a result of increased industrialization and women's engagement in the labour market, which produced a desire for processed, ready-to-eat convenience food, particularly in metropolitan areas.
Europe
Potato prices were recorded at 1.92 USD/kg in France, 2.15 USD/kg in Norway, and 2.2 USD/kg in Iceland. Crushed potatoes were heated throughout Eastern Europe and Scandinavia to convert their starch to fermentable sugars used in the production of alcoholic beverages like vodka and akvavit. As a result, the market for the commodity witnessed growth due to increased production and consumption in various regions of Europe.
North America
In 2020, the US market price was recorded at 2.57 USD/kg, and 2.02 USD/kg in Canada. Hectic lifestyles were driving the North American potato chips market, which led in an increase in demand for convenient and ready-to-eat snacking options. Furthermore, various producers in the region provided consumers with a wide range of chip flavours, textures, and tastes.
Latin America
In 2020, the average potato prices in Brazil were recorded at 2.57 USD/kg. South America's frozen potato market is divided into two categories: product and end-user. On the basis of product, the market is divided into French Fries, hash browns, shaped, mashed, battered/cooked, topped/stuffed, and others. In 2019, the frozen potato market in South America was dominated by the French Fries category. They were consumed in large quantities by quick service restaurants.
This was because it was simple to use and took less time to prepare. As the popularity of fast food and quick service restaurants grew, so did the need for frozen French Fries all across the world. Because of the increased need for frozen French fries in South America, the demand for the commodity increased as well.
Procurement Resource provides latest prices of Potato. Each price database is tied to a user-friendly graphing tool dating back to 2014, which provides a range of functionalities: configuration of price series over user defined time period; comparison of product movements across countries; customisation of price currencies and unit; extraction of price data as excel files to be used offline.