India Potato Prices are Likely to Reach 220-240 per tonne in Coming Weeks Due to Higher Production and Offloading of Old Stocks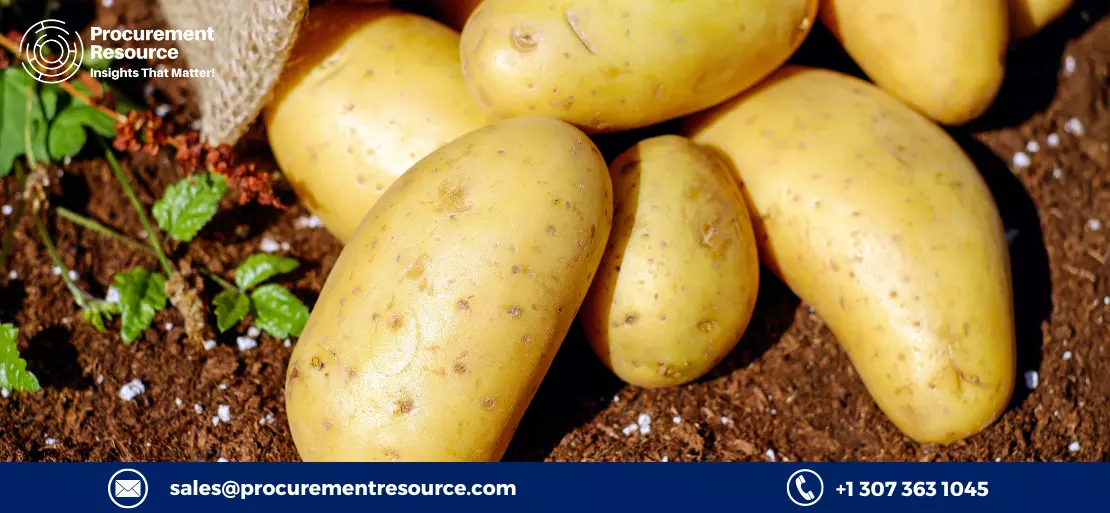 Due to the offloading of old stocks and higher production, the Indian potato prices are likely to reach 220-240 per tonne in upcoming weeks.
Potato prices have reached an all-time low after dropping from a starting price of USD 9.90 per 50 kg (INR 800 per 50 kg) to USD 4.43 per 50 kg (INR 350 per 50 kg) during the current season. In the free bond system, a farmer makes a down payment to keep his produce in the cold storage in exchange for a free bond that can be sold to a third party, who must pay the farmer concerned the cost of storage in addition to the cost of the produce while removing stocks of potatoes to be sold in the market.
Request Access For Regular Price Update of Potato
According to market experts, in November, over 70% of the fruit is typically unloaded from the cold storage. Only 15% of the potatoes have been brought to the open market this month; the remainder are retained in storage for using it as seed. Even though the time for the arrival of the new potatoes is rapidly approaching, approximately 50% of the output this year is still in cold storage, and there are no buyers for free bonds.
On seven bighas, potatoes were sowed, and 200 kg of potatoes were preserved in the cold storage. Rice varieties and a loan totaling roughly USD 7417.76 (INR 6 lakh) were grown on the remainder of the land. The land had a pest issue, which the money was being used to treat. Free bond potato prices have dropped and are now selling for as little as USD 0.15 per kg (INR 12 per kg), compared to USD 0.37 per kg (INR 30 per kg) in Kolkata. Experts claim that while farmers struggle, intermediaries profit.
The intervention by the state and Agricultural Marketing Department was required to prevent such incidents. Notably, potato growers are dealing with losses of about USD 86.66 per bigha (INR 7,000 per bigha) since last year as well due to the drop in market prices.
West Bengal's potato market is subject to enormous price differences and instability. Due to this potato farmers are compelled to trade their yield at the measly cost of USD 0.012 to USD 0.025 per kg (INR 1-2 per kg) following the harvest. Wholesalers or negotiators, buy the crop at such a modest cost, and thereafter dump it into cold storage space and subsequently gain profits when rates ultimately increase. In comparison to this the farmers have been facing deficits even though they had a great produce in the current year.
Farmers assert that a rate of USD 7.42 for 50 kg (INR 600 for 50 kg) of potatoes is a reasonable price taking into account the sudden surge in production costs this year. However, the price per 50 kg they are currently selling at ranges from USD 4.33 to USD 4.70 per 50 kg (INR 350 to INR 380 per 50 kg). The stipulated price for cold storage owners to purchase and keep the goods has been set by the state government at USD 3.71 for every 50 kg (INR 300 for every 50 kg).
One of the largest potato-producing states in the nation is West Bengal. The majority of the state's potato crop is grown in the Hooghly area and is considered as the state's potato producing centre contributing more than 40% of the total crop production in the state.
Read More About Potato Production Cost Reports - REQUEST FREE SAMPLE COPY IN PDF
As per Procurement Resource, the price of potatoes in India is anticipated to rise to 220-240 per tonne in the coming weeks as a result of the sale of old stocks and increased production. After falling from a starting price of USD 9.90 per 50 kg (INR 800 per 50 kg) to USD 4.43 per kg (INR 350 per 50 kg) during the current season, potato prices have reached an all-time low.