Regional Price Overview
Get the latest insights on price movement and trends analysis of Rapeseed in different regions across the world (Asia, Europe, North America, Latin America, and the Middle East & Africa).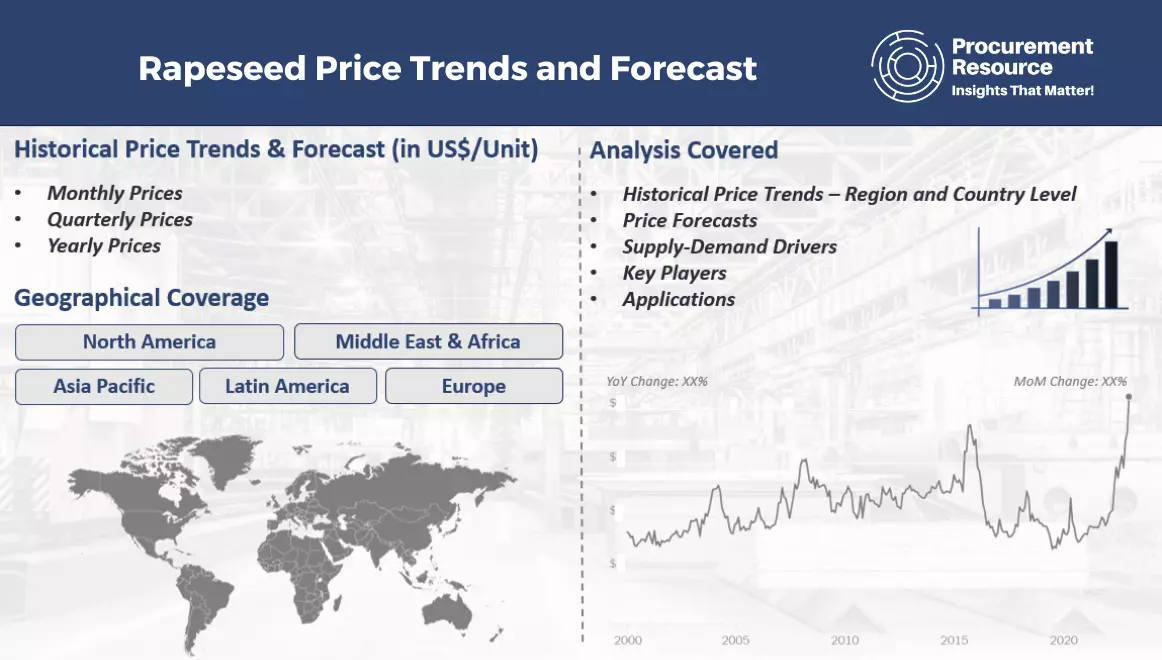 Rapeseed Price Trends for the First Half of 2023
Rapeseed prices have been on a downhill journey throughout the first six months of 2023. The Black Sea agreement between Russia, Ukraine, the United Nations, and Turkey was extended till July 2023, which not only facilitated product movement from Ukraine but also led to a decrease in transportation charges. A rapidly normalizing crude oil and energy costs also took away the little upstream cost support.
Along with all these supply-related factors, the downstream demands were also very low comparatively. For the versatile product range extended from Rapeseed oil to frozen rapeseeds, the general market sentiment was disappointing. The El Nino effect surprisingly supported the Rapeseed cultivation. Hence, because of the good harvest, the prices tumbled for the entire period of discussion.
Analyst Insight
According to Procurement Resource, Rapeseed price trends are likely to continue fluctuating. Since production and transportation prices have eased, the upstream cost support will be hampered going forward.
Rapeseed Price Trends for the Second Half of 2022
Rapeseed prices fluctuated in the last two quarters of the year 2022. As the third quarter began, the demands were moderate, so the prices were inclined at the beginning. But soon after that, the prices started falling again as the downstream Rapeseed oil market was struggling with dull demands. Similar trade patterns were observed in the fourth quarter as well.
The Black Sea deal between Russia, Ukraine, Turkey, and the United Nations had already been commissioned by this time. The Ukrainian Rapeseed supplies also got wider market access, and an improved harvest this agricultural season also led to the price decrease.
Analyst Insight
According to Procurement Resource, Rapeseed price trends are likely to continue falling in the coming months since the agricultural yields look promising for Rapeseed.
For the Second Quarter of 2022
Asia
Due to the unstable nature of rapeseed's market dynamics, rapeseed prices fluctuated across Asia during Q2 2022. Due to low stocks and increased demand from the Asia-Pacific region's domestic market in the first month, prices were raised. However, as we moved into the second month of Q2, the price in China declined, supported by a significant decrease in the amount of imported oil, and the low inventory position was crucial to maintain the robust operation of the local Rapeseed oil market. For the next quarters, the market dynamics will continue to be uncertain due to changes in the product's pricing. In May, rapeseed prices were recorded in the range of 3.1-3.3 RMB/kg.
North America
Due to a decline in demand and a rise in supply in Q2 2022, the price of rapeseed oil in the USA was constantly changing. High stocks and poor demand from the end-use sectors both contributed to the price decline in the first half of Q2.
In Canada, the average rapeseed prices increased by 10%, to 1098 CAD/MT, as a result of tight domestic supply and high global demand. Additionally, Canada's new rapeseed planting area fell in the second half of Q2, and spring sowing generally made relatively modest pace.
Moreover, there remained ongoing uncertainty regarding rapeseed yield in the upcoming season, which justified the increase in rapeseed price . Due to large stocks, domestic traders were forced to reduce the product's price. Furthermore, the price was reduced as a result of the area's weak purchasing attitude.
Europe
Rapeseed prices in Europe fell to 712 EUR/MT, declining by 4.4% in the last few weeks of January. The decline in price was attributed to an anticipated rebound in harvest season of 2022, after three seasons of low output.
Due to an increase in the product's supply on the local market in Q2 2022, rapeseed prices fell. The price rose throughout the first part of Q2 as a result of rising domestic demand and high food consumption. Because of large stocks and lower demand from the downstream sectors in the second half of Q2, rapeseed prices declined.
For the Fourth Quarter of 2021
Asia
RSO usage in the South Asian nations was predicted to reach almost 3 MMT in 2021. The China Settlement Price ZCE RSO for December data was published as 12,682.000 RMB/Ton.
Europe
Rapeseed was trading at 676 EUR/MT on Euronext for November delivery. The cause for this sharp increase in price was attributed to a decline in the harvest/stocks and increased demand for biodiesel consumption, particularly in autumn/winter. On the other hand, biodiesel manufacturers in Europe increasingly relied on palm and soybean oil for sustainability reasons. Increases in the price of crude oil also resulted in increases in the price of vegetable oils.
For the previous six months, EU rapeseed prices continued to increase, the Nov-21 Paris rapeseed contract ended at 662 EUR/MT. The strength in EU markets continued to be replicated in the UK market, with prices for domestic rapeseed, supplied Erith (Nov), quoted at 549.5 GBP/MT. These increased prices gave a favorable chance for producers that have encountered hard production economics in previous years.
North America
Canadian rapeseed prices increased by 16% quarter-on-quarter (q-o-q) to 980 CAD/MT on 10th December, owing to anticipated supply constraints in 2021-22. The United States Department of Agriculture reduced the production of Canadian rapeseed for the 2021/22 MY downward by 400,000 MT to a 14-year low of 12.6 MMT in December 2021. Due to low output and low initial stockpiles, both rapeseed crush and exports had a restricted availability.
For First, Second and Third Quarters of 2021
Asia
Average procurement price of rapeseed across India 2021 was 4650 INR/MT. This was an almost 5% increase over the previous fiscal year's purchase price of 4425 INR/quintal. Total production in India during 2021 to 2022 amounted to 3,667 MT, whereas the output from China during 2021 to 2022 was close to 6,162 MT.
Europe
The price of RSO and its feedstock reached a new record high, with constrained global oilseed supply projected to support prices at least through the start of the new MY in July. The Euronext rapeseed front-month contract hit 600 EUR/MT for the first time since the contract began trading, before ending at 595.25 EUR/MT.
Strong EU crushing demand and a depleted local supply boosted rapeseed imports to 5.36 MMT in the MY, up from 5.12 MMT a year before and far above the five-year average of less than 4 MMT. However, there was less supply from the EU's primary suppliers, Canada and Ukraine, who produced just 18.7 MMT and 2.6 MMT of canola/rapeseed, respectively, this marketing year, both down about 900,000 MT due to reduced land and adverse weather. Ukraine exported 2.4 MMT of rapeseed to Europe this MY, a decrease of about 400,000 MMT from the previous year.
North America
Due to Canada's high crush margins, the supply for exports had been significantly more adversely affected, with crush falling by just 9% while exports decreased by roughly 50% between August and October 2021, y-o-y. This resulted in a roughly two-thirds decline in Canadian rapeseed shipments to the EU. Similarly, exports to the UAE decreased by 50%, while exports to China and Japan have decreased by 40%. However, the decline in shipments to North America was not as severe, with the US exports decreasing by just 4% and Mexico by 12%.
With production and exports of Australian rapeseed expected to reach record levels in 2021/22, large importers would almost certainly source from Australia. Canadian RSO exports also decreased by over 20% y-o-y due to reduced crush and extraction rates; as a result, the output is expected to decline by more than 20% y-o-y.
For the Year 2020
Asia
Asia accounted for the highest market share globally in terms of population and price. The region produces a significant amount of rapeseed oils for food processing. The major users in the region are India and China. The market revenue for rapeseed oil in Asia increased by 7.2% in 2020. China consumes 60% of all rapeseed oil produced. Vegetable oils are driving this industry due to their low cost and health benefits.
In 2020, the procurement price of rapeseed in India was at 4425 INR/quintal. This was an increase of roughly 5.2% above the previous fiscal year's buying price. Since 2014, the market has been seeing an upward trends in pricing, owing mostly to rising consumer demand. China produced around 6,240 MT of the commodity during 2020/21.
Europe
90% of rapeseed production in the European Union comes from France, the United Kingdom, and Germany. It produces 5.1 billion kg of meal and 3.6 billion kg of oil in Europe. In the United Kingdom, around 75% of oilseeds are planted in the autumn. Its output and usage have expanded dramatically since the introduction of biodiesel.
North America
The United States has the biggest demand for rapeseed oil (RSO) in North America, as it is the major producer of cosmetics that use the oil. They are also in high demand in markets since they help to reduce greenhouse gas emissions in the region.
Canadian rapeseed prices increased by 4% in the first two weeks of November to 562 CAD/MT, the highest level since 2013. Rapeseed prices were supported by robust export volumes as a result of increased demand for biodiesel as the Northern Hemisphere entered the winter season. From November 1st to November 13th, the average price was 552 CAD/MT, up 3% month on month (m-o-m) and 17% year on year (y-o-y).
Rapeseed prices had also been strong in line with the overall hardness in the oilseeds complex, since decreased output for other key oilseeds resulted in steady prices for most of the year. Canadian rapeseed shipments had been robust, exerting upward pressure on rapeseed prices beginning with the commencement of 2020/21 (August-July).
Exports were anticipated to equal 3.1 MMT in the first 13 weeks of the current marketing year (MY), increasing 47.7% y-o-y and 36.6% over the five-year average. This kept exports well on pace to meet Agriculture and Agri-Food Canada's current 2020/21 export target of 10.2 MMT.
Latin America
Mexico was expected to produce 520k MT of RSO in 2020, the most of any Latin American country. Meanwhile, the output in Chile was predicted to reach 79,500 MT. Since 2012, the output in Argentina has been on an overall declining trends. In 2019, it amounted to 33k MT, a decline of 17.5% from the 40k MT reported a year earlier. It was predicted that this figure will decline even more in 2020, reaching 29k MT.
Procurement Resource provides latest prices of Rapeseed. Each price database is tied to a user-friendly graphing tool dating back to 2014, which provides a range of functionalities: configuration of price series over user defined time period; comparison of product movements across countries; customisation of price currencies and unit; extraction of price data as excel files to be used offline.