Regional Price Overview
Get the latest insights on price movement and trends analysis of Refined Olive Oil in different regions across the world (Asia, Europe, North America, Latin America, and the Middle East & Africa).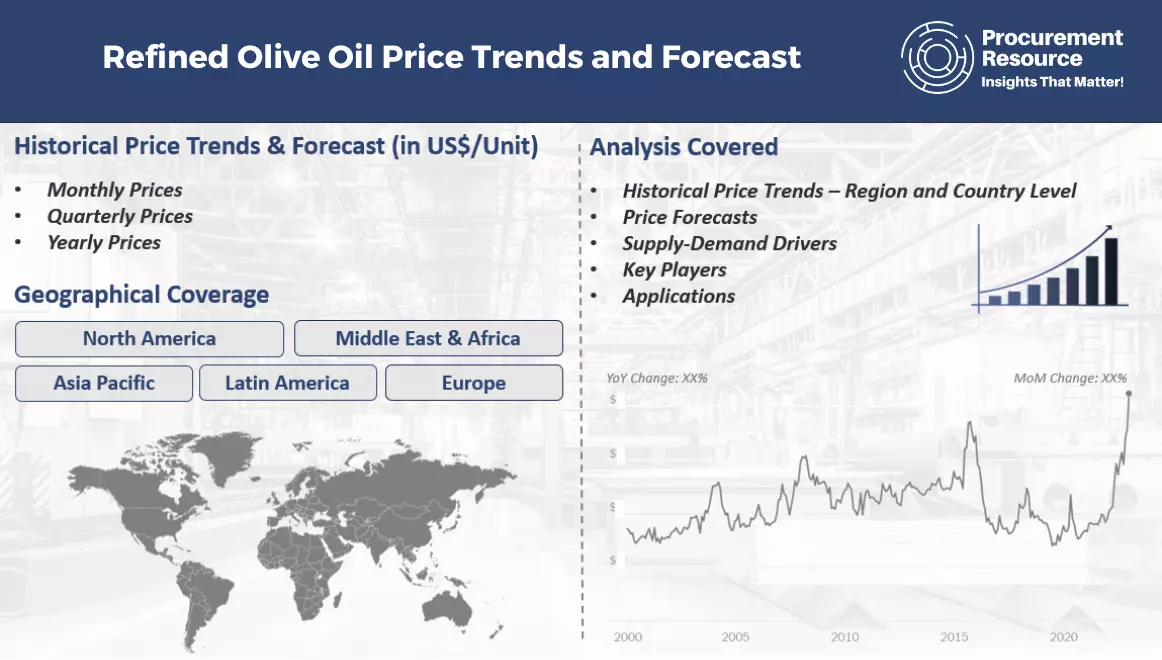 Refined Olive Oil Price Trends for the First Half of 2023
Refined Olive Oil prices directly depend on the feedstock olive oil prices and the annual olive production. As Refined Olive Oil is a staple food product consumed across the globe, demands are usually steady.
In the first half of 2023, the Refined Olive Oil prices remained on an inclined trajectory. Y-o-Y olive oil production fell in the biggest producing and exporting nation of Spain, responsible for almost half of the global olive oil production by a whopping 55%, creating an extremely stressful condition for the Refined Olive Oil market. Rising temperatures and climate changes because of constant global warming resulted in such strikingly low production.
So, because of such stressed supplies and curtailed supply chains, the Refined Olive Oil prices grew contiguously in the period under discussion. Overall, a steep growth in the Refined Olive Oil price trends was observed.
Analyst Insight
According to Procurement Resource, Refined Olive Oil prices are expected to grow further in the upcoming months since the production is being drastically affected by the adverse climate changes. Even lower production yields are projected.
Procurement Resource provides latest prices of Refined Olive Oil. Each price database is tied to a user-friendly graphing tool dating back to 2014, which provides a range of functionalities: configuration of price series over user defined time period; comparison of product movements across countries; customisation of price currencies and unit; extraction of price data as excel files to be used offline.