Regional Price Overview
Get the latest insights on price movement and trend analysis of Threonine in different regions across the world (Asia, Europe, North America, Latin America, and the Middle East & Africa).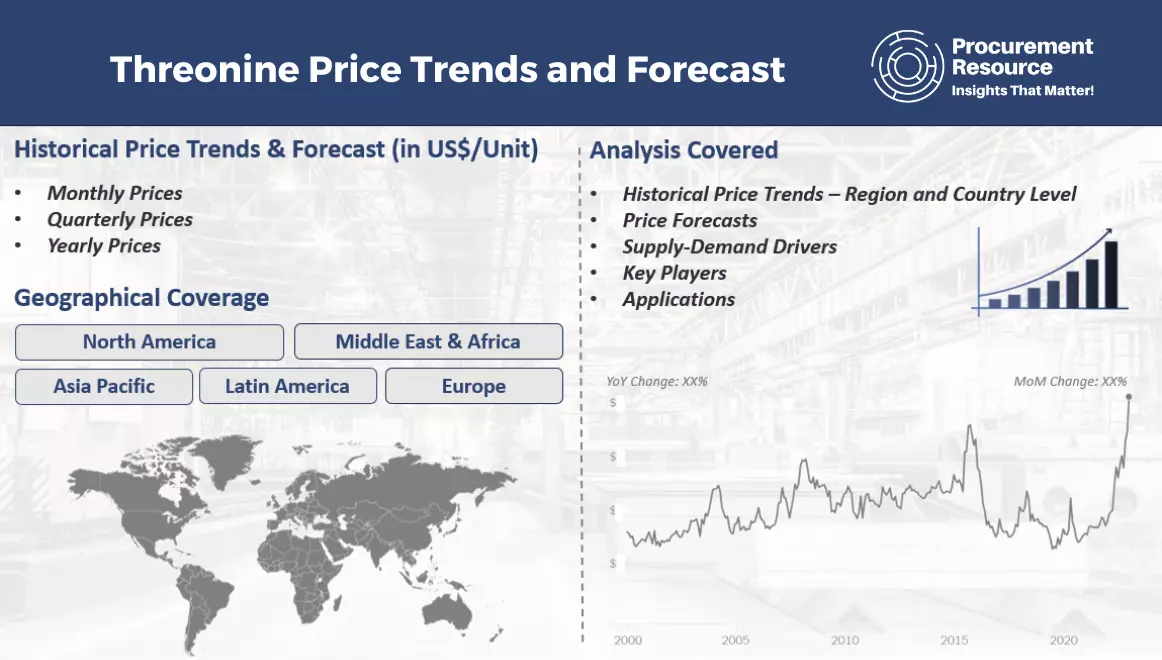 Threonine Price Trend for the First Half of 2023
Asia
Threonine is produced by fermentation of microorganisms that are genetically mutated to secrete the amino acid Threonine. Threonine is a naturally occurring amino acid in the human body and is commercially produced to cater to the pharmaceutical industry. So, the Threonine price trends are primarily determined by the downstream demands and supply availability.
During the discussed time period, Threonine observed mixed price trends in the Asian markets, especially China. Q1 had a strong start with high demands from the consuming sectors. But soon, the demand subsided, and the inventories started rising, causing the price trends to turn south and swing low for the rest of the first quarter. The price trends fluctuated further in a similar manner in the second quarter as well.
Europe
In the European market, the price trends for Threonine were observed to be oscillating throughout. Since the cheap Asian supplies regained market access and the existing inventories were still supportive, the prices started tumbling. Some occasional rises in demands from pharma industries provided reverse fluctuations, but the overall market sentiments were swinging low.
North America
The North American Threonine market could not behave any differently than the Asian market. With steady downstream demands and good supply dynamics, the prices wavered on the lower end. Gradually stabilizing upstream prices also failed to provide much cost support. Overall, dull market sentiments were observed.
Analyst Insight
According to Procurement Resource, the price trends for Threonine are likely to remain fluctuating since the current supply-demand dynamics are not projecting much difference in the upcoming months.
Procurement Resource provides latest prices of Threonine. Each price database is tied to a user-friendly graphing tool dating back to 2014, which provides a range of functionalities: configuration of price series over user defined time period; comparison of product movements across countries; customisation of price currencies and unit; extraction of price data as excel files to be used offline.