Regional Price Overview
Get the latest insights on price movement and trends analysis of Turpentine in different regions across the world (Asia, Europe, North America, Latin America, and the Middle East & Africa).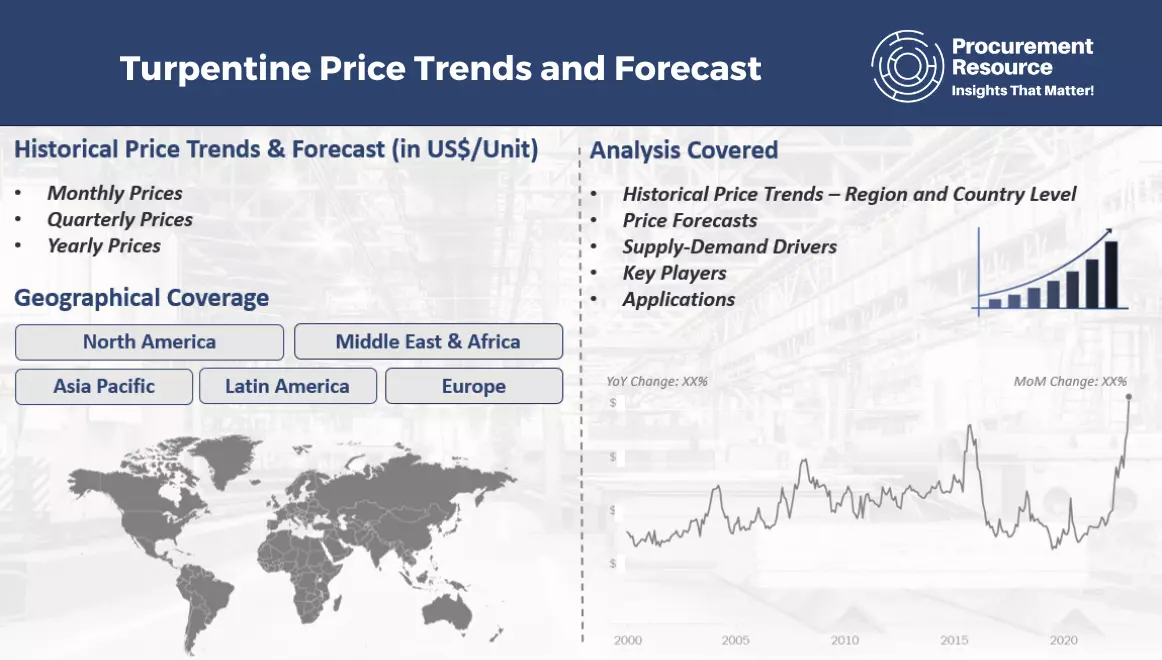 Turpentine Price Trends for the First Half of 2023
Turpentine prices observed wavering price trends throughout the first half of the year 2023. Turpentine market trends were fundamentally driven by the downstream demands from the chemical and construction sectors. In the Asian market, the industrial recovery in China and infrastructure development in India fueled the demands for Turpentine, so the price trends inclined at the beginning, but sufficient supplies soon plateaued the price curve.
The domestic situation was better for the Asian Turpentine market; however, the export queries took a serious hit. Further, high inflation in Europe and America affected the construction sector negatively, and the Turpentine consumption got bearish. This caused an oversupply in the Asian market, although moderate demands kept the Turpentine market afloat. Overall, mixed market sentiments were experienced.
Analyst Insight
According to Procurement Resource, the demand outlook suggests a similar consumption pattern for the coming months as well. However, the situation is anticipated to improve for the American and European Turpentine markets moving forward.
Procurement Resource provides latest prices of Turpentine. Each price database is tied to a user-friendly graphing tool dating back to 2014, which provides a range of functionalities: configuration of price series over user defined time period; comparison of product movements across countries; customisation of price currencies and unit; extraction of price data as excel files to be used offline.