Regional Price Overview
Get the latest insights on price movement and trend analysis of Vitamin B2 in different regions across the world (Asia, Europe, North America, Latin America, and the Middle East & Africa).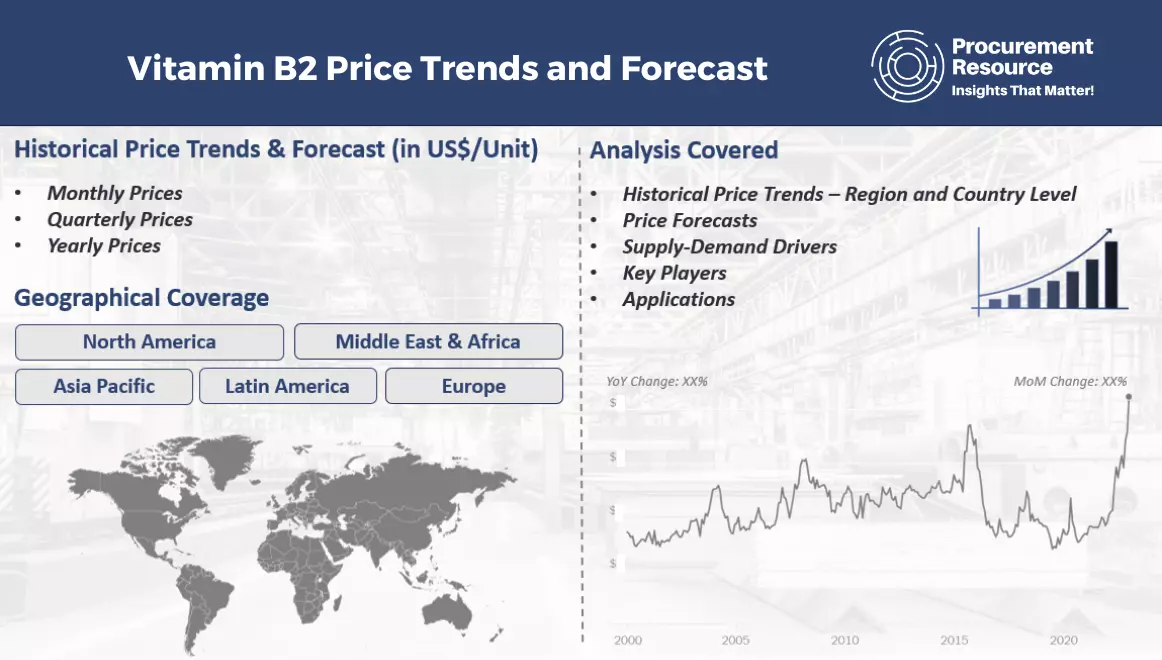 Vitamin B2 Price Trend for the First Half of 2023
Asia
Vitamin B2, also known as riboflavin, is an essential micronutrient for the human body. Vitamin B2 is generally produced using various biochemical processes involving fermentation with significant microbes. Other than being an important dietary supplement, Vitamin B2 is also used in the agricultural sector. In the first quarter of 2023, the Chinese Vitamin B2 industry struggled with depreciating trends.
The slow post-COVID recovery was painful for the manufacturing sector in general, but the regular domestic demands from the pharma and nutraceutical sectors provided some respite. However, the lethal drop in international queries was costing Vitamin B2 suppliers a lot. These trends continued in the second quarter as well since the prices didn't improve till the very end. The rapid normalization in the upstream situations with eased freight and energy costs led to further depression in the upstream cost support. Overall, negative market trends were observed.
Europe
Following in the Asian footsteps, the Vitamin B2 prices remained in a slump in the European markets as well. Even though the market fundamentals showed gradual improvement with better supply and demand dynamics over the discussed period, the prices struggled to remain firm. After the Russian invasion of Ukraine, the European economy struggled badly. It was the restoration of trade routes and supply chains that facilitated the existing limited product exchanges. Overall, muted market sentiments were observed.
North America
The North American Vitamin B2 price trends mirrored the fluctuations in the global Vitamin B2 market trends. With constricted demands and supplies, the price trends were mostly facing downward throughout the discussed period.
Analyst Insight
According to Procurement Resource, given the current disturbances in the Vitamin B2 market, the prices are expected to strive for stability in the coming months.
Procurement Resource provides latest prices of Vitamin B2. Each price database is tied to a user-friendly graphing tool dating back to 2014, which provides a range of functionalities: configuration of price series over user defined time period; comparison of product movements across countries; customisation of price currencies and unit; extraction of price data as excel files to be used offline.