Regional Price Overview
Get the latest insights on price movement and trend analysis of Whey Powder in different regions across the world (Asia, Europe, North America, Latin America, and the Middle East & Africa).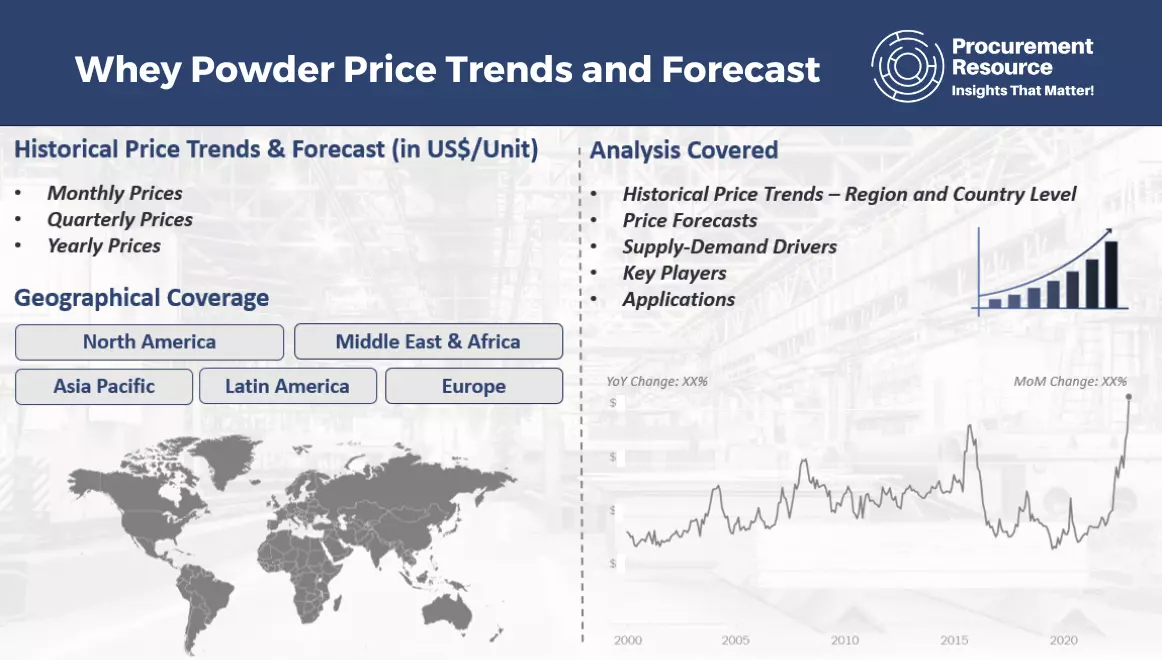 Whey Powder Price Trend for the First Half of 2023
Whey Powder prices continued their depressing run well into the first two quarters of 2023. The European Whey Powder market witnessed the average Spot prices falling from around 892 USD/MT to about 762 USD/MT, registering a depreciation of about 14% within the first six months.
This dip in price trends was attributed to the eased feedstock costs and eased upstream situations.
A dip in demand from the downstream sectors was crucial for faltering price trends. The rising influence of veganism also impacted the Whey Powder market fundamentals. Overall, negative market sentiments were observed.
Analyst Insight
According to Procurement Resource, a fluctuating price trend is anticipated in the coming months as the demand projection does not look very supportive.
Whey Powder Price Trend for the Second Half of 2022
Whey Powder is manufactured by drying the milk residue after separating the cheese from it. It is rich in milk proteins. This makes Whey Powder a good part of the workout foods to build muscles. Also, along with the food industry, the pharmaceutical and nutraceutical sectors also use Whey Powder to manufacture protein and other dietary supplements.
During H2'22, the Whey Powder prices showed a consistent depreciation as the prices fell by around 18% in the European markets. As the high inflation in the region had pushed Whey Powder prices to unsustainable heights, the market attempted normalization. Along with this, the consumer interest in Whey Powder had also dipped. Overall, dull market sentiments were observed.
Analyst Insight
According to Procurement Resource, not much improvement is anticipated in the Whey Powder market going further because of a dull demand outlook.
Whey Powder Price Trend for the First Half of 2022
Asia
During the said period, the approximate price range for China's Whey was between 2.29 USD/kg and 3.26 USD/kg. The average price for a tonne was 2289.31 USD in Shanghai and Beijing. The approximate price range for India's Whey is 1,798 INR/kg (?179.80 /100 g).
Europe
Since the UK, Germany, France, and Spain have taken the lead in terms of market share and growth, Europe has demonstrated tremendous promise as a whey protein market. The largest market shares for whey protein are found in the UK. In the said period, the approximate price range for EU Whey was between 100-140 EUROS/100KG.
North America
The United States leads the North American whey protein market, followed by Mexico and Canada. An increase in wealth causes people to switch from eating foods high in carbohydrates to foods high in protein. This has led to an increase in the use of whey protein, especially in a variety of food and beverage items, thereby directly influencing the price trends for whey.
For the Fourth Quarter of 2021
Europe
The price range of Western European whey was mostly stable. Both sides of the pricing range were close to 2021 highs. Unlike in some other dairy product markets, manufacturers expected 2021 to end with more whey output than 2020. Buyers fought for the available whey as demand was high. Non-hygroscopic whey powder prices were in the range of 1250-1400 USD/MT.
For First, Second and Third Quarters of 2021
Asia
According to China Customs data, China imported 126,200 MT of whey in January-February 2021, a 50.3% rise year on year (y-o-y). Imports totaled USD 156 million, a 55.4% rise y-o-y. The average price per tonne was 1,236 USD, up 3.4% year on year. Among them, 48,700 MT were imported from the EU, accounting for 38.6%, 46,900 MT from the United States, accounting for 37.2%, and 12,100 tonnes from Belarus, accounting for 9.6% of the total imports.
Europe
The price of bulk whey powder in Netherlands was 860 EUR/MT in January which rose to 1024 EUR/MT in June before it fell to 970 EUR/MT in September. Lactose-intolerant individuals in Europe are becoming increasingly interested in dairy alternatives. In addition, the country's growing food industry saw a demand from consumers for high-quality protein ingredients, which boosted the use of whey protein in the region.
North America
As a result of increased fuel prices and shipping expenses, as well as other supply chain bottlenecks including a shortage of truck drivers and shipping containers, milk prices continued to grow. Pandemic-related transportation and logistics challenges, as well as severe weather in major producing areas were some other factors leading to an increase in milk prices.
In the United States, the price of milk and milk products had increased by 6.66%. This was due to global supply chain disruptions, harsh weather, and rising energy prices, which were putting a significant financial strain on people all around the world. In the last week of August, the price of US Whey Protein Concentrate-34 (WPC 34) soared by 35% y-o-y to 2,551 USD/MT. The use of WPC 34 as an ingredient in newborn formula, as well as efforts by the Chinese government to boost local infant formula production, were the key reasons for the price hike.
For the Year 2020
Asia
The volume of whey powder imported into China in 2020 was 626k MT, representing an almost 40% rise over the previous year. Imports of various dairy products, such as butter and fat-filled milk powder, surged in China.
The price range for milk solids was increased from 3.59 to 4.59 USD/kg. This was a huge price hike compared to previous years, primarily attributed to rising dairy prices in China as a result of increased demand. The public's notion that dairy consumption can promote immunity was another factor leading to the price hike.
Europe
European whey powder prices were constant, with the exception of a modest increase at the bottom of the price range. While farm milk supply was decreasing and, with it, cheese production, the volumes of whey solids accessible for sweet whey powder manufacturing were decreasing. Inventories, on the other hand, were in good balance with demand.
Whey powder demand was constant in both the food and feed industries. According to industry sources, the scarcity of shipping equipment and the high cost of freight remain a source of concern. As a result, the majority of whey demand comes from within Europe. The average whey powder prices in Netherlands were near about 730 EUR/MT.
North America
The United States is also the world's largest provider of whey protein, shipping a significant amount of protein and whey protein products to the global market. According to a 2019 article published by the Institute of Food Technologists, roughly 55% of consumers in the United States agreed that high protein content influenced their food purchasing preferences.
Procurement Resource provides latest prices of Whey Powder. Each price database is tied to a user-friendly graphing tool dating back to 2014, which provides a range of functionalities: configuration of price series over user defined time period; comparison of product movements across countries; customisation of price currencies and unit; extraction of price data as excel files to be used offline.