Regional Price Overview
Get the latest insights on price movement and trends analysis of Whole Milk Powder (WMP) in different regions across the world (Asia, Europe, North America, Latin America, and the Middle East & Africa).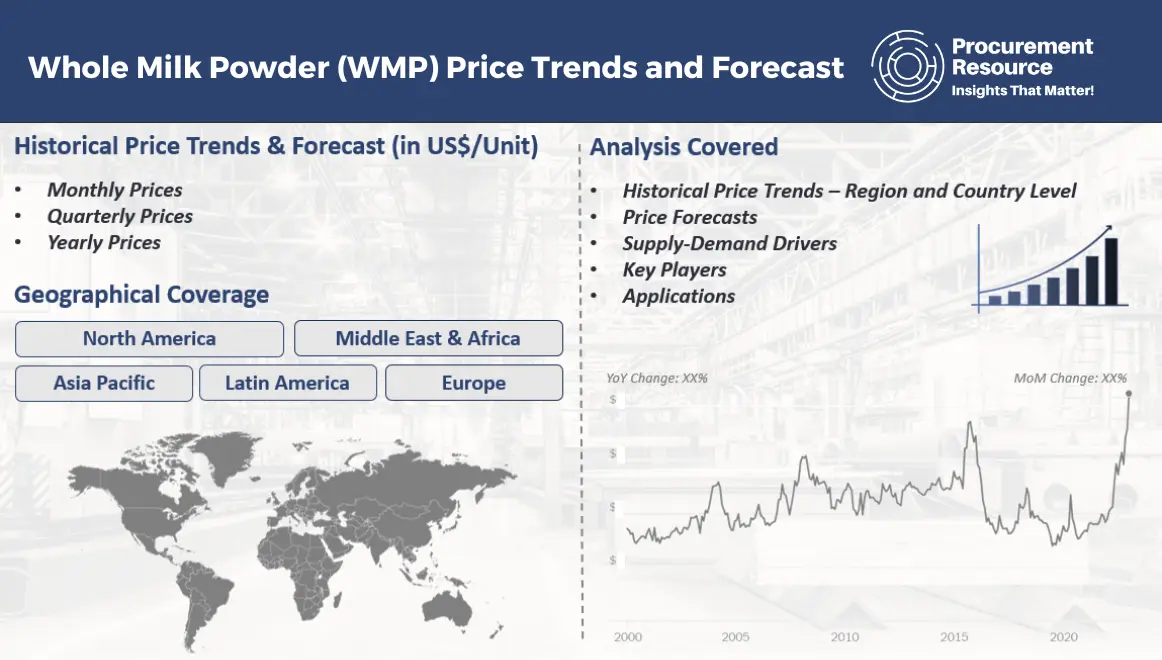 Whole Milk Powder (WMP) Price Trends for the First Half of 2023
Whole milk powder is sourced from milk, so the prices also vary with fluctuations in milk prices. But in H1 2023, dairy consumption played a crucial role in determining Whole Milk Powder's market behaviour.
In the USA, Whole Milk Powder observed a steady decline throughout both quarters. Prices went from an average of about 4927 USD/MT to around 4343 USD/MT in June 2023, with an approximate decline of about 11% within six months. As all other aspects of the Whole Milk Powder market, like production yield and freight mediums, were still stable, it was the decline in consumption that resulted in these price trendss.
Similarly, in the European market, prices were observed to be low swinging. Whole Milk Powder in the German market went from an average of about 4199 USD/MT at the beginning of Q1 to around 3795 USD/MT by the end of Q2 2023.
The price trendss for Whole Milk Powder (WMP) in the Asia Pacific region around Oceania were still stable as they fluctuated within a very narrow range. Consumption behaviour didn't change much here, so stable supply-demand dynamics were observed.
Analyst insight
According to Procurement Resource, the price trendss for Whole Milk Powder are expected to remain fluctuating as the uncertain end-consumer demands and consumption levels will likely affect the market.
Procurement Resource provides latest prices of Whole Milk Powder. Each price database is tied to a user-friendly graphing tool dating back to 2014, which provides a range of functionalities: configuration of price series over user defined time period; comparison of product movements across countries; customisation of price currencies and unit; extraction of price data as excel files to be used offline.