The Growing Demand for Vitamin E and its Market Overview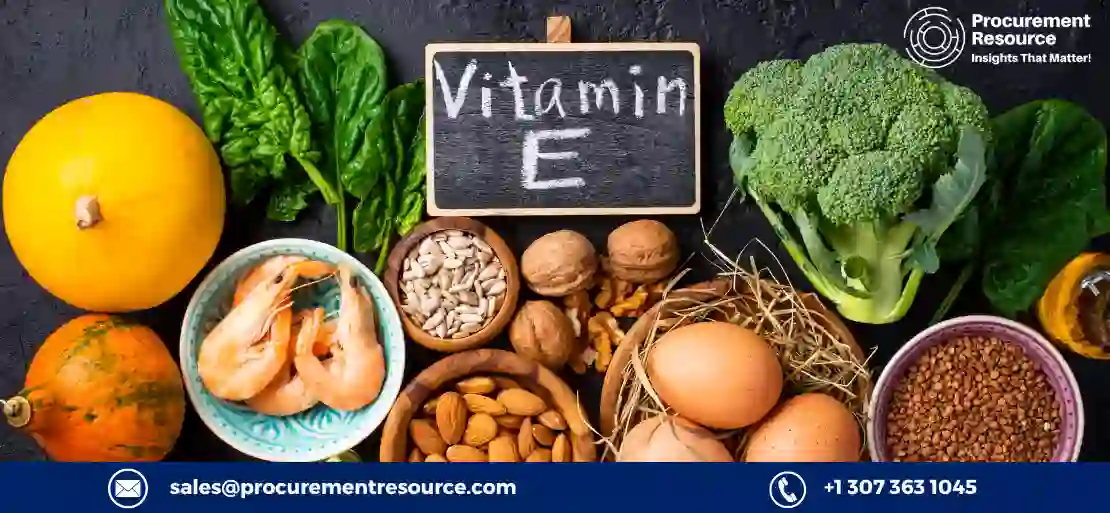 This blog contains detailed information on vitamin A production process as well as pricing trends, regional outlook, market drivers and key players.
Vitamin E is a fat-soluble antioxidant that helps in protecting cell membranes from reactive oxygen species.
A minimal amount of Vitamin E is required by the body to maintain good health. It is found in various food products which include seeds, nuts, green vegetables, and vegetable oils as a supplement to the diet. It breaks down into fat. Many foods, such as grains, vegetable oils, meat, poultry, eggs, and fruits, also contain it.
It is required by several body organs in order to function properly. Additionally, it is also employed as an antioxidant.
Request Access For Regular Price Update of Vitamin E
Treatment for vitamin E deficiency, which is uncommon but can occur in people with certain genetic defects, involves vitamin E.
Vitamin E Production Process

There are several ways to make vitamin E, including using plant fats and oils, vapour steam distilling edible vegetable oil products, and condensation of 2,3,6-trimethylhydroquinone with phytol. The main natural source of vitamin E is plant fats and oils. A deodoriser sludge with tocopherol concentrations of 3–15% is created as a byproduct of the deodorisation of edible oils.
There are numerous ways to purify tocopherols. The fatty acids can be taken out and separated via distillation, particularly following esterification. The tocopherols can be concentrated by adsorption on basic ion exchangers after the free fatty acids are removed.
Vitamin E Price Trend

North America
Due to China's intermittent lockdowns, the price of vitamin E started to plummet, and the United States saw a decline in downstream demand. Due to maintenance closures at numerous Chinese manufacturing facilities, imports into the US fell significantly during the final week of July.
This has had a substantial impact on the recent lower pricing trend and diminishing demand in the domestic market.
Asia Pacific
The cost of vitamin E was on the decline in the Asia-Pacific region recently. Some of the factors influencing this pricing trend include altering consumer purchasing patterns, fluctuating raw material costs, and weak end-user sector demand.
However, after the markets opened in the latter week of July, some vitamin makers carried out maintenance, which reduced the amount of Vitamin E that was accessible to both local and foreign providers. The vitamin E production cost was also affected.

Europe
Logistics issues caused by continuous transportation delays have made Germany's economic downturn worse. The ongoing port restrictions in China, along with the unrest in Russia and Ukraine, have made the business climate in Europe worse. Local retailers had to decrease their prices as a result of the decline in demand from the pharmaceutical and nutraceutical businesses.
Regional Outlook of Vitamin E

Asia Pacific is primarily responsible for dominating the vitamin E market. This might be brought on by the developing pharmaceutical and nutritional supplement sectors, as well as growing health consciousness. The increased use of vitamin E is another factor driving up demand in this sector. Furthermore, China is the Asia Pacific region's top producer of vitamin E. The country's domestic market has also lately grown, partly as a result of the developing pharmaceutical and nutritional supplement businesses in the area.
In contrast, it is predicted that North America would expand significantly between 2021 and 2026 due to growing demand in the animal feed and cosmetics sectors.
Market Drivers of Vitamin E

The key driver driving the synthetic vitamin E market, which also serves as a driving force behind the vitamin E sector, is the need for enhanced animal production methods to fulfill growing domestic demand. Also, there is a greater requirement for livestock, which has a direct impact on the need for animal feed and its additives, such as vitamins.
Synthetic vitamin E is the principal ingredient in the animal feed sector. Likewise, as the demand for livestock rises and the market for synthetic vitamin E expands, so will the demand for synthetic vitamin E for use in animal feed.
Key Players in the Market of Vitamin E
Penta Manufacturing Company
Charkit Chemical Company LLC
Acros Organics
DSM Nutritional Products AG
Regional Outlook

Due to the promising potential in the markets of China and India, the Asia Pacific vitamin E market is the one that is expanding at the fastest rate globally.
The demand for vitamins has increased due to India's rapidly growing nutraceuticals business. Multinational corporations are also looking at developing nations like those in the Asia Pacific as a lucrative market with a strong preference for active ingredients with plant origins.
Read More About Vitamin E Production Cost Reports - REQUEST FREE SAMPLE COPY IN PDF
Other than that, United States is a prominent consumer of vitamin E. Cosmeceuticals are anticipated to be a significant development driver.
Data, market research, and information on a range of product pricing are all provided by Procurement Resource. Customers have access to current data from our staff as well as actual market research, cost models, benchmarking, and category analytics. The most updated prices for a variety of commodities are one of the main services provided by Procurement Resource. The dynamics of the market significantly rely on this pricing.