The Growing Demand of Vitamin E and its Market Overview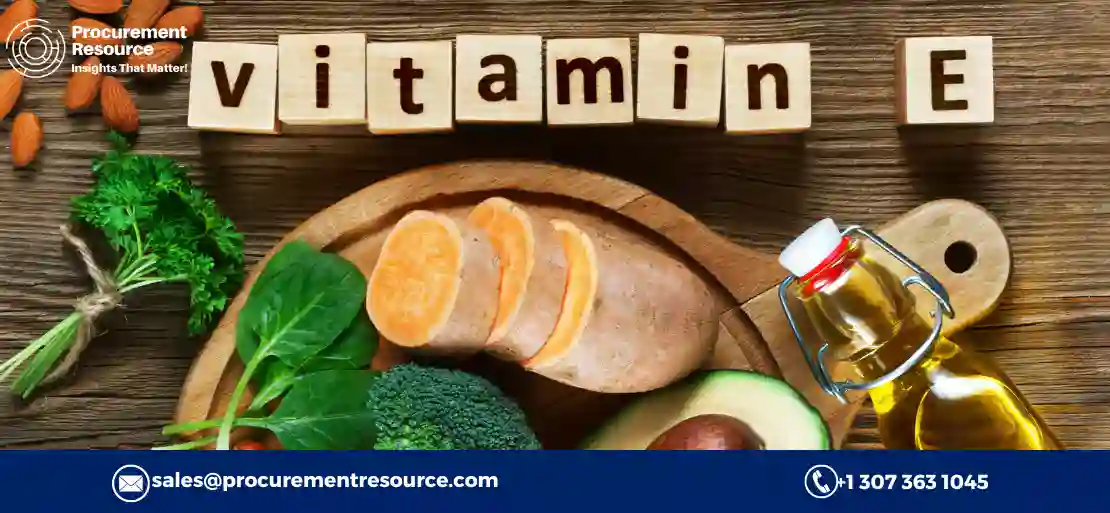 Vitamin E: What is it?

Vitamin E is a fat-soluble antioxidant that aids in shielding cell membranes from reactive oxygen species. The body needs a trace amount of Vitamin E to stay healthy. As a complement to the diet, it can also be found in foods including seeds, nuts, green vegetables, and vegetable oils.
Vitamin E is a vitamin that breaks down in fat. It is also present in a variety of foods, including cereals, vegetable oils, meat, poultry, eggs, and fruits. A lot of the body's organs depend on vitamin E for effective operation. Additionally, it functions as an antioxidant. Natural vitamin E found in food is distinct from synthetic vitamin E found in supplements.
Request Access For Regular Price Update of Vitamin E
Vitamin E is used to treat vitamin E insufficiency, which is uncommon but can happen in people with specific genetic abnormalities and in preterm infants whose body weight is in gravely underweight category.
Vitamin E Production Process

Utilising plant fats and oils, vapour steam distilling edible vegetable oil products, and condensation of 2,3,6-trimethylhydroquinone with phytol are all methods used to produce vitamin E. Plant oils and fats are the principal source of vitamin E in nature. When edible oils are deodorised, a deodoriser sludge with tocopherol (Vitamin E) concentrations of 3–15% is produced as a byproduct.
Tocopherols can be purified using a variety of methods. Using distillation, especially after esterification, the fatty acids can be removed and separated. Following the elimination of the free fatty acids, the tocopherols can be concentrated by adsorption on basic ion exchangers.
Vitamin E Price Trend

North America
The cost of vitamin E started to drop, and United States experienced a decline in downstream demand throughout the quarter as a result of China's sporadic lockdowns. The last week of July saw a considerable reduction in imports into the US as a result of maintenance closures at many Chinese manufacturing facilities.
The declining demand and downward pricing trend on the domestic market in recent weeks were significantly impacted by this.
Asia Pacific
In the Asia Pacific, there was a declining price trend for vitamin E. The fluctuating cost of raw materials, shifting consumer spending, and sluggish end-user sector demand are some of the elements affecting this pricing trend. Due to both the consistent offtakes and the high downstream demand during the first half, big suppliers only placed orders for immediate use.
However, some vitamin manufacturers carried out maintenance after the markets opened in the final week of July, which decreased the amount of Vitamin E that was available to both domestic and foreign providers. The vitamin E production cost was also affected.
Europe
Germany's economic downturn this quarter has been made worse by logistical challenges brought on by ongoing transportation delays. The persistent port restrictions in China as well as the instability in Russia and Ukraine have worsened the commercial situation in Europe. Due to the decline in demand from the pharmaceutical and nutraceutical industries, local merchants were obliged to lower their prices in the second quarter.
Regional Outlook of Vitamin E

The market for vitamin E is mostly dominated by Asia Pacific. This can be due to burgeoning pharmaceutical and dietary supplement industries as well as greater health awareness. Additionally, this industry is seeing an increase in demand due to rising vitamin E usage. In addition, China is the largest producer of vitamin F in the Asia Pacific region. The country has also recently expanded its domestic market, largely as a result of the region's expanding pharmaceutical and dietary supplement industries.
In contrast, North America is anticipated to have considerable growth during the projection period of 2021–2026 as a result of rising demand in the cosmetic and animal feed industries.
Market Drivers of Vitamin E

The requirement for advanced animal production methods to meet rising domestic demand is the primary factor driving the synthetic vitamin E market, which also serves as a driving force behind the vitamin E industry. The need for livestock is also rising, which directly affects the demand for animal feed and its additives, such as vitamins.
Read More About Vitamin E Production Cost Reports - REQUEST FREE SAMPLE COPY IN PDF
In the animal feed industry, synthetic vitamin E is the main component. Additionally, as the need for livestock increases, which is driving up the market growth for synthetic vitamin E, the demand for synthetic vitamin E for animal feed applications will also rise.
Key Players in the Market of Vitamin E
Penta Manufacturing Company
Charkit Chemical Company LLC
Acros Organics
DSM Nutritional Products AG
About Author:
Prakhar Panchbhaiya
Senior Content Writer at Procurement Resource
Prakhar Panchbhaiya is an accomplished content writer and market research analyst. With over 4 years of experience in content creation and market analysis encompassing many industries, including pharmaceuticals, nutraceuticals, biochemistry, healthcare, ed-tech, and Food & Agriculture, he has been creating quality content for multiple sectors. He is a Biochemistry major with sturdy backing in a PG diploma in digital marketing, helping in the exhaustive content creation based on extensive research and competitive marketing.