Lysine, a Key Ingredient in Additives, Supplements and Other Applications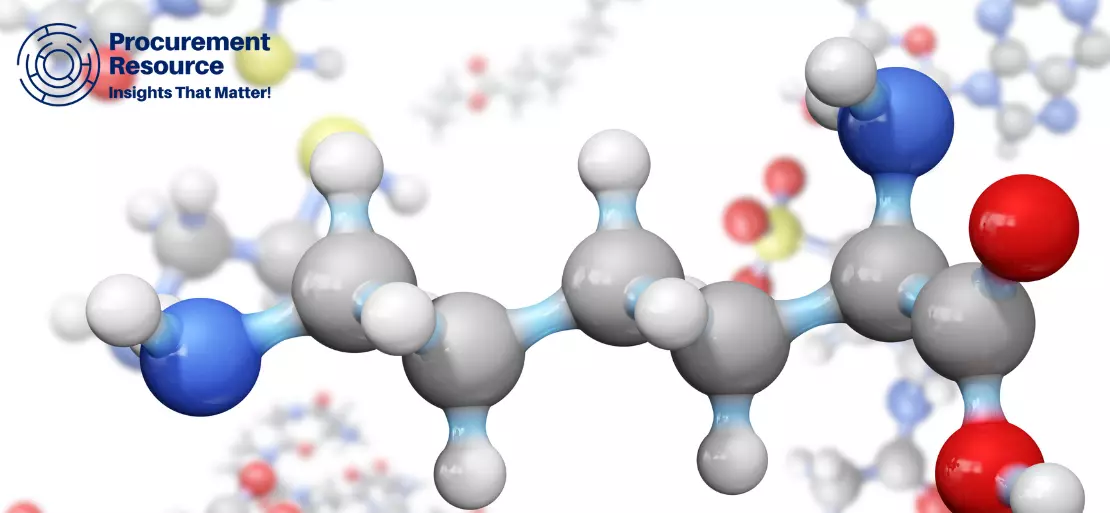 Lysine, also known as L-lysine, is an amino acid essential for human health and is a building block of protein. It is crucial for overall growth and the production of carnitine, the nutrient in charge of transforming fatty acids into energy while lowering cholesterol. The body cannot make lysine, so it must be obtained from food or supplements.
Lysine is primarily made for end-users as food supplements in human nutrition and animal feed. L-Lysine is produced from the fermentation process using set mutants and strains of microorganisms grown in a mix of ammonium compounds, molasses or glucose, inorganic salts, and other substances.
Lysine is heavily available in protein-rich foods like cheese, fish, eggs, meat, soybean, Fenugreek seed, Spirulina, beans, legumes, Brewer's yeast, and dairy products.
The consumption of Lysine supplements can avoid Cold blisters and wounds from multiplying triggered by HSV-1 as it stops a different amino acid named arginine, which HSV-1 needs to reproduce.
Request Access For Regular Price Update of Lysine
It was also found that it stopped receptors involved in stress response. It is also helpful to people with mental conditions such as schizophrenia which disrupts someone's assessment of the external world, causing in an incapacity to comprehend actuality.
Lysine can increase calcium absorption in the gut and assist kidneys in holding on to the mineral. It can protect the bones and help transport calcium where it is required in the body.
It is also crucial for forming collagen, which is a protein responsible for giving structure to skin and bones. It is a indissoluble mediator which increases the number of new cells in a lesion or cut while promoting the formation of new blood vessels.
This amino acid finds application in sectors like cosmetics, pharmaceuticals, and dietary and feed supplements. It is also extensively employed as a feed supplement for poultry, swine, and other livestock. It is also being used to clean arteries while preventing cancer.
Lysine Trade Flows
The EU has set the latest import tariff quotas to make sure that there is an adequate supply of certain agricultural and industrial products. Lysine allocation for the second half of 2022 was set at 122,500 tons, of which approximately 80,000 tons remain.
Read More About Lysine Production Cost Reports - REQUEST FREE SAMPLE COPY IN PDF
After the review of the global lysine trade flows, it was noted that in 2022 the EU imported less amino acid from China and Indonesia, with Korea profiting. During the first half of 2022, the product exports from China across the world hit a record 530,000 tons.
Shortage of the Commodity
Synthetic lysine additive shortage added in feed compounds has led to a price rise in soybean meal. The recent scarcity was caused by the lack of dry lysine caused by production issues. In addition, the shortage is not just limited to a problem in supply. During the crisis, there was an attempt to increase their margins for the commodity. The high prices can be attributed to strict COVID regulations in many countries, import and export disruptions, shipping issues, High concentration of manufacturing capacities, and extreme demand from China.
About Author:
Prakhar Panchbhaiya
Senior Content Writer at Procurement Resource
Prakhar Panchbhaiya is an accomplished content writer and market research analyst. With over 4 years of experience in content creation and market analysis encompassing many industries, including pharmaceuticals, nutraceuticals, biochemistry, healthcare, ed-tech, and Food & Agriculture, he has been creating quality content for multiple sectors. He is a Biochemistry major with sturdy backing in a PG diploma in digital marketing, helping in the exhaustive content creation based on extensive research and competitive marketing.