The Market Overview of Cumene and Its Growing Demand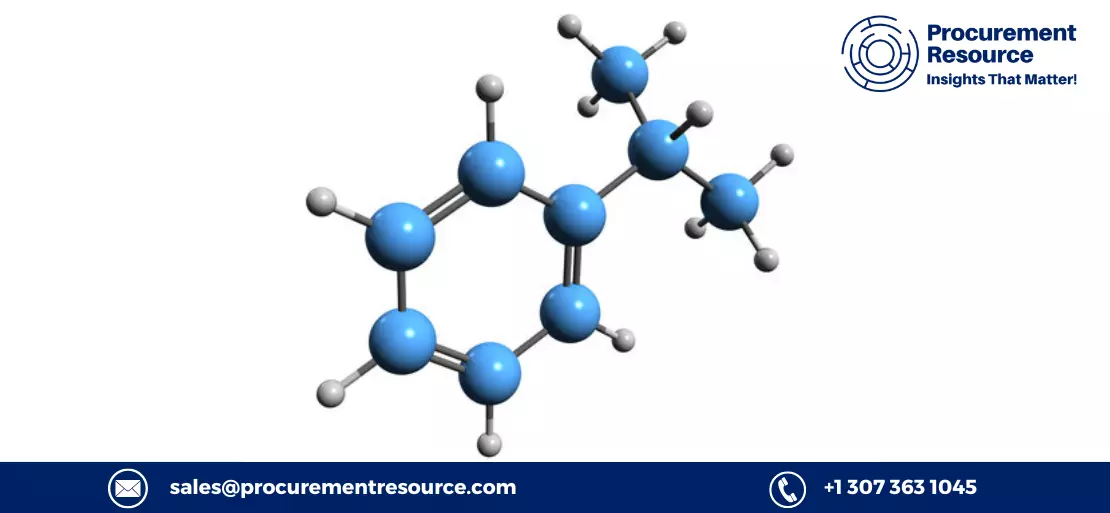 This blog contains detailed information on the cumene production process as well as pricing trends, market drivers, regional analysis, key players, and recent development.
Cumene is an organic compound that is also called isopropyl benzene. The molecular formula of cumene is C9H12 and its melting point is 152 °C. The IUPAC name of cumene is (1-methylethyl) benzene. It is an aromatic hydrocarbon and a petrochemical. It is flammable in nature. It comprises a benzene ring with an isopropyl substitute.
It has an odour that resembles like gasoline and has no specific colour. The molecular weight of cumene is 120.19 U. In order to be used for industrial uses, cumene is converted into cumene hyperoxide. It is also employed in the production of phenol and acetone.
Request Access For Regular Price Update of Cumene
The boiling point of cumene is 152.4 °C and its density is 862 kg/m³. It is a constituent of crude oil and refined fuels.
Cumene Production Process

From Friedel–Crafts Alkylation Process: Cumene is produced through Friedel–crafts alkylation process. In this procedure, propylene and benzene undergo alkylation in the presence of solid phosphoric acid on the support of zeolite, alumina, and AlCl3.
Cumene Price Trend

Asia Pacific
Prices for Cumene recently dropped in the Asia Pacific market. This can be linked to a decline in the price of the feedstock benzene as well as slow downstream demand from the phenol and acetone industries. After wreaking havoc, crude oil prices started to drop.
The price decline of benzene was aided by a dramatic decline in crude oil. Market sentiment was also affected by logistics restrictions brought on by the Covid lockdowns.
North America
In recent times, cumene prices continued to drop throughout North America. This is caused by a decline in demand from downstream value chains including those for acetone and phenol as well as a loss in consumer sentiment brought on by the prospect of a recession.
Also, the market sentiment was impacted by low feedstock benzene costs as a result of a steep decline in WTI crude oil prices. Further, this was followed by a decline in natural gas prices, which reduced the price of feedstocks and the region's overall cost of producing cumene.
Pricing sentiments further declined as a result of low cumene production cost and slow demand.
Europe
Prices for cumene in Europe exhibited a mixed trend. Prices fell in October, rose in November, then fell further in December. Factors contributing to this trend include a decline in Benzene prices, and cheaper imports from the Asia-Pacific region were also key contributing factors as the freight expenses on the Asia-European routes dropped drastically.

Consumer confidence suffered considerable deterioration due to recessionary uncertainties, which culminated in weaker demand dynamics from the downstream Acetone, Phenol, and other value chains.
Market Drivers

Because cumene is one of the most frequently utilised chemicals in a variety of industries, it has a firm hold on its market. It is mostly employed as an ingredient in the production of paints, enamels, lacquers, etc.
It is also primarily used to produce phenol and acetone, making it a crucial organic molecule used in many different chemical processes and industries. It sustains cumene's demand on a global scale. Moreover, it is a naturally occurring component of both petroleum and coal tar.
The plastic industry is another where cumene has a significant market demand. It serves as a chemical reaction's intermediary step in the creation of a variety of plastic products.
Regional Outlook

North America, Europe, Asia Pacific, Latin America, and the Middle East & Africa make up the different segments of the cumene market. Both the consumption and the production of cumene are dominated by the Asia-Pacific area. The automotive sector is expanding in developing nations like China, India, and South Korea.
The launch of new products in the cosmetics and consumer goods sectors is also anticipated to assist the market expansion for cumene. Growing technical development in North America is accelerating the market's expansion.
Read More About Cumene Production Cost Reports - REQUEST FREE SAMPLE COPY IN PDF
The market for cumene is being driven by the well-established automotive sector and increased demand for lightweight vehicles. Also, the development of the cumene market is anticipated to be supported by Europe's established automobile market.
Due to growing urbanisation and rising consumer disposable income, the cumene market is also seeing increased consumption in Latin America, the Middle East, and Africa. The simple accessibility of raw materials like natural gas and crude oil is also anticipated to support the expansion of the cumene industry.
Key Market Players
Royal Dutch Shell Plc
Exxon Mobil Corporation
BASF SE
Sumitomo Chemical Co. Ltd
The Dow Chemical Company
Recent Development
August 2022: With a lummus technology license and engineering design, Formosa announced the expansion of its cumene and phenol plants in Ningbo, China. The expansion increased an existing 450 kMTA cumene and 300 kMTA phenol plant's capacity by 600 kMTA cumene and 400 kMTA phenol.
Procurement Resource offers data, market analysis, and details on a variety of product pricing. Most recent data is available to customers, along with exhaustive market research, pricing models, benchmarking, and category analytics. One of the major services offered by Procurement Resource is the most recent prices, production processes, industry insights, and latest dynamics and their impact evaluation for a range of commodities. This pricing has a major impact on the market's dynamics.