The Market Overview of Corn and its Growing Demand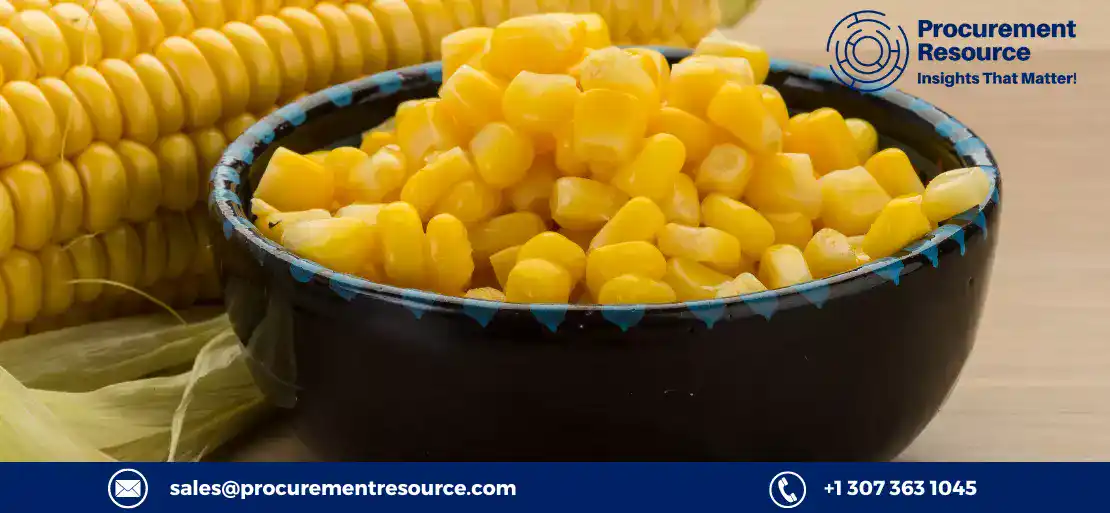 Corn: What is it?

Corn, often known as Indian corn or maize, is an edible grain that is a member of the grass family. This domesticated plant was first cultivated in America, and it is now one of the most popularly farmed food plants worldwide. Commercially, corn is divided into five different categories based on the texture of the kernels: dent crop, flint corn, flour corn, sweet corn, and popcorn.
Request Access For Regular Price Update of Corn
Corn is used as animal feed, biofuel, a crop for human consumption, and as a raw material in many different industries. About 10,000 years ago, the indigenous people of southern Mexico began cultivating it.
Market Drivers

The increasing use of corn in numerous industry verticals is driving the corn market. It is used to make corn starch, which is used to make things like ethanol, sweeteners, food ingredients, and paper, among other things.
Additionally, it is used as cattle feed, which promotes market expansion. Due to the high starch content of corn, which is used to produce biofuel and ethanol, several manufacturers are experiencing increased growth potential.
Corn Starch is used in the confectionery industry to create sorbitol and sweeteners, which are then added to the finished goods to increase market sales.
Key Market Players
DuPont de Nemours, Inc
The Archer Daniels Midland Company
KWS SAAT SE & Co. KGaA
Limagrain UK Ltd
Cargill Incorporated
Bunge Milling, Inc.
Corn Price Trend

North America
The irregular buying and supply tendencies in the local market help to support the changing price of maize in North America. Corn is just one of many agricultural products whose costs have recently increased, partly as a result of the situation in Ukraine.
Even prior to the conflict, there was some upward pressure on agricultural products due to supply chain interruptions and high transportation costs, both of which are contributors to overall economic inflation.
Due to slightly better crop conditions in the US, seasonal supplies in Argentina, and the upcoming start of Brazil's main maize harvest, prices declined. In addition, prices increased in the last month of the quarter as a result of the conflict issue and the tight supply.
Europe
The price of maize is varying across Europe as a result of unstable market dynamics. Several agricultural commodities had price increases in the first half of the Quarter, including corn, which recently experienced a price hike in part due to the situation in Ukraine. Due to supply chain disruptions and high transportation costs, which both contribute to general economic inflation, agricultural products already faced some upward pressure before the conflict.
Read More About Corn Production Cost Reports - REQUEST FREE SAMPLE COPY IN PDF
Due to somewhat improved crop conditions in the US, a seasonal supply in Argentina, and the impending start of Brazil's big maize harvest, prices declined as Q3's second month got underway. Due to the war issue and the limited supply, prices rose in the final month of the quarter.
Asia Pacific
Due to unstable market dynamics, maize prices are erratic in the Asia Pacific region. Prices increased in India during the first half of Q3 as a result of the agreement because shipments from Ukraine, the world's fourth-largest exporter of maize, were delayed by Russia's invasion. Fighting has made people unsure about Ukraine's reliability as a supplier and interfered with the spring sowing season.
India gets most of its commodities from Russia, and Ukraine has been a significant importer of Ukrainian corn. India started the third quarter with prices falling in the second month as a result of adequate supplies on the domestic market. Prices increased as a result of a shortage of goods to satisfy consumer demand in the last month of the quarter.
Recent Developments in the Market of Corn
July 14, 2022: The crops in Europe are being impacted by the persistent temperatures during a crucial pollination period, putting the region's corn harvest at risk and encouraging corn imports.
August 04, 2022: Taiwan's MFIG purchased over 50,000 tonnes of grain from South African dealers. The corn was obtained through a successful international tender and purchased for use as animal feed.
About Author:
Prakhar Panchbhaiya
Senior Content Writer at Procurement Resource
Prakhar Panchbhaiya is an accomplished content writer and market research analyst. With over 4 years of experience in content creation and market analysis encompassing many industries, including pharmaceuticals, nutraceuticals, biochemistry, healthcare, ed-tech, and Food & Agriculture, he has been creating quality content for multiple sectors. He is a Biochemistry major with sturdy backing in a PG diploma in digital marketing, helping in the exhaustive content creation based on extensive research and competitive marketing.