The Market Overview of Nitric Acid and its Increasing Demand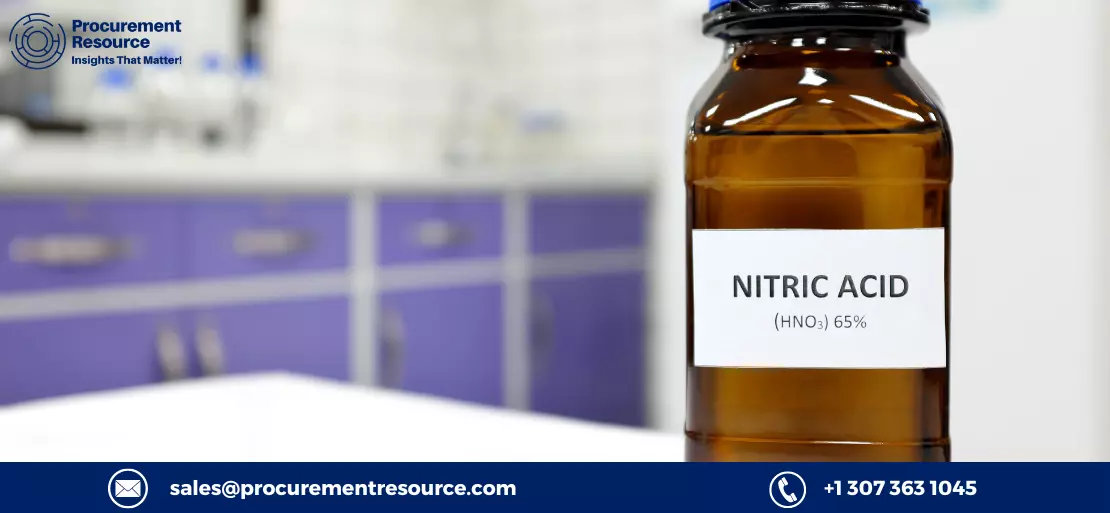 This blog provides in-depth details on the nitric acid production process, pricing trends, geographical trends, market factors, and market competitors.
Nitric acid is an inorganic compound, with the chemical formula HNO3. The molecular weight of nitric acid is 63.01 g/mol and its density is 1.51 g/cm3. The melting point and boiling point of nitric acid are -42 °C and 83 °C respectively.
Request Access For Regular Price Update of Nitric Acid
It is a colourless, fuming, and highly corrosive liquid. It is also referred to as aqua fortis and niter. It reacts with oxides, metals, and hydroxides to form nitrate salts. The PH of nitric acid is approximately 3.01.
Nitric Acid Production Process

Production of Nitric Acid through Ammonia
A method known as Ostwald's technique is used to create nitric acid from ammonia. In this method, anhydrous ammonia is heated to a high temperature and then oxidised to form nitric oxide in the presence of platinum or rhodium gauze. After that, the acquired product combines with oxygen to form nitrogen dioxide, which is subsequently followed by a reaction with water to create nitric oxide and nitric acid.
Nitric Acid Price Trend

North America
Since there was no local demand for the commodity, nitric acid prices remained low in the US market. The pricing movement of nitric acid was impacted by domestic purchasers' static purchasing attitudes throughout November 2022, persistently low output in the downstream business, and a growing recession in the area.
Due to port congestion and logistical problems on the US Gulf and East Coast, the supply dynamics have gotten worse. The weak demand from the agricultural industries downstream has restricted the fundamentals of demand, which has also had an impact on trading opinions in the local market.
Asia Pacific
Due to market unease, prices have dropped in Asia. Nitric Acid's price fell as a result of a consistent supply of the product on the market. The Nitric Acid industry benefited from the generally consistent cost of raw materials. Due to the weak demand in the domestic market and the small number of offtakes, the price of nitric acid remained unchanged. So, the pricing remains the same throughout the entire month of November.
Due to flat downstream offers, quiet market activity, and the destocking of stockpiled supplies, nitric acid prices remained bearish in the week ending December 23, 2022. Meanwhile, the stability of overseas offers in the Chinese market has altered commodities pricing dynamics in mid-December 2022.
Europe
Due to poor demand in the region and pessimistic market sentiments, nitric acid prices in European countries decreased together with the prices of the majority of nitrates. Nitric Acid production costs kept falling as favourable weather in the European region stabilised manufacturing costs by keeping energy prices low over this time period.
The price of nitric acid was reduced during the second quarter as a result of falling natural gas prices. Downstream demand was low following the peak season for agricultural demand. Demand has been weak to constant for the downstream derivatives industry.
Regional Insights

Nitric acid market share in the world is expected to be dominated by North America, which can be attributed to the region's consumers' high disposable income and sinewy economic growth. The key drivers of market growth are the rising demand for lighter and more fuel-efficient automobiles and the expansion of new building and renovation projects. This is propelling this market together with the expanding fashion industry in the area.
During the projection period, it is anticipated that the European region would experience tremendous growth. This development can be attributed to consumers' rising demand for automobiles that are environmentally friendly and low on gas. Growing environmental concern is a driving force behind the development of lightweight, fuel-efficient materials like polymer composites used in automobiles, opening up new market prospects. Germany is a significant manufacturer of automotive engineering, supported by the nation's economic expansion and industrial progress in fuel-efficient outcomes for lighter autos.
Market Drivers and Uses

The market is divided into fertilisers, nitrobenzene, adipic acid, toluene di-isocyanate, and others based on application. Due to increased agricultural activity to meet the demand of an ever-growing population, the fertilisers market prevailed.
Fertilizers like ammonium nitrate and calcium ammonium nitrate, which provide abundant and superior agricultural yields, are made using HNO3. Nitric acid sales are rising because of the escalating need for nitrogen-based fertilisers.
Read More About Nitric Acid Production Cost Reports - REQUEST FREE SAMPLE COPY IN PDF
The growing desire for lighter cars is anticipated to result in significant growth for the adipic acid market. For the production of nylon and other resins, adipic acid is created from nitric acid. Nylons polymer composites are utilised in the production of automotive parts to reduce total vehicle weight and improve fuel efficiency.
Key Market Players
CF Fertilisers
The Chemical Company
Ube Industries, Ltd
The Chemours Company
LSB Industries
About Author:
Prakhar Panchbhaiya
Senior Content Writer at Procurement Resource
Prakhar Panchbhaiya is an accomplished content writer and market research analyst. With over 4 years of experience in content creation and market analysis encompassing many industries, including pharmaceuticals, nutraceuticals, biochemistry, healthcare, ed-tech, and Food & Agriculture, he has been creating quality content for multiple sectors. He is a Biochemistry major with sturdy backing in a PG diploma in digital marketing, helping in the exhaustive content creation based on extensive research and competitive marketing.