The Market Overview of Phosphoric Acid and its Increasing Demand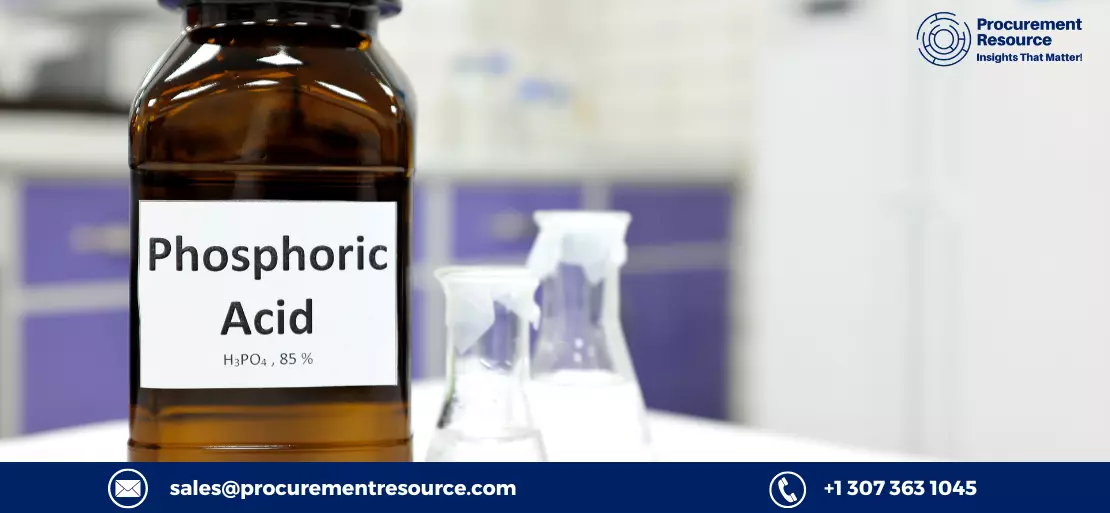 The definition, pricing analysis, and key market competitors of phosphoric acid are all covered in depth in the blog. The blog also covers recent advancements, industrial applications, and regional outlook.
Phosphoric acid is a non-toxic compound and a weak acid, which is referred to as orthophosphoric acid. The chemical formula of phosphoric acid is H3O4P, and its molecular weight is 97.995 g/mol. In its purest form, it appears to be colourless. The density of phosphoric acid is 1.88 g/cm³ and its boiling point is 158 °C.
Request Access For Regular Price Update of Phosphoric Acid
Tricalcium phosphate and concentrated sulfuric acid are mixed at high temperatures to create phosphoric acid using the dihydrate technique. Calcium sulphate dihydrate is created as a byproduct. Dihydrate calcium sulphate is removed using filtration, leaving phosphoric acid behind.
Phosphoric Acid Price Trend

North America
In the North American Market, phosphoric acid prices recently changed in a downward parabolic pattern. Although the increased supply of the goods had an impact on the market sentiments, logistics in the USA market were getting better.
Reduced demand for phosphoric acid in the pharmaceutical, food and beverage industries has restrained the expansion of the worldwide phosphoric acid market.
As long as the demand from the mining and fertiliser industries is insufficient, the supply will continue to be enough to fulfil the country's available consumption.
Asia Pacific
Phosphoric acid costs decreased in the Asian market. The cost pressure was slightly relieved and the price of raw materials containing yellow phosphorus was decreased. Price reduction resulted from a growth in flexible pricing areas and an increase in starting loads of phosphoric acid businesses.
Because downstream demand has remained constant to sluggish, phosphoric acid firms had much to reduce prices. This quarter saw weak downstream demand for phosphoric acid, soft trading conditions, and a wait-and-see outlook in the industry.
Europe
The market value of phosphoric acid continued to decline in the European market. Traders have noticed a decline in phosphoric acid pricing on the German market as a result of falling phosphoric acid production cost. Inventory Building took place as a result of heavy imports into the local market. A decline in phosphoric acid demand in the downstream fertiliser and detergent sectors had an impact on market sentiment.
Due to Germany's import of phosphoric acid from other European nations, the import prices of phosphoric acid on the local market experienced substantial decreases.
Key Market Players:
Jordan Phosphate Mines Company Plc
Ma'aden Wa'ad Al Shamal Phosphate Company (MWSPC)
OCP Group
Yara International ASA
The Mosaic Company
News and Events:
October 03, 2022: Phosphoric acid was imported by fertiliser businesses for more than USD 1,000 to USD 1,050 per tonne, which was about 40% less than the price quoted by foreign suppliers. The drop in world pricing is to blame for this. Phosphoric acid was negotiated by Indian businesses with foreign suppliers and is a necessary raw material for the production of DAP (di-ammonium phosphate) and other NPK fertilisers.
Industrial Applications of Phosphoric Acid

Phosphoric acid is a common food additive that controls acidity in foods including jams, cereal bars, processed meats, cheese, and other goods. It is also used in the beverage sector as an acidulant.
It is also typically employed to remove rust from metals like iron, steel, etc. Phosphoric acid is vital for the production of a wide range of personal care products.
Read More About Phosphoric Acid Production Cost Reports - REQUEST FREE SAMPLE COPY IN PDF
Some of the industrial uses include skincare, cosmetics, bath and cleaning products, nail care, and scents. However, phosphoric acid is also used to control these products' PH levels. It is also used as an addition and flavouring element in animal or poultry feed as well.
Regional Outlook

The production of phosphoric acid is predicted to be dominated by the Asia-Pacific area. This comes as a result of China being both the greatest producer and consumer of fertiliser. The demand for phosphoric acid has been steadily rising in nations like China, India, and South-East Asian countries.
With rising demand from end-users such as fertilisers, food & drinks, chemicals, medicine, etc., Asia-Pacific is also anticipated to be the market with the quickest growth throughout the projection period.
In the Asia-Pacific region, the demand for phosphoric acid to be used in the production of fertilisers like Monoammonium Phosphate (MAP), Diammonium Phosphate (DAP), and Trisodium Phosphate (TSP) that are used to grow crops is anticipated to increase at a CAGR of more than 6% during the forecast period.
Procurement Resource offers data, market analysis, and details on a variety of product prices. Users have access to real market research, cost models, benchmarking, and category analytics as well as up-to-date data from our team. One of the key services offered by Procurement Resource is the most recent prices for a range of goods. The market's dynamics depend heavily on this pricing.