On the Account of Dwindling Supply, Potato Prices are Increasing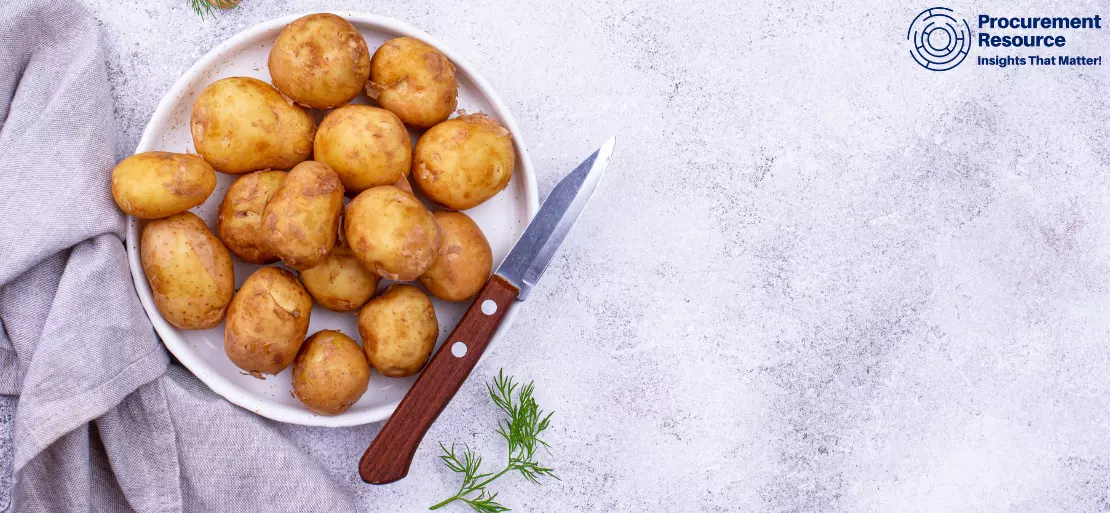 Potato is the most significant food crop and moderate crop that is produced in India under subtropical temperatures. It has long been known as the poor man's friend as it is a cost-effective crop and have been grown throughout the country for more than 300 years. Besides, it has 20.6% carbs, 2.1% protein, 0.3% fat, 1.1% crude fibre, and 0.9% ash.
Potatoes are utilised in various industries, including the manufacturing of starch and alcohol. Farina (potato starch) is used in laundries and textile mills for sizing yarn. Dextrin and glucose are two more products made from potatoes. They are dried into potato chips, sliced, or shredded potatoes as a food product.
It is a densely branched bushy herb that grows to a height of 0.5 to 1 m and has underground stems that bear the edible tubers. The leaves have an unusual pinate shape with a big terminal leaflet. It blooms in panicles of cymose flowers. Potatoes are grown in practically every state in India. Himachal Pradesh, Punjab, Uttar Pradesh, Madhya Pradesh, Gujarat, Maharashtra, Karnataka, West Bengal, Bihar, and Assam are the biggest potato-growing states.

Due to fewer supplies, the retail price of potatoes has climbed substantially after falling to a record low two months ago. Expectations of decreased rabi output in the key producing areas of Uttar Pradesh and West Bengal have caused prices to rise. Potato prices have climbed in the previous two weeks, according to traders at Delhi's Azadpur market, due to fewer supplies from UP, West Bengal, and other regions such as Uttarakhand and Himachal Pradesh.
Disease attacks on the crop a few months ago in some regions have been blamed for the drop in yield in UP. The popular Pukhraj variety yields less in West Bengal, resulting in lower output. As per FE research, retail prices have risen dramatically in most metros over the last two months. Retail costs in Delhi have been increased to INR 17 per kilogramme from INR 9 two months ago. All other metros, except for Bangalore, have seen a significant increase in pricing.
According to official figures, potato production is estimated to be around 43 million tonnes. Nearly 60% of the country's total potato production is produced in Uttar Pradesh and West Bengal. Prices are projected to moderate in the following weeks, according to traders, as the rabi harvest begins to hit the market. For now, in futures trade on Wednesday, potato prices fell INR 7.20 per quintal to INR 1,059 per quintal, as dealers dumped their positions in anticipation of increased supplies.
Delivery for the May contract declined by INR 7.20, or 0.67%, to INR 1,059 per quintal on the Multi Commodity Exchange. The June contract's delivery price fell by INR 4.70, or 0.41%, to INR 1,024.50 per quintal. As per the traders, prices are unlikely to climb further due to a regular influx of Uttar Pradesh and West Bengal crops. Punjab, Uttarakhand, Karnataka, and Maharashtra are also important potato-producing states. Moreover, in the Rabi season, 60% of the potato crop is grown, with harvesting taking place in April and May.
Potato output is expected to reach a new high of 53.11 million tonnes in 2020-21, up from the final predictions of 26.09 million tonnes in 2019-20. This is due to an increase in area, which now stands at 22.47 lakh hectares, up from 20.51 lakh ha the previous season.