The Market Dynamics of Iron Ore and its Growing Demand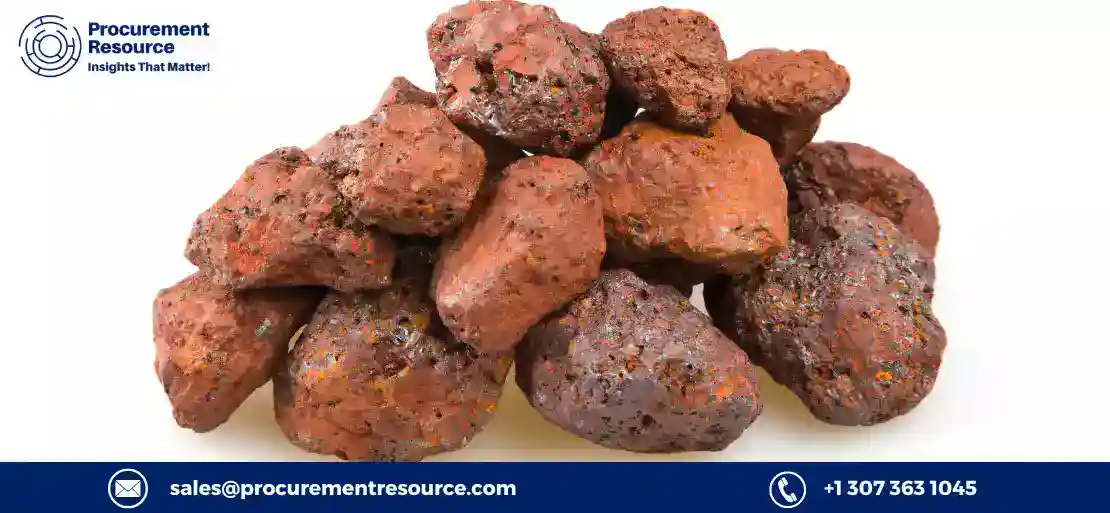 Iron ore: What is it?

Iron ores are minerals and rocks, which are the source of metallic iron. Massive hematite is the most often mined type of iron ore deposit, followed by titanomagnetite, magnetite, and pisolitic ironstone. After various chemical reactions that combine iron and oxygen in fresh and salt water, the ores are produced. Its spectrum of colours ranges from deep purple to rusty red to dark grey and bright yellow. The ores are the primary raw material used to create pig iron because they are abundant sources of iron oxides.
Iron Ore Production Process

After being extracted, the iron ore goes through a number of procedures. The screening comes first in the process, which improves the effectiveness of crushing. Crushed iron ore is then sent to a stockpile. To achieve process homogeneity, the mill is continuously fed with the material.
Request Access For Regular Price Update of Iron Ore
Before undergoing spiral gravity separation, the material is ground. Centrifugal force is used to separate heavier and finer particles. Depending on the desired qualities, the procedure is repeated two to three times with a feed range of 30 percent solid concentration. The iron is separated magnetically and then pelletised.
Key Market Players
Anglo American Plc
ArcelorMittal
BHP Billiton Group
Fortescue Metals
Rio Tinto Plc
Vale S.A.
Market Drivers of Iron
Escalation of Extraction and Mining Activity
The demand for iron has increased globally as a result of an increase in construction and extraction operations. The expansion of extractive activities consequently is the main reason causing the market to increase throughout the anticipated period. Globally, there has been a 2.1 percent increase in the trading of iron ore.
Additionally, in recent years, mining and manufacturing of iron ore have grown and expanded. These factors will aid the industry to thrive over the projected time period.
High utilisation for construction-related purposes
Steel that is derived from iron ores is widely used in the building sector. They are frequently employed in the building and construction industry. Additionally, the product is used in a variety of ways in structures, both residential and non-residential, as well as industrial equipment, autos, boats, and other items.
The growth rate of the iron ore mining market will be further accelerated by the expansion of end-use industries, as well as by the rise in urbanisation and population. Additionally, the rising urbanisation and industrialization of developing nations like China, India, and Southeast Asia will spur an increase in market value.
Iron Ore Price Trend

Prices for iron ore cargoes with a 63.5% iron ore content for delivery to Tianjin were at USD 115 per tonne, bringing a volatile year to a close near where it began due to macroeconomic headwinds and low demand for steel-making inputs that countered efforts in major consumer China to stimulate economic activity.
As metallurgists reduced steel production to match lower demand from constructors, undermining the Chinese real estate sector's liquidity issue, which was highlighted by a 30% drop in new home purchases year to date in November, demand for iron was still being hampered.
Read More About Iron Ore Production Cost Reports - REQUEST FREE SAMPLE COPY IN PDF
However, since November, iron ore prices have risen, enough to counteract the annual loss, as a result of pro-growth policies adopted by the Chinese government and the PBoC.
While the PBoC steadily poured liquidity into the economy, commercial banks agreed to issue USD 162 billion in new credit lines for private developers, and officials lifted a ban on equity refinancing for businesses in the industry. Hence, it also impacted the iron ore production cost.
Chemicals and commodities have a significant impact on the procurement industry. However, the technicalities, price dynamics, production procedures, and production cost reports ultimately determine whether a corporation succeeds or fails. Prefeasibility, market turbulence, and other things are thus to be considered judiciously.
About Author:
Prakhar Panchbhaiya
Senior Content Writer at Procurement Resource
Prakhar Panchbhaiya is an accomplished content writer and market research analyst. With over 4 years of experience in content creation and market analysis encompassing many industries, including pharmaceuticals, nutraceuticals, biochemistry, healthcare, ed-tech, and Food & Agriculture, he has been creating quality content for multiple sectors. He is a Biochemistry major with sturdy backing in a PG diploma in digital marketing, helping in the exhaustive content creation based on extensive research and competitive marketing.